For dividend reinvestors, there are few decisions more difficult than choosing between Coca-Cola (NYSE:KO) and Pepsi (NYSE:PEP), Exxon Mobil (NYSE:XOM) and Chevron (NYSE:CVX), or McDonald's (NYSE:MCD) and Burger King (BKW). Okay, I'll concede that McDonald's is the clear winner there, but other times the distinction is not so obvious. When choosing between two competing companies, you can't always rely on past performance. Sure, Coca-Cola might have outperformed Pepsi for most of its history, but as everyone knows, past performance does not guarantee future results. Maybe you think Pepsi has more growth potential with its purchase of Wimm-Bill-Dann, or Coca-Cola will attract more vendors in the fast food industry with innovations like the Freestyle vending machines. This is the problem: you have to choose between two competitors, both with a great dividend and growth potential. Even after looking at fundamentals and other factors that might give one a slight edge now, who knows what the story will be 10 or 20 years from now?
The Diversification Problem
I believe strongly in diversifying a portfolio. It's a simple but necessary risk management technique, and to not practice it is irresponsible. This is where the tough decision comes into play. To simplify things, I'm going to only look at Coca-Cola and Pepsi but you can substitute them for any other large direct competitors. When putting my portfolio together, I decided at some point that I wanted to buy into Pepsi. Let's just say, hypothetically, that I was willing to devote $10,000 towards the non-alcoholic beverage industry. A year later, I decided that I also wanted to have some exposure to Coca-Cola. They're both great stocks, so why not? To do this however, would mean that I'm reducing my diversification by holding an overweight position in the non-alcoholic beverage industry.
The Third Option
There's another solution. Why not just take your commitment to the beverage industry and split it between KO and PEP? You still have the same $10,000 exposure, so you're not reducing your portfolio diversification. I got some results by looking at the past 10 years of KO and PEP, and analyzing 4 scenarios.
Different Strategies
Given $10,000 for Coca-Cola and Pepsi, I came up with the following strategies:
Invest the full $10,000 in KO
Invest the full $10,000 in PEP
Invest $5,000 in KO and PEP each, and reinvest the full amount in the company with the higher quarterly yield
Invest $5,000 in KO and PEP each, and reinvest separately
My Assumptions

Each quarter's dividend is invested immediately at the current quarter's share price
The reinvestment share price was calculated from the quarterly dividend yield at the time of issue, with data collected from Google Finance.
Any uninvested remainder is carried over to the next reinvestment
I don't account for trading fees, but I will go over the impact of them later
I don't account for taxes, but since I'm only interested in the value comparison, and not the values themselves, this makes no difference
Results
Running the number from Q1 2002 through Q3 2012 produced the following results (click to enlarge images):
As you can see, the best results were from investing solely in Coca-Cola, while the worst results were from Pepsi. What's also clear is that the two companies were (and still are) very strongly correlated, despite the snack food part of Pepsi (Frito-Lay), which isn't present in Coca-Cola. Even though PEP ended up last, it was still within $2,200 of KO. With dividend reinvestment, the initial KO position grew by 107% while PEP grew by 84%.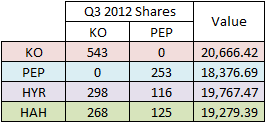 The parts of interest here are the High Yield Reinvestment [HYR], where both companies started with $5,000 and I reinvested the full amount into the one with the higher yield for the quarter, and the Half and Half [HAH], where they started with $5,000 each and I reinvested separately. As expected, HYR and HAH ended up somewhere in between the KO and PEP.
Analysis
The surprising part of this study was how HYR started to pull ahead of HAH. For all of 2002 through Q3 2010, KO had the higher quarterly dividend yield. At Q4 2010, PEP had the higher yield for the first time, and held onto it up to the present. Despite not reinvesting into PEP at all for the first 8 years, "chasing yield" won out, of the two $5,000-per-company strategies. When Pepsi finally had the higher yield, the large combined dividend being exclusively reinvested in Pepsi helped the number of shares quickly catch up to the numbers from the HAH strategy. Despite only reinvesting in Pepsi for 8 out of the 39 quarters, it had 116 shares by Q3 2012. When reinvesting the $5,000 solely into Pepsi, it took till Q2 2010 to reach 116 shares, finishing Q3 2012 with 125.
An important consideration for this study is trading fees. I use Scottrade, which charges $7 per transaction. For the KO, PEP and HYR scenarios, this would mean an additional $7 per quarter, assuming you manually reinvest. Depending on how the numbers fall, this could have been the difference between getting that one additional share. For the HAH scenario, I would have been forced to pay $14 per quarter, since I'd be reinvesting in KO and PEP separately. This is twice the opportunity to miss out on buying that additional share. You could also just put in that extra few dollars yourself to buy the shares those few times when you'd miss out because of the fee.
I also didn't consider automatic Dividend Reinvestment Plans [DRIP]. Scottrade doesn't allow a DRIP, so it makes no difference to me. If use a broker that does allow a DRIP however, you aren't charged that fee for the KO, PEP and HAH scenarios. The HYR scenario, which requires manual reinvestment, would still have pay that $7 per quarter.
In all these cases, the transaction fee results in paying at most a few hundred dollars extra, which isn't too bad for an $8,000-$10,000 gain.
Conclusions
While there's no substitute for choosing the better of two stocks, choosing direct competitors in the same industry is an effective way of spreading the risk. In effect, it's a mini-diversification, averaging out both risks and gains. When performing this mini-diversification, the winning strategy over the long run will be to "chase yields", reinvesting the full amount from both companies into the one with the higher yield at the time. In fact, this result can be extended to an entire portfolio, where reinvesting into your companies with the highest yield may give you a higher return than investing in each company with its own returns. In following this strategy, there are several pitfalls to look out for:
Always maintain balance - whether reinvesting in the same industry or several, it is necessary to be mindful of diversification as your different positions grow at different rates
Following this strategy across an entire portfolio is best done with companies exhibiting similar levels of growth and risk. Reinvesting from a low-yield-high-growth company into a high-yield-low-growth company is an entirely different situation from what's presented here
If you're convinced that company A is going to do better than company B over the long run, buy company A! There's no substitution for choosing the better company.
I hope I was able to present something meaningful to your investing strategy. Risk mitigation is a recurring theme in my decisions and this analysis shows me how to optimize my gains while maintaining this risk. Please leave comments below. I'd like to hear some more interpretations of the data, or find out what you would do in this situation.
Disclosure: I am long KO, PEP, MCD, CVX. I wrote this article myself, and it expresses my own opinions. I am not receiving compensation for it (other than from Seeking Alpha). I have no business relationship with any company whose stock is mentioned in this article.