This week I'm attending the International Council of Shopping Centers (ICSC) southeastern conference in Atlanta. The annual event is a showcase for area brokers, developers, retailers, vendors, and deal-makers and helps members develop business through networking, education, and research. I plan to focus my articles this week on the retail sector in hopes of providing relevant details of the performance of the sector as well as the related sub-sectors: malls, shopping centers, and free-standing properties.
To begin, I will provide a general overview of the retail REIT sector and some comparison data on other property sectors. According to NAREIT, the retail sector reports a year-to-date total return of 23.30 percent and the average dividend yield (for the sector) is 3.21 percent. The shopping center sub-sector has one of the highest total returns with year-to-date performance of 24.65 percent. The mall sector has a year-to-date total return of 22.0 percent and the free-standing sector has a year-to-date total return of 20.9 percent.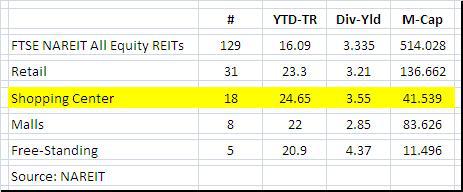 The Shopping Center Sector
According to SNL Financial, median occupancy for U.S. shopping center properties is currently at 95.9 percent, in line with the median of 96.0 percent at the end of the second quarter and above the median of 94.5 percent for the 2011 second quarter.
Reis Inc. reports that shopping centers saw a minimal increase in rents in the third quarter, moving up 10 basis points quarter over quarter to $16.57 per square foot. SNL-covered real estate companies are currently constructing 42 shopping centers in the U.S., accounting for more than 9.6 million square feet. Weingarten Realty Investors (NYSE:WRI) leads the way with eight assets under construction totaling more than 1.7 million square feet. Regency Centers Corp. (NYSE:REG) and Macerich (NYSE:MAC) each have 1 million or more square feet of shopping center space under development.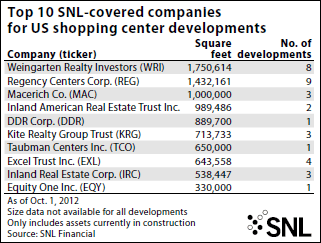 On a geographic basis, Texas currently has the most shopping centers in construction for SNL-covered real estate companies, with eight assets totaling more than 2.2 million square feet. North Carolina and Arizona each have more than 1 million square feet of shopping center construction in progress among SNL-covered companies.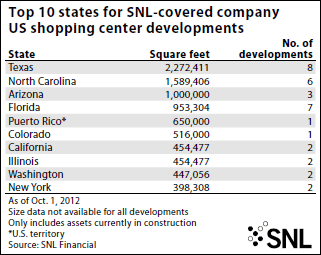 As noted above, on a total-return basis, shopping center REITs have also outperformed the broader REIT market over the last year, with a one-year total return for the SNL shopping center REIT index of 38.5 percent ( as of Oct. 1), compared to 33.7 percent for the SNL US REIT Equity index.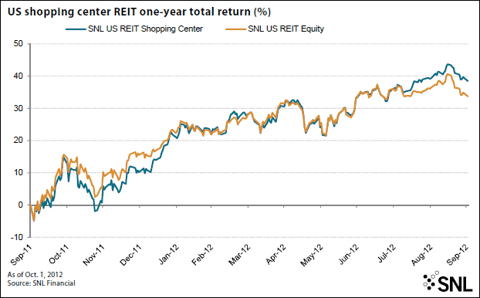 Yields for shopping center REITs are currently higher than the broader REIT market, with the dividend yield for the SNL U.S. Shopping Center REIT index at 3.78 percent as of Oct. 1, compared to 3.40 percent for the broader REIT index.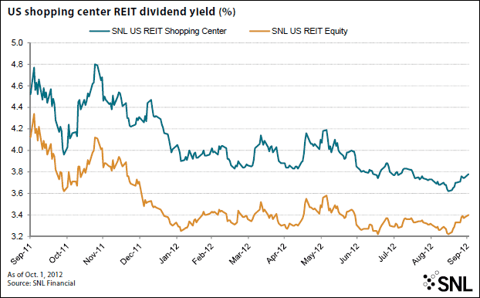 Shopping center REITs currently have a median FactSet projected FFO growth for 2013 of 6.3 percent, compared to 8.3 percent for the broader REIT market. Estimated AFFO payout ratios for 2013 are nearly 10 percentage points higher for shopping center REITs compared to the broader REIT market, which makes sense based on their higher dividend yield. Median same-store NOI growth for shopping center REITs was 2.9 percent at the end of the second quarter, compared to 3.1 percent for the broader REIT market. (Source: SNL Financial)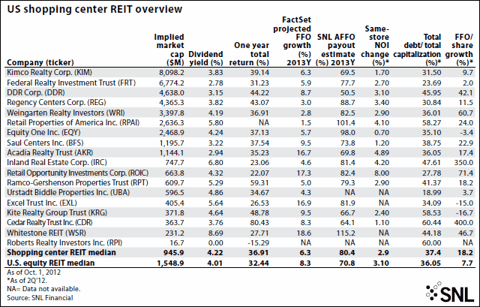 The Shopping Center REITs
I have previously written article recommending these shopping center REITs: Kimco Realty (NYSE:KIM), Federal Realty (NYSE:FRT), Weingarten Realty Investors, and Regency Centers. In addition, I have recently authored an article on Cedar Realty Trust (NYSE:CDR) recommending the company's Series B shares. Yesterday I wrote an article on several small-cap REITs and I recommended Excel Trust (NYSE:EXL), Retail Opportunity Investment Trust (NASDAQ:ROIC), and AmREIT (NYSE:AMRE).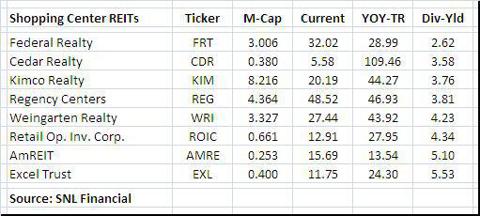 This week I plan to publish a Forbes article (hopefully for the magazine) that will provide details of how retailers and retail landlords (including REITs) have evolved to compete with the growing wave of on-line shopping - a growing trend that has forced most retailers to adapt by building a much stronger presence in e-commerce sales. I recognize that this is a most relevant subject for REIT investors and the potential sustainability of the shopping center industry today.
Source: SNL Financial and NAREIT
Disclosure: I have no positions in any stocks mentioned, and no plans to initiate any positions within the next 72 hours. I wrote this article myself, and it expresses my own opinions. I am not receiving compensation for it (other than from Seeking Alpha). I have no business relationship with any company whose stock is mentioned in this article.