Wilshire Bancorp Inc. (WIBC) became a Zacks #1 Rank (Strong Buy) on September 29 and currently trades near its 52 week high. In addition, a forward P/E multiple of just 5.7 makes this regional bank stock an attractive value pick.
Q2 Results
Wilshire Bancorp is expected to release its third quarter earnings on October 22. The Zacks Consensus Estimate for the quarter is 22 cents per share. The company has surpassed profit expectations in the past two quarters.
On July 23, Wilshire Bancorp announced second-quarter earnings of 31 cents per share, outpacing the Zacks Consensus Estimate of 17 cents by 82.4% and significantly beating last year's 4 cents.
Results improved due primarily to significant fee income growth, partially offset by a drop in net interest income and a rise in operating expenses. Moreover, during the quarter, the company fully repurchased Troubled Asset Relief Program (TARP) preferred stock along with the TARP warrants.
Net interest income dipped 11% from the year-ago quarter to $24.2 million. However, non-interest income had a significant jump and stood at $8.5 million, primarily driven by a gain on the sale of loans. Non-interest expenses rose 23% to $20.4 million on the back of higher salaries and employee benefits expense.
Wilshire Bancorp also witnessed a marked improvement in its asset quality. As of June 30, 2012, non-accrual loans declined 46.8% to $41.5 million. Furthermore, the provision for losses on loans and loan commitments was a credit of $10.0 million, compared with $10.3 million of provision in the prior-year quarter.
Earnings Estimates
Over the last 90 days, the Zacks Consensus Estimate for 2012 jumped 38% to $1.12 per share, implying year-over-year improvement of about 283.8%. There has also been a penny improvement in the past 30 days for both this year and next.
Reasonable Valuation
Along with a low forward P/E multiple, Wilshire Bancorp has a P/B ratio as low as 1.6 (a P/E ratio under 15.0 and a P/B ratio below 3.0 generally indicate value). The company has a trailing 12-month ROE of 21.6%, compared with the peer group average of 9.9%.
Moreover, given the long-term growth projection of 8%, the PEG ratio comes in at 0.71, a 29.0% discount to the benchmark of 1 for a fairly priced stock. Thus, the expected long-term earnings growth is currently priced at a discount.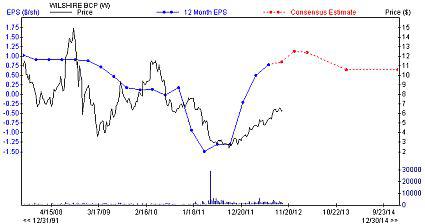 Based in Los Angeles, California, Wilshire Bancorp is the bank holding company for Wilshire State Bank. The company offers a wide range of financial products and services through 24 branch offices and eight loan production offices. With a market capitalization of roughly $452.7 million, Wilshire Bancorp competes with TriCo Bancshares (TCBK) and Westamerica Bancorporation (WABC), among others.