We have been pleased that our reports on Exelon Corporation (NYSE:EXC) have generated much interest from the investment community and we have been able to continually find new ways to analyze and evaluate our thesis on the company. We noticed that because of the weakness in the unregulated power generation market and the solid performance of regulated utilities, Morningstar Investment Research assigns 4 and 5 star ratings to the power generation utilities like Exelon and 2 and 3 star ratings to regulated utilities like Wisconsin Energy (NYSE:WEC) because it believes that power generators will roar back to life soon. We noticed that the only utility that Morningstar has assigned a 5 star rating and a wide moat rating was Exelon. Travis Miller has been covering Exelon since 2007 for Morningstar. Unfortunately for Exelon's stakeholders, Morningstar's fair value estimates on Exelon's shares have been eroding since 2008. Exelon's share price has been declining steadily since 2008, and that enabled it to keep its Morningstar Rating between 4 and 5 stars during that time.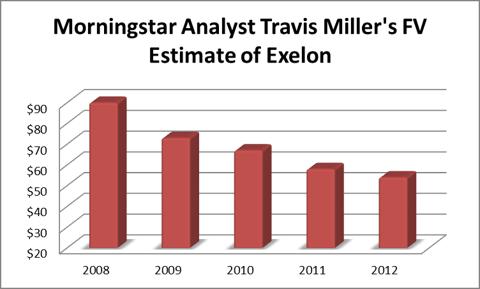 Source: Morningstar Direct
Dividend Yield, Payout Ratio and Growth:
Dividend Yield: Exelon stakeholders have been touting the company as a great value based on its 5.9% dividend yield. We concede that is the highest dividend yield in the industry and it is 270bp higher than the 3.2% dividend yield on Wisconsin Energy. Because of the flight to safety and income in June and July, we noticed that prices were pushed up on all utilities, especially high quality regulated utilities like WEC. As volatility has subsided in August, utilities have seen the share price gains dissipate. We don't care that WEC declined by 7.5% during August because if we had sold it in July, we would have had to pay 20% of our proceeds in taxes. EXC's decline in August was 5.5%. WEC is still up ~10.5% for the year because it doesn't grace its earnings reports with an alliterative alphabet soup of adjustments to its earnings like Exelon. Exelon's Alibi Ike routine hasn't stopped its stock from registering a 15% decline YTD though.
Payout Ratio: Wisconsin Energy's projected payout ratio for 2012 is 52%, which is well below Exelon's adjusted projected payout rate of 76%. Since Exelon has been able to maintain its $2.10/share dividend since 2008 in the face of steadily decline EPS, its payout ratio has grown from 52% in 2008 to 76% adjusted-projected in 2012. Wisconsin Energy has seen its dividend payout ratio increase from 36% in 2008 to 52% projected for 2012. However, this has come because WEC has increased its dividend from $.54 in 2008 to $1.20 in 2012. WEC is also expected to increase its EPS from $1.50 in 2008 to $2.30 in 2012. Because its Power the Future capital program was completed as of last year, WEC can harvest value for shareholders by increasing the dividend payout ratio while simultaneously increasing its retained earnings per share.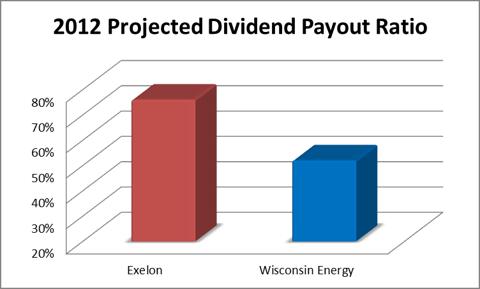 Source: Morningstar Direct
Dividend Growth and Cuts: We already established that Exelon's dividend has been frozen in time for the last four years, while WEC's has more than doubled during this time period. Going back to 2003 (when Gale Klappa was hired as President of WEC), we find that EXC's dividend per share increased by 2.2X during this time period. That's almost as impressive as WEC's dividend growth, which had tripled during this time period while it spent the majority of its time and money on a multibillion dollar capital investment program. We noted that Wisconsin Energy has a 50% dividend cut in 2000 in the wake of its merger with WICOR and initiating PTF. Exelon has not has any dividend cuts since its 2000 merger of Unicom and PECO however its constituent companies PECO, Commonwealth Edison and Constellation Energy (NYSE:CEG) have each cut dividends twice. Here is the tally of the utility dividend cuts:
Wisconsin Energy, 50% in 2000
PECO, 44.44% in 1998 and 43.64% in 1990
Unicom (Commonwealth Edison), $.70 each in 1992 (23.3%) and 1993 (30.4%)
Constellation Energy, 50% in 2009 and 71% in 2001
PE Ratio Comparison: While Exelon has a significantly higher dividend yield in addition to a lower PE ratio, we have found that Exelon's PE ratio is not that much different than WEC's. Using TTM reported EPS, Exelon has a PE of 15.23X versus 16.4X for WEC. Using adjusted 2013 EPS, Exelon's PE ratio of 13.33X isn't that much higher than WEC's 15.76X. WEC is expected to grow by 5.5% versus 4.9% for Exelon.
Price to Book, Returns on Equity, Assets and Invested Capital: On the surface, Exelon would be a better value since its Price to Book Ratio of 1.36 is lower than Wisconsin Energy's 2.1. However Exelon's returns on Equity, Assets and Invested Capital are a far cry from Wisconsin Energy's. In Q2 2012, EXC generated adjusted ROE of 9.47%, adjusted ROA of 2.7% and adjusted ROIC of 6.61%. Wisconsin Energy did not need to make adjustments to its results during the quarter and it generated 11.66% ROE, 3.4% ROA and 6.85% ROIC. What is impressive about WEC's results versus Exelon's isn't that WEC had higher ROE, ROA and ROIC but rather the fact that its reporting is cleaner, rather than an alliterative alphabet soup of "non-recurring charges".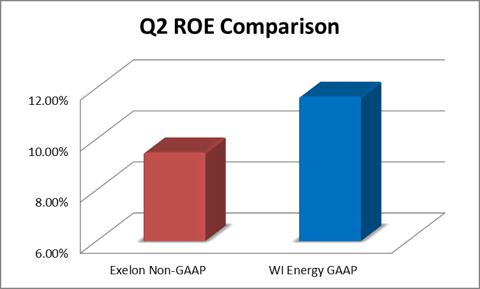 Source: Morningstar Direct
Equity/Debt Leverage and Ratings: On the surface, Exelon has a slight advantage over Wisconsin Energy because Exelon has a lower utilization of debt relative to its capital in comparison to Wisconsin Energy. Exelon utilizes debt for 46.9% of its capital versus 56.1% for Wisconsin Energy as of Q2 2012. However, that is not as impressive as it appears. 11.8% of Exelon's equity is in the form of goodwill from its PECO-Unicom merger. Exelon has $2.625B of Goodwill on its Balance Sheet and let us not forget that it has already written down $3B from the Unicom deal. Considering that ComEd has seen its revenue steadily drift downward since 2000, we don't have as much value for this subsidiary as Exelon's stakeholders. Also, Exelon has $5.3B in unfunded pension and post-retirement benefit commitments. That results in Exelon's adjusted tangible leverage ratio of 56% being slightly ahead of WEC's adjusted tangible leverage ratio of 59.9%. Moody's rates Exelon Corporation Baa2 and Baa1 for Exelon Generation Company LLC with a negative outlook and a possible one notch downgrade. That does not compare favorably with the A3 rating for Wisconsin Energy and A2 for WEC's subsidiaries (Wisconsin Electric and Wisconsin Gas)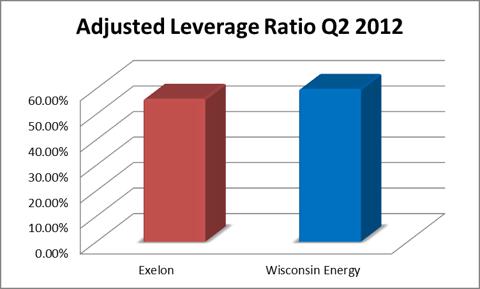 Source: Morningstar Direct
Pension and Post-Retirement Benefits: Exelon was at least able to say that its 2011 return on pension plan assets (11%) exceeded that of WEC's (3%). From 2008-2010, Exelon's return on pension plan assets was comparable to Wisconsin Energy's. Because Exelon made proportionately smaller contributions to its Pension and Post-Retirement than Wisconsin Energy, Exelon has a larger pension plan and post-retirement plan deficit in terms of absolute dollars and relative underfunding percentage (20% Exelon, 5% Wisconsin Energy).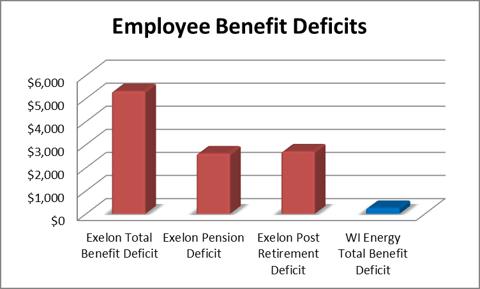 Source: Morningstar Direct
Risks to Our Thesis: Risks to our thesis of Exelon being overvalued and an expected underperformer to the regulated utility 90 miles to its north are as follows:
Hydraulic fracturing is banned or faces a draconian regulatory regime, which forces up natural gas prices
The US expedites efforts to export natural gas to other countries
WEC tries to replicate Exelon's attempts to merge with other big utilities
WEC moves away from its culture of reliability and Exelon moves away from its culture of rent-seeking.
The EPA intensifies its war on coal
The State of Illinois reverses its culture of fiscal profligacy and the State of Wisconsin falls off the wagon of fiscal responsibility
Exelon hires key Wisconsin Energy personnel for ComEd, PECO and BGE
In conclusion, despite the fact that EXC's stock declined by 5.5% in August, we find it still to be overvalued. Despite the fact that it has drastically underperformed the XLU Utility ETF over the last 4 years, its decline in August was greater than the 4.14% decline the XLU incurred in August. We can see that Exelon needs to be paying an above-average dividend to account for the fact that its PE is comparable to high-quality regulated utilities, its underfunded benefit plans, its below average ROE and the fact that its bogged down integrating a complex merger. Our upcoming reports will touch upon the following items of interest.
How Commonwealth Edison became Exelon and its executive management
How it got into nuclear, expansion into "renewable energies" and its operating assets,
The major merger integrations that took place in 2000 for EXC (PECO-Unicom) and WEC (WICOR) as well as WEC's Power the Future Program
We will also be revisiting the natural gas prices, and a deeper look at the utility businesses
Disclosure: I am long WEC. I wrote this article myself, and it expresses my own opinions. I am not receiving compensation for it (other than from Seeking Alpha). I have no business relationship with any company whose stock is mentioned in this article.
Additional disclosure: This article was written by an analyst at Saibus Research. Saibus Research has not received compensation directly or indirectly for expressing the recommendation in this article. We have no business relationship with any company whose stock is mentioned in this article. Under no circumstances must this report be considered an offer to buy, sell, subscribe for or trade securities or other instruments.