So far this quarter, BP's (NYSE:BP) global marker margin is running significantly higher than last quarter and last year, suggesting profit upside for American refiners.
Outside of the largest players, including Exxon (NYSE:XOM) and Chevron (NYSE:CVX), there are a number of independent refiners investors can consider.
The marker margin has been rising sharply as crude prices have fallen and refined prices have remained healthy.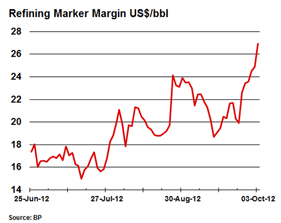 Across the U.S., margin dollars per barrel are significantly higher than last year. In the West Coast, margins are $43.14 per barrel, versus $10.71 a barrel a year ago. In the Gulf and Mid West, margins are $24.17 and $18.47 a barrel, up from $7.16 and $2.49 last year, respectively.
Analysts are boosting refiner EPS estimates.
Valero (NYSE:VLO) is the biggest independent refiner, with 16 refineries and 3 million bpd of capacity. The company also owns 6800 branded retail sites, which it plans to spin off. Analysts expect Valero to post EPS of $4.78 in 2013, up from $4.35 60 days ago and good for 9% growth from 2012. The company has beaten expectations in 3 of the past 4 quarters and shares currently yield 2.2%.
Western Refinery (NYSE:WNR) operates in the Southwest and West through two refineries with total capacity of 151k bpd. Analysts expect Western to post EPS of $3.93 in 2013, up from $3.57 60 days ago. The company has beaten estimates in only 2 of the past 4 quarters and short sellers are sitting on 8 days of average volume to cover. Shares yield 1.2%.
Tesoro (TSO) recently announced the purchase of BP's (BP) Southern California refining operation with 266k bpd capacity and 800 dealer operated sites. Prior to the acquisition, Tesoro operated 7 refineries on the West Coast with 665k bpd capacity. The street expects 2013 EPS of $5.32 in 2013, up from $4.59 60 days ago and Tesoro has beaten estimates in 3 of the past 4 quarters. Shares are yielding 1.1%.
Alon USA (NYSE:ALJ) owns refineries in Texas, California and Louisiana with 250 bpd capacity. In addition to gasoline, it's also one of the largest asphalt suppliers and benefits from improving construction development. Unlike the prior three, analysts haven't ratcheted up expectations for Alon. In 2013, they expect EPS of $1.54, about what they expected 90 days ago. Alon has only outpaced analyst's estimates once in the past 4 quarters. Shares yield 1.1%.
Delek U.S. (NYSE:DK) operates 140k bpd of refining capacity at two plants, one in Texas and the other in Arkansas. Those refiners supply some 374 company owned fuel and convenience stores across seven states. Expectations for 2013 EPS have increased from $2.64 60 days ago to $3.21 and shares yield 0.6%. The company has exceeded estimates in 3 of the past 4 quarters.
CVR Energy (NYSE:CVI) is a midcontinent refiner with a 115k bpd refinery in Kansas. Last December, it purchased a 70k bpd refinery in Wynnewood, Oklahoma. The company is the general partner in C V R Partners LP (NYSE:UAN), which yields 8.8% and produces nitrogen fertilizers. Current EPS estimates for 2013 are looking for $4.96, up from $4.51 60 days ago. CVR has beaten analysts in 2 of the past 4 quarters and there are 8.7 days to cover short.
Calumet Specialty Partners, LP (NASDAQ:CLMT), operates six plants converting crude into specialty hydrocarbons, such as napthenic oils, paraffinic oils, paraffin waxes and solvents. In late 2011, the company bought the Superior Refinery from Murphy Oil with 45k bpd capacity serving the upper Midwest. Analysts are forecasting $3.76 in EPS next year, up from $2.40 60 days ago. Shares are yielding 7.4% and the company has beaten in 3 of the past 4 quarters.
Northern Tier Energy, LP (NYSE:NTI), which IPO'd in July, operates a 74k bbl/d refinery in St. Paul, Minnesota. The PADD II refinery sources oil from Canada, where prices tend to trend below WTI. The company also owns 17% of the Minnesota Pipe Line Company, which owns a 455k bpd oil pipeline connecting to the Bakken in North Dakota and Western Canada. Both sources are benefiting from rapid production growth, which helps keep costs down. The street is calling for EPS of $2.16 next year, up from $1.90 30 days ago.
Refiners are notoriously volatile and seasonal, so they need to be traded carefully. They've also made significant moves since summer, suggesting some back-and-fill could be coming. For investors willing to keep a close eye on spreads and buy on pullbacks, there could be opportunity for upside.
Disclosure: I have no positions in any stocks mentioned, but may initiate a long position in TSO, CLMT over the next 72 hours. I wrote this article myself, and it expresses my own opinions. I am not receiving compensation for it (other than from Seeking Alpha). I have no business relationship with any company whose stock is mentioned in this article.