The "Hogshooter" is a limestone oil formation in Logan, Lincoln, Oklahoma, and Creek counties in western Oklahoma and the Texas Panhandle (roughly the Anadarko Basin/Granite Wash). Chesapeake Energy (NYSE:CHK) announced on June 1, 2012 its largest oil gusher in company history in the Hogshooter formation. The Thurman Horn 406H well produced 5,400 bopd during its first eight days of operation. This was more than twice the output rate of some of the best performing wells in the Eagle Ford shale. This well which reaches 10,000 ft. in depth also pumped 4.6 MMcf /d of natural gas and 1,2000 bpd of natural gas liquids. All told, the initial production was 7,350 boe/d. This well is currently flowing at approximately 5,100 boe/d (65% liquids). In its first 60 days of production, it produced 265,000 barrels of oil, 65,000 barrels of NGLs, and 350 MMcf of natural gas. CHK has other excellent wells there too. It owns approximately 30,000 net acres in the Hogshooter Wash play. CHK is known to be selling some of its assets to raise cash for operations and to pay off debt. It is not considering selling its Hogshooter acres, which are in CHK's existing holdings in the Granite Wash play. CHK pays a 1.80% dividend. It has a $12.47B market cap.
Apache Corp. (NYSE:APA), which controls 200,000 gross acres in the Granite Wash, drilled its first two Hogshooter wells in 2010. They both produced over 2,000 bopd of oil initially. After about two months on production, each of the wells was averaging approximately 700 bopd and 3.5 MMcf/d of natural gas. The two wells were more than 15 miles apart in Beckham County, Oklahoma. This indicates that there is a substantial oil play in the Hogshooter. APA has since drilled many more wells with good success. APA pays a 0.80% dividend. It has a market cap of $33.81B.
Linn Energy (LINE) drilled nine operated horizontal Hogshooter wells in Q3 2012. These have an average initial production rate of 1,983 bopd, 534 bpd of NGLs, and 3.4 MMcf/d of natural gas. To date, LINE has drilled 12 Hogshooter wells with an average initial production rate of 2,110 bopd, 528 bpd of NGLS, and 3.4 MMcf/d of natural gas. LINE owns about 95,000 net acres in the Granite Wash, and it had identified more than 600 horizontal drilling locations as of March 31, 2012. This play may help assure LINE investors that LINE will be able to continue to grow and pay its great dividend of nearly 7%. LINE has a market cap of $8.40B.
Forest Oil (NYSE:FST) has about 109,000 net acres in the Texas panhandle (the Granite Wash). This includes areas in which FST is targeting the Hogshooter formation. One of FST's Hogshooter wells had a 24 hour IP rate of 1,500 bopd, 570 bpd of NGLs, and 4.4 MMcf/d of natural gas. This was 2,800 boe/d in total. FST has not been as successful as Chesapeake Energy , but the potential is tremendous. Plus FST has a much smaller market cap of $965.72M, so the Hogshooter acreage could have a big impact on FST's future results.
None of these companies seems to have particularly encouraging charts. The best seems to be LINE, whose two-year chart is below.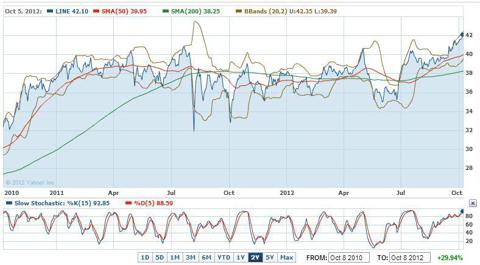 The chart shows that LINE appears to be breaking out of its long-term consolidation phase. This is almost assuredly due to the success of its new Hogshooter wells in Q3 2012. It also recently upped its full year guidance based on the prolific new Hogshooter results. With its oil and natural gas production well hedged years into the future, LINE appears to be a good long-term buy. Currently, it is overbought, so you may wish to average in. However, if the Hogshooter new drilling success continues in Q4 2012, you may wish you had bought more sooner. Still there is the fiscal cliff to consider. LINE pays a 6.89% dividend, and it trades at a PE of 8.98.
Note: Some of the above fundamental fiscal data comes from Yahoo Finance.
Good Luck Trading.
Disclosure: I have no positions in any stocks mentioned, but may initiate a long position in LINE over the next 72 hours. I wrote this article myself, and it expresses my own opinions. I am not receiving compensation for it (other than from Seeking Alpha). I have no business relationship with any company whose stock is mentioned in this article.