Russia's stock market (ETF: RSX) rose 4% last week despite its ongoing conflict with Georgia, as "investors seem more worried about oil prices than about a revival of Soviet-style imperialism," Barron's says. Still, despite a low P/E ratio of 7, the magazine says investors can do better elswhere.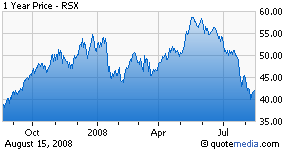 There are other markets with attractive P/E ratios, albeit not as cheap as Russia's. Brazil's stock market (EWZ, BZF) is valued at 11x earnings; Mexico (NYSEARCA:EWW), China (PGJ, FXI) and India (NYSEARCA:INP) go for about 15x; and Western European stocks trade for an average of just 10x.
It's also important to understand that Russia's high energy-stock weighting is one of the reasons its ratio is so low. Independent Russian major Lukoil (OTCPK:LUKOY) fetches just 5x 2008 profts. That's low, but so are ExxonMobil (NYSE:XOM) and Chevron (NYSE:CVX), which trade at 7x, and Brazilian oil giant Petrobras (NYSE:PBR), which has a P/E of 10.
Pluses: Lots of natural resources; $600B in forex reserves; growing consumer economy.
Minuses: 15% inflation, and the ever-present risk of government intervention (witness: Shell (NYSE:RDS.A), Mechel (NYSE:MTL), and BP's (NYSE:BP) problems with TNK-BP).
Those who must can try Market Vector Russia ETF Trust (NYSEARCA:RSX), Lukoil (OTCPK:LUKOY), VimpelCom (VIP) and Wimm-Bill-Dann Foods (NYSE:WBD).
:::::::::::::::::::::::::::::::::::::::::
Sean Maher agrees: Russia's a short.
The increasingly belligerent attitude to foreign investors, immigrants, and neighbouring countries, combined with the endemic corruption and decay now affecting every state institution under the Putin regime, may soon make Russia a bigger geopolitical risk factor for global investors than Iran.
Contrarian Jason Kelly thinks the current conflict "provides an entry into the most reasonably priced of the four BRIC developing countries: Brazil, Russia, India, and China."