Are the high flying days over for American Capital Group Agency (NASDAQ:AGNC) and other darlings of the mortgage real estate investment trust sector, such as Annaly Capital Management (NYSE:NLY)? Some analysts seem to think so, but the market disagrees with them. Who is right?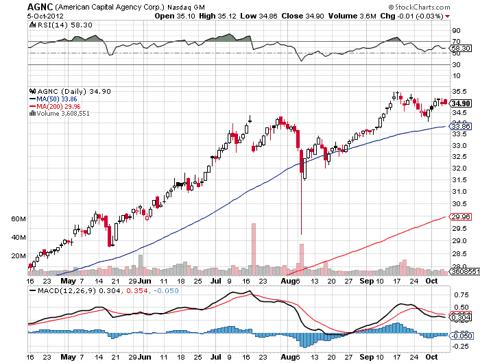 The numbers seem to validate the market's opinion of American Capital. The company registered a sales growth of 338.3% and income growth of 167.4%. This gave it a net profit margin of 167.4%. So it's easy to see how American Capital can deliver those $5 dividends that investors love.
The problem is that American Capital's success is based on a very specific set of events. Namely, record low interest rates that generate a lot of new mortgage activity and a limited market for mortgage securities that gives mREITs something of a monopoly. They can generate those dividends because they are one of the few markets for mortgage securities left these days.
If we go by the news, the set of events that has been propping up mREIT shares, such as Two Harbors Investment (NYSE:TWO) and ARMOUR Residential REIT (NYSE:ARR), will continue. Mortgage interest rates fell to yet another record low of 3.36% for a 30-year fixed rate during the week of October 1st. At the same time, the number of applications for mortgage refinancing increased by 16.6% in the week that ended on September 28th, according to the Mortgage Bankers' Association.
The Federal Reserve is also doing its best to boost mREIT stocks with Quantitative Easing part 3, which involves the purchase of $40 billion worth of mortgage bonds a month. The good part about QE3 for mREITs is that there's no end date on the program; the Fed plans to keep buying mortgage bonds until the economy recovers.
So the circumstances that enable American Capital Agency to offer a dividend yield of 14.3% look like they will stay around. The perfect storm of low interest rates and Federal Reserve mortgage buying will continue. The big question investors need to ask is if American Capital is the best buy in mREITs or not.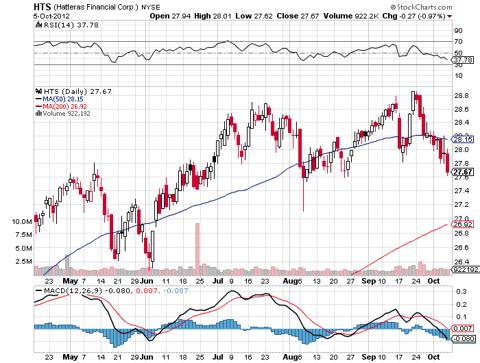 Maybe not, because on October 5th at the close of business, Hatteras Financial (NYSE:HTS) had a share price of $27.26 and a dividend rate of $3.20. Yet Hatteras also had an incredible net profit margin of 65.88% based on a sales growth of 60.8% and an income growth of 67.8%. This created a yield of $11.45. If you judge by the numbers and the charts, Hatteras looks underpriced and American Capital a tad overpriced.
mREITs have a lot of Cash
Annaly, on the other hand, no longer looks like a bargain. It had a net profit margin of 9.5% and a negative income growth of -73.8%, even though Annaly has increased its sales by 33.4%. Yet Annaly offered a miniscule earnings per share of just 17¢ and a yield of $12.02. Although Annaly has one thing going for it, from a value investors standpoint as of June 30, it had $2.95 billion in cash and ST Investments. That was actually more than the higher-priced American Capital, which had $2.4 billion in cash and ST on the same day. Hatteras, in contrast, had just $566.87 million in cash on the same day.
That means American Capital has a lot of cash to buy up mortgage securities at a time when the demand for mortgages and mortgage paper is about to increase. That will lead to increased sales, but will it lead to increased income? Maybe not, as we can see from Annaly's case, mREITs do not automatically generate more income from increased sales.
Mortgage Market is Tricky and Volatile
The mortgage market is a tricky and a volatile one right now. Even as demand for mortgages increases and some talk of an economic recovery begins to float return around volatility remains. There's also the fact that the housing market has not really recovered, despite the optimistic media pronouncements.
Something to remember is that there really isn't that much increased demand for mortgages. The Mortgage Bankers' Association reported that 83% of the applications its members received in the last week of September were for refinancing, not new mortgages. The only demand in the market is for refinancing, which is profitable for mREITs, but there's a limit to how many times people can refinance their mortgages.
If the housing market doesn't recover and refinancing runs out of steam, the days of growth for mREITs is over. The good news is it doesn't look like we're going to see that happen anytime soon. The mortgage refinancing market is red hot right now and American Capital Agency has the cash to take advantage of it, even if its shares are overpriced.
Disclosure: I have no positions in any stocks mentioned, and no plans to initiate any positions within the next 72 hours. I wrote this article myself, and it expresses my own opinions. I am not receiving compensation for it (other than from Seeking Alpha). I have no business relationship with any company whose stock is mentioned in this article.