The ETF industry has experienced a series of fee cuts and related actions lately. GoldETFs.biz has received numerous inquiries about the potential for gold ETF fee reductions. Our analysis indicates the SPDR Gold Trust (NYSEARCA:GLD) is ripe for a reduction in fees. Specifically, the poor performance and premium pricing of GLD relative to its peer group are troubling. Investors are recognizing this, as fund flows are not in line with the SPDR Gold Trust's AUM advantage. Before we examine these dynamics, however, let's review the background of GLD.
The SPDR Gold Trust was the first physically backed gold ETF in the United States. Launched in November 2004, it quickly became the premiere product for investors to gain convenient and liquid exposure to gold. The fund offered this exposure at an attractive expense ratio of less than one-half of a percent, 40bps to be exact. Of course, we now know that GLD went on to become the largest gold ETF in the world.
GLD Competition
The success of GLD has spawned competition in the physical gold ETF space. There are currently three other products available to investors. The iShares Gold Trust (NYSEARCA:IAU) launched in January 2005 and is the second-largest physical gold ETF. ETF Securities launched the Swiss Gold Trust (NYSEARCA:SGOL) in September 2009. It followed that launch in 2011 with the Asian Gold Trust (NYSEARCA:AGOL). However, all of these products have failed to produce the outright success level, measured in assets under management, of GLD. Here's a snapshot of the four gold funds and their respective asset levels and inception dates from the GoldETFs.biz gold ETF list:
Click to enlarge images.

Fee Comparison
At 40bps, the SPDR Gold Trust has an expense ratio that is slightly below average for an ETF. In its peer group, however, it has the highest expense ratio. To be fair, two of the three products that have lower expense ratios -- the Swiss Gold Trust and the Asian Gold Trust -- only beat GLD by one basis point. The 39bps expense ratio was clearly designed with the intent of being able to market the products as "less expensive than GLD."
The more relevant comparison for GLD is to the iShares Gold Trust, which carries an expense ratio of 25bps. This is more than a 30% discount for a product that is nearly identical in nature. iShares adopted this lower expense ratio several years ago as it struggled to gather assets vs. GLD. Today, the low-cost approach vs. IAU appears to increasingly be paying off for IAU (in performance and fund flows, but more on that later). Here's the physical gold ETF expense ratio snapshot from the GoldETFs.biz gold ETF list:

Performance Comparison
While GLD leads the peer group in assets, volume, and expense ratio, it lags in overall performance vs. some of the competition. The iShares Gold Trust has outperformed GLD in every major time period over the last five years. This is likely due to its expense ratio advantage. Here's a snapshot of the gold ETF performance grid from GoldETFs.biz:

During short-term comparisons, GLD does not lag IAU by much, but longer time periods -- like one, three and five years -- begin to show noticeable differences.
Fund Flow Comparison
GLD continues to grow in size, but it appears investors are increasingly adding assets to IAU at a greater pace relative to its market share. GLD is roughly seven times the size of IAU, but is not receiving fund flows even close to that ratio. Instead, IAU is receiving about 23% of all inflows into the two funds over the last year. That is a huge difference vs. its market share. Here's the fund flow data from Index Universe: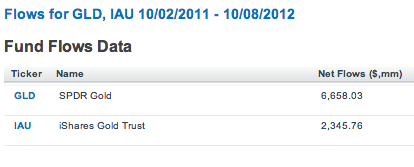 GLD has been a massive success. It is understandable that GLD decision makers may be content not addressing its performance and expense ratio challenges, and instead sit back and collect the fees it is due. One would think, however, that an ETF with $76 billion in AUM would begin to achieve scale that could be passed on to shareholders.
For investors who do not have to worry about legacy issues and revenue goals, GLD's high expense ratio and poor performance vs. competitors like IAU are simply not compelling. For that reason, GLD needs to be remodeled to once again be the best-in-class gold ETF it entered the market as. Perhaps Nov. 12, the SPDR Gold Trust's eight-year anniversary, will yield good news for shareholders.
Disclosure: I have no positions in any stocks mentioned, and no plans to initiate any positions within the next 72 hours. I wrote this article myself, and it expresses my own opinions. I am not receiving compensation for it. I have no business relationship with any company whose stock is mentioned in this article.
Additional disclosure: Christian Magoon is Publisher of gold ETF site GoldETFs.biz.