Horizon Pharma (NASDAQ:HZNP) is a biopharmaceutical company that is developing and commercializing innovative medicines to target unmet therapeutic needs in arthritis, pain and inflammatory diseases. The company received FDA approval for Duexis on April 23, 2011, a novel tablet formulation containing a fixed-dose combination of ibuprofen and famotidine in a single pill. Horizon submitted the MAA for Duexis to the Medicines and Healthcare products Regulatory Agency (MHRA) in the United Kingdom (UK), the Reference Member State, through the Decentralized Procedure in October 2010 and we anticipate a decision on the MAA in the second half of 2012. The review period for the MAA is 210 days from the date of submission, excluding any periods when the review period is stopped. Horizon Pharma received FDA approval for Rayos on July 26, 2012, a proprietary delayed-release formulation of low-dose prednisone. Rayos is currently marketed in Europe and Asia as Lodotra by it distribution partner, Mundipharma. It strategy is to commercialize our products in the U.S., to explore co-promotion opportunities for Duexis in the U.S. and to enter into licensing or additional distribution agreements for commercialization of its products outside the U.S.
Pipeline Overview:
I find at least four reasons to buy the stock currently:
1. Approval of Rayos (prednisone) Delayed-Release Tablets for Rheumatoid Arthritis and Multiple Additional Indications
Horizon Pharma Inc announced that the U.S. Food and Drug Administration (FDA) has approved Rayos (prednisone) delayed-release tablets (1 mg, 2 mg and 5 mg) to treat a broad range of diseases including rheumatoid arthritis (RA), polymyalgia rheumatica (PMR), psoriatic arthritis (PSA), ankylosing spondylitis (AS), asthma and chronic obstructive pulmonary disease (COPD). The FDA approval was supported by data bridging the pharmacokinetics of Rayos to immediate-release prednisone and data from the Circadian administration of prednisone in RA (CAPRA-1 and 2) trials. The CAPRA-2 trial demonstrated that people with moderate to severe RA treated with Rayos experienced a statistically significant improvement in ACR20 response criteria compared to placebo. The CAPRA-1 trial supported the overall safety of Rayos.
In my opinion, Rayos estimated market could be between $1 billion to $3 billion. In the case of a compound of prednisone, the manufacture would have a very low cost. Horizon's capitalization today stands at only $115MM.
2. The chart mark bounce
MACD is in the time of an onset bullish indication. It's vital to take into account that the short positions have declined since June, which is a clear indication of an impending bounce.
Horizon Pharma: Decreased short interest
| Settlement Date | Short Interest | Avg Daily Share Volume | Days To Cover |
| --- | --- | --- | --- |
| 9/14/2012 | 5,639,967 | 535,464 | 10.532859 |
| 8/31/2012 | 6,475,329 | 757,695 | 8.546089 |
| 8/15/2012 | 7,021,344 | 1,375,804 | 5.103448 |
(
Source
)
3. Analysts' price target: $14
On September 7, 2011, JMP Securities initiates coverage on Horizon Pharma with a Market Outperform. PT $16.00.
Horizon Pharma: Analyst stock recommendations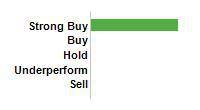 (Source)
4. Insiders are buying 4,850,569 shares in 2012
The following is a summary of the latest transactions:
On March 2, 2012, the director of the company Jeffrey W. Bird bought 680,293 shares at an average price of $3.59.

On September 25, 2012, the director of the company Jeffrey W. Bird bought 575,356 shares at an average price of $3.49.
Conclusion
Horizon Pharma is a unique opportunity in the market. The company is undervalued and we are dealing with a more than predictable new large pharmaceutical. The insiders buying shows a higher confidence in the company.
*Pipeline overview data sourced from Horizon Pharma and Chart data sourced from stockcharts, all other data sourced from Nasdaq.com as well as the web of the previously mentioned company.
Disclosure: I have no positions in any stocks mentioned, and no plans to initiate any positions within the next 72 hours. I wrote this article myself, and it expresses my own opinions. I am not receiving compensation for it (other than from Seeking Alpha). I have no business relationship with any company whose stock is mentioned in this article.