By Jeff Pietsch
Click to enlarge: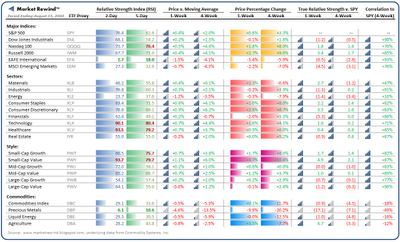 Last week, equities continued to benefit from what has evolved into a violent commodities liquidation (London Free Press - Oil Hits Three Month Lows; Bloomberg - Gold, Oil Slump). Although a bit mixed, the broadest U.S. indices ended in the plus column, with the Russell 2000 (NYSEARCA:IWM) leading for a gain of +2.7%. This was inspite of reports of weak retail sales, record home foreclosures, job pressures and hot inflation data (Yahoo! - Economic Table).

However, the export sensitive Dow Jones Industrial Average (NYSEARCA:DIA) and EAFE International Index (NYSEARCA:EFA) didn't fair as well, down -0.1% and -3.4%, respectively on continued dollar gains and news of economic weakness abroad (Bloomberg - Euro Falls).

Looking across the sector spectrum, Consumer Discretionaries (NYSEARCA:XLY) put in the strongest gains for the week of +2.8%, while Financials (NYSEARCA:XLF) declined -2.6%. This had some market commentators discounting next week's upside potential even as the likes of Ambac and MBIA were upgraded on Friday (Market Watch - Insurers Pace Gainers). However, of all the tracked ETFs within the scope of this article, it was really Precious Metals (NYSEARCA:DBP) that took it hardest on the chin, posting a -9.9% loss, now down over -20% in the last four weeks alone.

While commodities corrections are known to be turbulent, this further decline leaves metals heavily oversold and positioned for a short-term technical bounce. On a related dollar trade, the same can now be said of international issues. In contrast, while Technology (NYSEARCA:XLK) may yet have some legs left in its powerful upward move, it has become highly overbought and due for at least a brief correction soon, as have Healthcare (NYSEARCA:XLV) and Small-Cap Value (PWJ) stocks.

Looking ahead to Week 34 of 2008, trading action will be dominated by Producer Price Index and Housing data on Tuesday; Crude Inventories on Wednesday; and Jobless Claims, Leading Indicators and Philadelphia Fed readings on Thursday. As earnings season comes to an end, other news to watch will be the progress of the prospective Russia/Georgia truce (New York Times - Kremlin Signs), and Tropical Storm Fay in the Gulf (Bloomberg - Storm Nears Cuba).