Occasionally, I use equity screens to generate new ideas and discover companies with intriguing valuation. I came across Xyratex Ltd. (NASDAQ:XRTX) by using the following constraints in my screen criteria:
P/E < 10
P/B < 1.0
Dividend Yield > 3%
Sales Growth Over the Past Five Years
30 & 14 day Relative Strength Indications < 10
XRTX is company operating within the technology sector, specializing in data storage devices. XRTX is worth consideration given it is trading at a bargain of their valuation and only reveal moderate risk in its holding period returns. This article begins with a brief overview of its business model, touches on some of their product features, and then concludes with several highlights outlining XRTX's valuation and risk metrics.
Business Model & Fundamentals
XRTX was originally founded in 1966 and currently headquarters are located today in Havant, which is in the United Kingdom. XRTX markets and sells their own products, primarily to OEMs, manufacturers of disk drives, as well as other companies spread across North America, Asia, and Central Europe. Below is a broad overview of their business model extracted from Bloomberg, then followed by some additional features of the companies products.
"Xyratex Ltd. provides enterprise class data storage subsystems and network technology. The Company designs and manufactures enabling technology that provides OEM and disk drive manufacturer customers with data storage products that support high-performance storage and data communication networks." Bloomberg Company Profile
XRTX data storage products have several unique features. For example, one of the features of their enterprise data storage solutions that include storage enclosures also provide a common technology platform that reduces qualification time for original equipment manufacturer customers. In addition, it also includes management interface software, standardized across enclosures, and provides easy integration as new platforms. These new platforms incorporate embedded server modules into is storage enclosure. In addition, the XRTX design and manufacturers a wide array of process test systems that incorporate mechanical/electronic hardware as well as firmware in order to exert control of the HDD operating environment during the formatting of the disk drive.
For a more in depth analysis of XRTX's product line please visit XRTX's company website.
Valuation & Risk Metrics
XRTX has been extremely sold past fair valuation. Below in Figure 1, you will see XRTX is currently trading roughly below seven dollars per share (approximately 60% below their 52 week high). Relative strength indications are 8.31, in support of being oversold and indicating the high probability of an upward trend. The primary reason for the recent decline in market value per share is a result of missing third quarter sales estimates.
Figure 1: XRTX Price Graph
XRTX has a high current ratio of 2.68, evidently making them more than capable if they ever need to cover any short-term liabilities. XRTX is currently trading at a discount to the industry for the trailing P/E as well as forward P/E. XRTX's P/E is currently 4.38, with a slightly higher forward P/E of 5.16. XRTX shows strong signs of profitability with a Return on Assets of 8.11%, Return on Equity of 12.23%, and a Return on Investment in Operating Capital of 12.23%.
In addition, XRTX has a fair dividend yield of approximately 4.31%, $0.30 per share. Institutional ownership remains at approximately 6.92% of all shares outstanding, no transactions recently worth noting. Four different analysts that cover this stock have buy ratings on it with target prices ranging from $11 to $14 per share.
Figure 2: Risk Metrics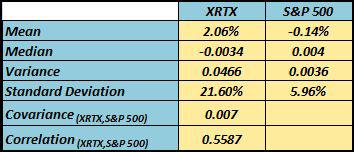 The calculations above in figure 2 were derived from XRTX's monthly holding period returns from the last four years and were compared to the same returns of the S&P 500 to serve as a benchmark for comparison. The results concluded that XRTX out performed the S&P 500 yielding an arithmetic average of 2.06% over the four year period. The standard deviation of XRTX is 21.6% in comparison to the S&P 500. We can conclude that investing XRTX does pose a moderate level of risk, however a portion of the risk can be attributed to the systematic risk that is present industry wide.
Conclusion
Overall, XRTX is a nice value play that has the potential to provide investors with a high potential upside. The profitability levels necessary to excel are there, and relative strength indications are supporting this upward trend.
Sources: All information, statistics, and financial market data were retrieved from FinViz, Google Finance, YCharts, and TDAmeritrade.
Disclosure: I have no positions in any stocks mentioned, and no plans to initiate any positions within the next 72 hours. I wrote this article myself, and it expresses my own opinions. I am not receiving compensation for it (other than from Seeking Alpha). I have no business relationship with any company whose stock is mentioned in this article.