On August 15, an article was published in the Silicon Alley Insider titled "Motorola's Funeral Canceled: On Slow Road To Recovery, Says Citi." Motorola (MOT) will be spinning off its mobile division, bringing in new management and launching over 30 new products in the near future.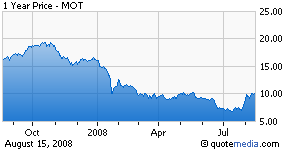 Since beating the street on July 31 by 5 cents, the stock price has rallied over 40%. Many analysts remain impressed as this company seems to be getting its act together in its turnaround strategies, at least for one quarter anyway. Carl Icahn even boosted his stake by around 30 million shares.
Once having commanded more than one-fifth of the global handset market, Motorola ended the recent quarter with less than 10% market share. In addition, shelf-space at major carriers is declining rapidly. It seems like Motorola is on track to become a lot more like Nokia (NYSE:NOK), who does not have one 'great' product, but rather a portfolio of 'good' ones. Hence, that's why the company is planning to introduce so many new phones. Yet although this strategy has worked for many companies in the past, Motorola has not really developed many phones that people actually want to buy. Case in point, the ROKR partnership between Apple (NASDAQ:AAPL) and Motorola didn't go exactly as planned. What Apple did next is history.
Another problem with focusing on developing so many products is that production and development costs will increase substantially; this is a particular concern with the mobile division on the verge of being separated, which means any synergies between the two companies in R&D, production, sales, servicing and marketing will be lost. Perhaps what Motorola needs to focus on is not a slew of products, but one product that will define the next generation, like Research In Motion (RIMM) and AAPL.
Motorola has many unanswered concerns that need to be resolved in order to get my vote:
What's the new company chief's strategy?
Although net positive, mobile devices had a recent operating loss of $346 million.
Cost savings of $1 billion in 2008 is great for earnings short-term, but certainly not sustainable long-term.
Perhaps Motorola will get it right this time, but before seeing more consistent quarters and a more polished corporate strategy, there are simply better options to invest in the Telecom space – NOK, AAPL, RIMM, LG (NYSE:LPL).
Disclosure: None