After a better-than-expected jobs report, consumer spending is a key indicator investors will watch as the holiday season nears and retail and consumer discretionary ETFs will be sensitive to the data.
"With the beleaguered housing market finally showing some signs of helping a fragile economic recovery, expected earnings acceleration in the fourth quarter and attractive valuations could help wrap another year of relative outperformance for the Consumer Discretionary sector. Year-to-date in 2012 through the end of September, the S&P Consumer Discretionary Index (representing 11.4% of the S&P Composite 1500 Index) was up 20.1%, versus a 14.3% advance for broader market index - with the sector's top five performing sub-industry group comprising Homebuilding, Household Appliances, Cable & Satellite, Internet Retail, and Broadcasting," S&P Capital IQ wrote in a recent note.
Consumers appear to be hanging in there, despite the chance of another U.S. recession and anemic macroeconomic indicators. Slight upticks in consumer confidence and the employment picture are providing a positive backdrop for the consumer discretionary and retail sectors, that have heavily relied upon the higher-end consumer.
S&P Capital IQ recently identified three consumer discretionary ETFs as "Overweight," out of 25 focused ETFs. The Consumer Discretionary Select Sector SPDR Fund (NYSEARCA:XLY) and Market Vectors Retail ETF (NYSEARCA:RTH) scored the highest ranking. XLY and RTH have healthy bid/ask spreads, high liquidity and low expense ratios. These funds are relatively large and have enough assets to be considered liquid, an important feature of ETFs.
Consumer spending is considered a general market sentiment barometer and any rise on consumer confidence is favorable for the sector and the broad market. The market is entering fourth quarter with positive sentiment, so hopefully it will sustain for the most popular retail season of the year.
Consumer Discretionary Select Sector SPDR Fund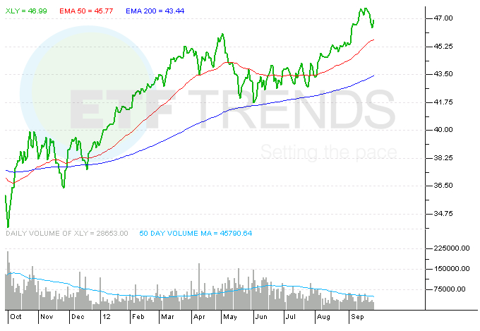 Tisha Guerrero contributed to this article.
Disclosure: I have no positions in any stocks mentioned, and no plans to initiate any positions within the next 72 hours. I wrote this article myself, and it expresses my own opinions. I am not receiving compensation for it. I have no business relationship with any company whose stock is mentioned in this article.