Each weekend when I do my big search for stock market ideas, my first search is by relative strength and weakness. I of course notice this during the week as well, but I try to really key in on names of stocks, sectors and groups on the weekend for further study.
On July 30th the market had what technicians refer to as a 'follow-through day', which is simply a strong rally on heavy volume at least three days after a market bottom is put in. It should ideally occur between days five and seven, and although this one occurred on day ten, it's still not something to ignore. In my case two things happen when follow through days occurs. First and foremost, I get out of my shorts. This is important, because while a follow through day certainly is not a promise of a bottom, no market bottom of any significance has ever occurred without one. I next will look at what sectors and stocks are leading the move up. In the case of this most recent rally, the leadership has primarily been in areas that had been gravely beaten down in the bear move - not a good sign - and some areas of healthcare and biotechnology. Very narrow leadership.
Since we are now at some fairly significant resistance on the major averages, both in terms of price and moving average, and the rally has hardly been what I would consider convincing, my focus has turned back to the short side of things. Just as I looked at strong stocks like AFAM, JNJ, EZPW, AMED, WGOV and GTIV that had gone down less than the market did during its bearish phase, I'm now looking at stocks that have not rallied as much as the market on this move higher. That provides me with the starting place for further analysis.
One of the sacred darlings of Wall Street has to be Goldman Sachs (NYSE:GS). However, over the last several weeks as the market has rallied, including a lot of financials, Goldman has been notably absent from the party. Not only has it failed to rally, it has actually declined from a peak of $190 to its current $163 over the last few weeks. There is no doubt that Goldman operates one of the tightest ships on The Street, and its trading operations are second to none. However, I do not think that Goldman has the magic immunity pill to everything that's going on in the world. The core business is suffering, as is that of every other financial institution in America.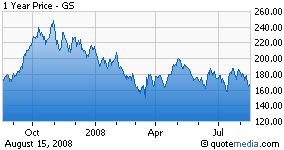 Over the last several quarters the Trading Desk has been able to bail Goldman Sachs out of the troubles that the rest of the operations would have created for the company. This is not something that I think is going to be accepted forever, and I don't see fresh places for Goldman to derive income from at this point. Asia, led by China, has been melting down for several months prior to the Olympics, while Europe's housing-led slowdown is going to be at least as bad as ours. I would not expect Goldman to be able to continue pulling rabbits out of its hat forever.
If you are adept at Options strategies, I'm sure there are a few you can use. As I have only been able to lose money over the course of my career trading options, I will be sticking to a straight equity short in Goldman Sachs. For all of the reasons listed above, if Goldman trades under $160 per share I will start to accumulate a short position in the stock.
Disclosure: I currently hold no position but I will short Goldman on a close or substantial intraday break below $160.