By Fani Kelesidou
Research In Motion (RIMM), the company behind the BlackBerry product line, is going through a tough period. The innovator that revolutionized the mobile industry in the early 2000s is now dealing with declining sales and increased criticism. Even though Q2 2012 financial results exceeded analysts' expectations, there is strong skepticism regarding the company's future prospects. However, before deciding whether RIMM is a lost cause or not, we should take a closer look at the facts.
Business Profile
The company was established in 1984 and is based in Canada. RIMM is a global provider of wireless solutions and platforms for access to information. RIMM's primary source of income derives from the BlackBerry wireless solution, which consists of smartphones, tables, service, and related software. In addition, the company's wide range of service and product portfolio is further enhanced through third-party support programs. In 2011, RIMM acquired Scoreloop, a developer of mobile gaming platforms. On March 8, 2012, RIMM acquired Paratek Microwave Inc., a manufacturer of adaptive RF front-end component solutions. As of Sept. 1, 2012, RIMM had approximately 80 million global subscribers.
Financial Highlights
RIMM's latest financial results were certainly an unexpected development in the company's previously dubious performance. RIMM is still facing great challenges. Nevertheless, no one can deny that Q2 2012 financial results reflect signs of optimism for the company's future prospects. Overall, in the latest financial statement the company reported total revenue of $2.9 billion, up by 2% from Q1 2012.
On the negative side, for Q2 2012 total revenue decreased by about 30% compared to the same period last year. Moreover, for the second quarter of 2012 gross margin accounted for 26.0% of total revenue, while for Q2 2011 it was approximately 38.7%.
On the positive side, analysts' Q2 2012 revenue benchmark was lower than what the company actually achieved. In addition, RIMM reported an increase in cash, cash equivalents, and short-term and long-term investments by $100 million. For the six months ended Sept. 1, 2012, total net cash provided from operating activities was $1.13 billion. In other words, net cash from operating activities was boosted by 17% compared to the same period last year.
Also, for Q2 2012 the company reported a 22% decrease in operating expenses compared to Q1 2012. Operating expenses were down by 8% compared to Q2 2011. Finally, during the second quarter, shipments of BlackBerry smartphones and PlayBook tablets remained relatively high. They were approximately 7.4 million and 130,000, respectively. Analysts on average predicted only 6.9 million smartphone sales.
Stock Valuation
At a first glance, increased competition -- especially from iPhone and Samsung Galaxy devices -- has impacted RIMM's position negatively. This consequently has caused investors' sentiment to decay. However, the fact that RIMM's latest overall performance exceeded analysts' projections had a positive effect on the stock. After the company reported an increase in subscriber numbers, the stock jumped by 5%.
Click to enlarge image.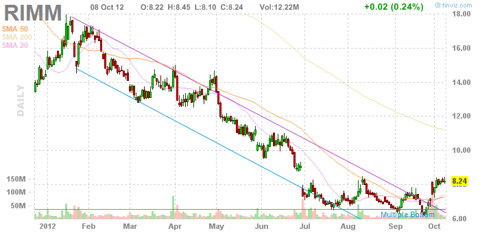 On July 20, 2012, RIMM hit a low of $6.66. Since then, it has bounced back. As of Oct. 9, 2012, the stock was trading at $8.23, which is about 30% higher than the 52-week low. Its price-to-sales ratio stands at 0.28, and the price-to-book value ratio is 0.46.
Estimations on the stock's future trends are mixed. Some good news came from Kris Thompson, who was the first to predict RIMM's fall to below $8. He recently upgraded his rating to "outperform," and estimated a target price of $12. The analysts' average target price (derived from past six months' data) is $10.36, showing about 25% upside potential.
Summary
Research In Motion is swimming through turbulent waters. It still has a long way to go in order to achieve a successful comeback in the smartphone market. RIMM's bet is to climb to third place in the platform industry. Thus, it all comes down to BB10's determinative contribution to the company's attempt for recovery.
RIMM is getting positive feedback on the soon-to-be-released smartphone. With BB10, the company is moving away from the familiar BlackBerry system. It combines some of the best features of competitive OS and adds on security parameters. The improved BlackBerry operational system will be based on QNX, the same system that runs nuclear power stations and medical devices.
RIMM is expected to provide a more secure mobile OS than most of its peers. Moreover, even though sales in North America and Europe have been declining, the company's market share in emerging economies is substantially increasing. RIMM is gaining in global recognition and expanding its sales in other parts of the world, such as Asia, South Africa, and India. In the short run, the expansion toward low-cost buyers will not be enough for RIMM to boost earnings sharply. However, it was the exposure to emerging markets that made the company beat analysts' projections just a few weeks ago. Emerging markets offer a whole new spectrum of opportunities, which RIMM is more than willing to exploit in the long run.
According to a recent report by The Globe and Mail, RIMM spends about 8.5% of its sales for research and development. Out of 380 companies that spend over $100 million, RIMM was ranked at No. 205, while Apple (NASDAQ:AAPL) was down to the 348th place. This does not mean RIMM spends more on R&D than Apple. It does indicate, though, that the company keeps investing in new ideas that can speed the recovery process. To sum up, I strongly suggest that RIMM is worth watching for upside moves. Q1 2013 financial results will be crucial in determining RIMM's next steps.
Disclosure: I am long AAPL.
Business relationship disclosure: EfsInvestment is a team of analysts. This article was written by Fani Kelesidou, one of our writers. We did not receive compensation for this article (other than from Seeking Alpha), and we have no business relationship with any company whose stock is mentioned in this article.