By Siraj Sarwar
Westport Innovations (NASDAQ:WPRT) is a leader in the supply of low-emission engine and fuel systems technology. The company is engaged in the engineering, design, and style of natural gas empowering technology. It designs, generates, and provides alternate fuel engines, programs, and parts for automotive and industrial markets. It also designs, engineers, and delivers natural gas engines for the urban vehicles, standard trucks, and tractors. Moreover, Westport provides 15-liter natural gas engines for the high quality trucking market. Westport was established in 1995 and is based in Vancouver, Canada.
Recent Earnings
Westport's consolidated revenue for the three months ended June 30, 2012, was $106.1 million, up $61.2 million from Q2 2011. Revenue increased by 136.3% from Q2 2011. Westport's business segments are showing an upward trend. Westport's Light-Duty Segment has produced revenue of $30.7 million, an increase of 10.9 million from Q2 2011. The Cummins-Westport segment has produced 57 million, an increase of 31.9 million from Q2 2011. The Westport Heavy Duty segment revenue was $10.5 million, up 111.3% from Q2 2011.
Westport Reported a net loss of $6.1 million ($0.11 loss per share) for the quarter ended June 30, 2012. The company has burnt most of its cash in its operating activates due to its expansion plan. Westport spent 20.5 million on R&D, an increase of 9.1 million. Westport's consolidated gross margins look attractive with 38.2% in Q2 2012. The company is growing its revenue and expected to increase its revenue by 30% to 50% in the next two years. In my opinion, the company will touch a breakeven point in 2014.
Despite negative earnings, there are numerous items from Westport's Q2 2012 results that impress me. First, its current ratio of 3.16 shows that it has a strong balance sheet. Second, Westport has yet another revenue flow in route from the off-road market by working with Canadian National Railway (NYSE:CNI) and Caterpillar (NYSE:CAT). Westport recently joined hands with Weichai Power (OTCPK:WEICF), the Chinese giant that is presently the globe's largest producer of heavy duty engines.
Cash and Cash Equivalents
Cash, short-term investments, and cash equivalents were $307.2 million as of June 30, 2012. Cash has decreased by $26.1 million from Q1 2012. Cash used in operations was $14.1 million. Cash used in investing activities involved the fixed assets acquisition of $4.9 million and short-run investments of $7.1 million. Cash flows from financing activities included $0.1 million in shares issued for stock option exercises. This cash was offset by a $2.9 million repayment of the company's operating lines of credit. Foreign exchange cash balances adversely affected cash and cash equivalents by roughly $0.5 million.
Westport Vs. Clean Energy
Westport's collaboration with Ford (NYSE:F) to redesign the well-known Ford F-250 trucks with bi-fuel gasoline and natural gas engines is appearing profitable. Westport is preparing a similar collaboration with Volvo cars in the near future. However, lack of adequate infrastructure is the major reason for the reluctance of consumers to switch to natural gas in the U.S. The truck producers are not ready to build gas-driven models until the fueling facilities are in a position.
Clean Energy (NASDAQ:CLNE) has made the first move on this issue. CLNE is positively working to build fueling stations named "American Natural Gas Highway." The company aims to set up fueling stations all around America. Clean Energy is moving forward, building a project it named America's Natural Gas Highway. The first stage of this project seeks to create a network of 150 liquefied natural gas filling stations all over the U.S. by the end of next year. CLNE programs to establish 70 stations in 2012 and 80 stations in the following year. This infrastructure could be a strong positive catalyst for Westport.
Stock Performance
Click to enlarge image.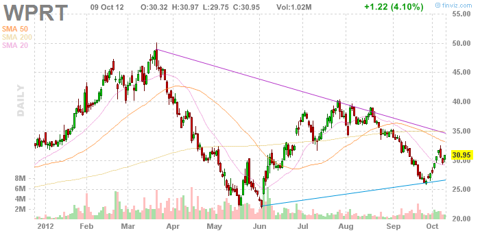 The stock performance had been excellent until the end of March. At the end of March, Cummins (NYSE:CMI) made a statement that it planned to produce an engine outside the Westport collaboration. Westport shares got hammered, dropped from a high of $49.68 on March 21 to as low as $23.04 on May 17. The latest collaboration announcement with Caterpillar pushed the stock back up once again. Still, the stock is even now well below its March high, and this is a great point to enter. Valued at only $1.7 billion, Westport has an appealing valuation with 2013 revenues projections to hit $554 million with 33% growth. Massive revenue growth rate is a plus for the stock. I believe that the company stock will climb again in the near future. I further believe this is the perfect time to buy the stock at the current price.
Summary
Westport has recently seen considerable growth. The company is a true market innovator. Westport has many technical advantages that moved it from a startup company to the market leader. The worldwide demand for Westport's products and solutions is increasing tremendously. Westport has doubled the plant potential in the Weichai to generate 40,000 engines yearly.
The company has recently released the finalization of an assembly center in Kentucky with an annual generation capacity of about 20,000 Westport WiNG systems. Potentially explosive growth industry makes Westport's products and its intellectual properties an attractive long-term investment opportunity.
Disclosure: I have no positions in any stocks mentioned, and no plans to initiate any positions within the next 72 hours.
Business relationship disclosure: EfsInvestment is a team of analysts. This article was written by Siraj Sarwar, one of our writers. We did not receive compensation for this article (other than from Seeking Alpha), and we have no business relationship with any company whose stock is mentioned in this article.