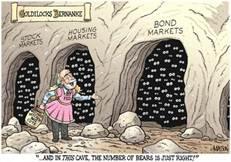 If you're an investor, these aren't bad times, assuming you can put aside your fears of what the future holds, that is. The not too hot, not too cold economy has been making it the best of both worlds for the financial markets, and an awfully fine hiding place for Goldilocks. The economy has been decent enough to keep us out of another recession, but not too strong as to prevent Ben Bernanke and his Federal Reserve Board puppeteers from printing more money and injecting it into the economy, calling it stimulus, QE Buzzlightyear, or whatever suits their fancy.
The Fed's QE3 should push off the major sell-off that most investors fear -- and that I am convinced will occur -- until next year. The Fed's aggressive move has raised the floor below the market. I understand that many of my readers of this newsletter and Facing Goliath - How to Triumph in the Dangerous Market Ahead are convinced that a crash is inevitable any day now. Given the economic conditions, who could blame them? The world looks like a mess. Hell, the world is a mess!
However, markets simply do not crash when everyone expects them to. There are no exceptions. On a recent CNBC appearance, I outlined the five reasons why the market should stay relatively strong, albeit with normal corrections, through the end of the year.
The world is awash in liquidity: World banks are printing money like its going out of style. China is next.
Earnings will be better than expected: This has been the norm for the last four years. Stocks are flat to down ahead of earnings season, anticipating bad earnings, and then they are better than expected. Although, even if they are better than expected, we are finally getting earnings downgrades, which signifies the end of the cycle.
Negativity is omnipresent: Stocks do not drop when everyone thinks they will.
People are still afraid of stocks: A correction will not occur until it can hurt the most people. Stock and bond flows are ridiculous. So far this year, bond funds have received over $1 trillion, while $500 billion has left stock funds.
You don't fight the Fed: Where else do you go? The Fed has forced people to take risk, even if they shouldn't, to help perpetuate the "wealth effect."
However, as we enter the new year, all bets are off. I expect the markets will likely peak in the first half of next year and start a cyclical bear market. Even with all of the above conditions in place, even trees don't grow to the sky. Although, I would not be surprised to see complacency set in, in advance, but not for awhile, so play it (as long as you have the stomach for it, that is) with commodity stocks that will benefit from world banks printing money: Goldcorp. (NYSE:GG), Barrick Gold Corp (NYSE:ABX), SPDR Gold Shares (NYSEARCA:GLD), Power Shares Double Gold (NYSEARCA:DGP), Market Vectors Gold Miners ETF (NYSEARCA:GDX), Newmont Mining Corp. (NYSE:NEM), Freeport-McMoRan Copper & Gold Inc. (NYSE:FCX), plus Silver Wheaton Corp. (SLW), ProShares Ultra Silver (AGQ,) and Fortuna Silver Mines (NYSE:FSM).
Low rates and QE3 will be good for stocks through the rest of the year. With the enormous liquidity in the markets, stock investors willing to take on some risk should buy the best growth opportunities. The best spot right now would be Apple (NASDAQ:AAPL), which is getting hit at the moment, but setting up as the buy of the year. Also, other leaders in innovative technology companies are attractive, such as Google (NASDAQ:GOOG), Intel Corporation (NASDAQ:INTC), Qualcomm (NASDAQ:QCOM), Microsoft (NASDAQ:MSFT), Cisco Systems (NASDAQ:CSCO), Dell (DELL), Caterpillar (NYSE:CAT), General Electric (NYSE:GE) and Yahoo (YHOO), Red Hat Inc. (NYSE:RHT), Schlumberger (NYSE:SLB), and VMware Inc. (NYSE:VMW). For more broader exposure, fall on ETFs like the SPDR S&P 500 (NYSEARCA:SPY), SPDR Select Sector Fund - Financial (NYSEARCA:XLF), iShares MSCI Emerging Index Fund (NYSEARCA:EEM), Emerging Markets Consumer ETF (NYSEARCA:ECON), Brazil (NYSEARCA:EWZ), PowerShares QQQ Trust, Series 1 (NASDAQ:QQQ), iShares Russell 2000 (NYSEARCA:IWM), and iShares FTSE China 25 Index Fund (NYSEARCA:FXI).
Less risky and income investors should focus on MLPs like Terra Nitrogen (NYSE:TNH) ,CVR Partners (NYSE:UAN), Legacy Reserves (NASDAQ:LGCY), Vanguard Natural Resources (NYSE:VNR), and BrietBurn Energy (BBEP), and healthcare REITs related to the aging baby boomers, such as Healthcare Properties (NYSE:HCP), Senior Housing (NYSE:SNH) and IShares Healthcare (NYSEARCA:IYH).
Disclosure: I have no positions in any stocks mentioned, and no plans to initiate any positions within the next 72 hours. I wrote this article myself, and it expresses my own opinions. I am not receiving compensation for it. I have no business relationship with any company whose stock is mentioned in this article.