Netflix (NASDAQ:NFLX) is one of those stocks that I never bothered with in the past. Whenever I took a look at some of the key statistics of the company, they seemed so expensive (by my standards) that I never even bothered to look at the balance sheet.
In my investment banking days, we had several rules of thumb. One was, if a company's 10-K or IPO filling was the size of an encyclopedia book, chances are that you shouldn't bother looking at it. Also, when it takes you more than 5 minutes to figure out a note on the balance sheet, then it is probably a good idea not to dig any deeper and forget about buying the stock.
Having said that, let's look at the balance sheet of Netflix and see if we can figure everything out in 5 minutes.
If one looks at the most recent 10-K (link here) under note 8, then he will read:
8. Commitments and Contingencies - Streaming Content

The Company had $5.0 billion and $4.8 billion of obligations at June 30, 2012 and December 31, 2011, respectively, including agreements to acquire and license streaming content that represent current or long-term liabilities or that are not reflected on the Consolidated Balance Sheets because they do not meet content library asset recognition criteria. The license agreements that are not reflected on the Consolidated Balance Sheets do not meet content library asset recognition criteria because either the fee is not known or reasonably determinable for a specific title or it is known but the title is not yet available for streaming to subscribers.

Please correct me if I am wrong. The filing explicitly says "that represent current or long-term liabilities or that are not reflected on the Consolidated Balance Sheets."
In other words, these amounts might or might not be on the balance sheet as liabilities. But what portion of the $2 billion that is current in less than one year on the balance sheet? I mean, they could have put an asterisk in note 8, stating clearly that X portion of these off balance sheet liabilities are due in less than one year under current liabilities. I fully understand the issue of FAS 63, but I have no way of knowing what portion of these contractual obligations will hit the income statement and how soon. That's a big red flag in my book.
Expanding on balance sheet issues, current assets as of June 30, 2012 were $2.13 billion and current liabilities were $1.5 billion. If just $700 million of those off balance liabilities come to roast within a 12 month period, then Houston we have a problem.
Another issue with this stock is pure valuation concerns. This company has a current PE (trailing) about 40 but has a forward PE of about 75. Not only is this not a value play of any kind, but as the chart below shows, the fundamentals are all downhill looking forward. This is beyond any doubt a very expensive company. I'm sorry but there are many other stocks out there and I don't need to be bothered with such an expensive stock.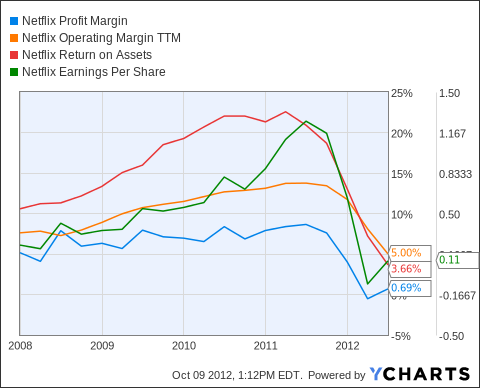 NFLX Profit Margin data by YCharts
Another issue is the competition. DVDs are a dying business and sooner or later the only thing standing will be on demand services like Netflix. As a result, just about anyone you can imagine is trying to get into this business, among others, big cap heavyweights like Google (NASDAQ:GOOG), Apple (NASDAQ:AAPL), Time Warner (NYSE:TWX) and Amazon (NASDAQ:AMZN).
Yes Netflix intends to expand internationally, but there are hundreds of companies worldwide that offer similar services in local markets. Can Netflix really compete with the whole world in this space and make a decent profit in the long term? I don't think so, and the balance sheet and company's earnings are my witnesses.
There is however one point I would like to make, and it can be an ace under shareholders' sleeves. I do see the possibility that this company might be a buyout target. Not because of the compelling valuation, but because Apple and Google both might want to enter this market in a big way. See, it would cost a whole lot less for them to buy Netflix outright than to develop their own platform. Not only do they have the cash for this, but it makes sense in many ways.
Would I buy this stock based on this wild card speculation? No I would not, but I might think about it in the future, if the stock were to fall much further south. But at these valuations I dare not even think about it.
Bottom line: Put aside the off balance sheet issues, the fact that the balance sheet (even without the off balance sheet items) is more leveraged than my tastes permit and competition concerns, this is a very expensive stock.
And at the end of the day, long term portfolio returns depend not just on what you buy, but at what valuations you buy. And as far as I am concerned, this stock is way off the chart as far as valuations are concerned.
Disclosure: I have no positions in any stocks mentioned, and no plans to initiate any positions within the next 72 hours. I wrote this article myself, and it expresses my own opinions. I am not receiving compensation for it (other than from Seeking Alpha). I have no business relationship with any company whose stock is mentioned in this article.