Market Recap
The market had another day of weakness as fears over Europe and earnings are growing, and without an upward catalyst, the market is giving back some healthy gains it had accrued. The major hit to the market has been earnings fears are growing as many are expecting a weak slate of reports on weaker spending in the US, weaker demand in Europe, and concerns in China. Additionally, technology was pretty weak today. Apple (NASDAQ:AAPL) continues to perform weakly, and other tech names like Google (NASDAQ:GOOG), Netflix (NASDAQ:NFLX), and Akamai (NASDAQ:AKAM) were not performing well. A lot weighs on Alcoa's (NYSE:AA) report tonight as well as Yum (NYSE:YUM). If they are weak, the market could see some tough correcting tomorrow. At the same time, the expectations are rock bottom. If they surprise at all, the market could get bid up on Wednesday.
Here are some stocks we like moving into next week and beyond:
Stocks To Trade
Today, we are looking at an earnings trade in Bank of America (NYSE:BAC), longs in Ctrip.com (NASDAQ:CTRP) and Cheniere Energy (NYSEMKT:LNG), and shorts in Johnson & Johnson (NYSE:JNJ) and Google.
For an earnings trade, we are looking at Bank of America today. 2012, so far, has been a redemptive year with the stock increasing 50% in value. The questions for BAC is can they keep it going with its earnings report coming on October 17, and what is the best way to play the stock right now. The company is expected to report a fairly weak tape with EPS dropping from 0.56 to around -0.05. Revenue is also expected to drop more than 30% YoY. Neither statistic bids much confidence heading into earnings, but expectations are very low across the table. Despite the market strength in Q3, many investment bankers have not commented that they had a successful quarter, and we expect trading revenue/income to be down. Further, the company has not backed off much at all yet into the report. We would venture to guess we will see some profit taking into the report and would short through October 16. At the same time, the stock has not failed $7 this year since breaking it in February on the upside. We like using that line for a conservative hedge.
Trade: BAC, Short until earnings and BAC, Dec12, $7 Puts, Sold
Max Gain: 10% on puts.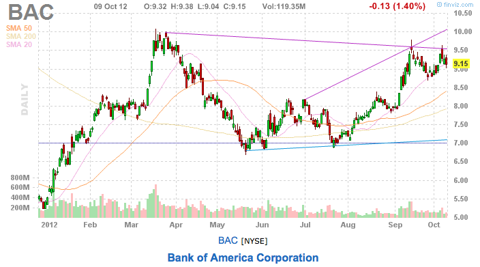 For longs, we like the looks of Ctrip.com and Cheniere. CTRP has really made quite a move since bottoming at $12 at the beginning of August. The stock broke out of a triangle to the upside and has great support below it. The stock has some resistance at $20 at the 200-day MA, but we like the stock right now. The fundamental catalyst right now for the company is that China is traveling. Analysts are mixed on the stock, but the fact of the matter is that Chinese citizens are spending money. Las Vegas Sands (NYSE:LVS) reported record weekends for their casinos, and now, China may be producing its own easing that could goose their markets. We like CTRP as it makes a technical breakout. LNG is also starting to look like its forming a bottom as it continues to follow an upward channel higher. We believe LNG is great for an options play as the company does not report until November. The company should hold up here for several reasons. First, the company is in talks with Tokyo Electric Power to import shale gas from them. Further, we believe that the stock should benefit from improving earnings as they move to around -0.25 from -0.66 one year ago. Finally, the stock has great support with its 50-day and 200-day MA between 14.50 and 15.00.
Stock Trade: Long, CTRP
Breakout Point: Above today's HOD.
Options Trade: LNG, Nov17, 14/13 Bull Put Spread
Max Gain: 25%
For shorts, we like the looks of Johnson & Johnson and Google. JNJ got a downgrade from Goldman Sachs (NYSE:GS) today from Neutral to Sell, and the defensive stock looks like it has topped and could break lower. The stock failed its 20-day MA and if it breaks its 50-day MA it could be a lot worse. While the market is looking weaker and money may flows into the defensive, JNJ has some issues that were highlighted by GS today. For one, a lot of its new blockbuster drugs have tough competition coming onto the market as well. Further, the stock has had tons of recalls that have not yet dinged the stock. At some point, the continued callbacks have to start to say something about JNJ's pushing drugs/devices too quickly. We believe a failure of the 50-day MA is an interesting short place. GOOG might have shown us a near-term top until earnings. The drop in GOOG comes after a lot of upside as of recent, but with the tech market starting to roll over here...we would expect some flat to downward movement over the next week. GOOG earnings come right before October expiration, but we believe shorting the stock on a drop below the 20-day MA is a smart position as the stock will see a lot of sellers come in at that area and get out before the report.
Stock Trade: JNJ, Short
Breakout point: Failure of 50-day MA
Options Trade: GOOG, Short
Max Gain: Failure of 20-day MA
Tomorrow's Outlook:
The market got some good news in after hours from Alcoa and Yum! Brands as both beat expectations and did not comment that the world was falling. Those earnings are definitely limited in their ability to turn the market around completely, but they definitely can help the market avoid another rough day of losses. Expectations are quite low for earnings season, and we believe even slight beats will help the market continue to chug a bit higher. Further, we have reports from Wholesale Inventories and the Fed's Beige Book that will be key to the market's movement. More developments in Europe as well as to what Merkel saw in Greece and if we are getting closer to a Spanish bailout will also be on the table.
Our Moves/Holdings:
We have the following positions:
In our Short-Term Equity Portfolio we are short Carter's (NYSE:CRI).
In our Options Portfolio, we are long Discover (NYSE:DFS), Amazon.com (NASDAQ:AMZN), Intuit (NASDAQ:INTU), Williams-Sonoma (NYSE:WSM), Wal-Mart (NYSE:WMT), and ExxonMobil (NYSE:XOM).
In our Earnings Alpha Portfolio, we are long Starbucks (NASDAQ:SBUX), Disney (NYSE:DIS) Travelers (NYSE:TRV), Alexion (NASDAQ:ALXN), Costco (NASDAQ:COST), Polaris (NYSE:PII), Crocs (NASDAQ:CROX). We are short SPDR S&P (NYSEARCA:SPY).
In our Goldman Sachs Up/Down Paper Portfolio, we are long MeadWestVaco (MWV), Travelers and Netsuite (NYSE:N). We are short Johnson & Johnson.
Chart courtesy of finviz.com.
Disclosure: I have no positions in any stocks mentioned, and no plans to initiate any positions within the next 72 hours.
Business relationship disclosure: The Oxen Group is a team of analysts. This article was written by David Ristau, one of our writers. We did not receive compensation for this article (other than from Seeking Alpha), and we have no business relationship with any company whose stock is mentioned in this article.