Back on July 26, Mario Draghi, the president of the European Central Bank (ECB), promised to do whatever it takes to protect the euro. Yet the pledge was not a direct reference to strengthening the region's currency. Instead, it was a signal to the global financial system that — much like the U.S. Federal Reserve's commitment to quantitative easing — the ECB was committed to acquiring toxic debt.
As it already stands, the U.S. Fed owns an unhealthy quantity of mortgage-backed securities, while the ECB owns Greek/Portuguese bonds of questionable worth. Now the ECB expects to expand its balance sheet with Spanish and Italian debts of dubious value.
Where does the ECB get the money to buy Spanish and Italian bonds? Fed Chairman Bernanke's crew electronically printed U.S. dollars in attempts to accomplish the Fed's stated goals. However, on September 6, the ECB claimed that it would offset any bond purchases by taking an equal amount of money out of circulation elsewhere. If accurate, that approach does differ from the Fed's QE policies.
Thus far, though, neither Spain nor Italy have accepted the ECB's open-ended invitation. And investors may be getting antsy.
(click images to enlarge)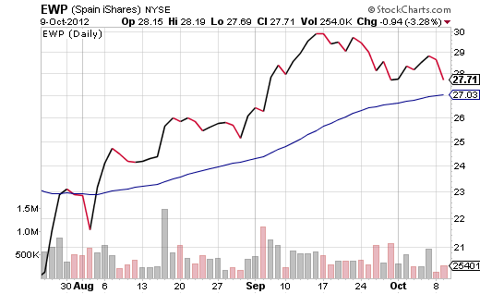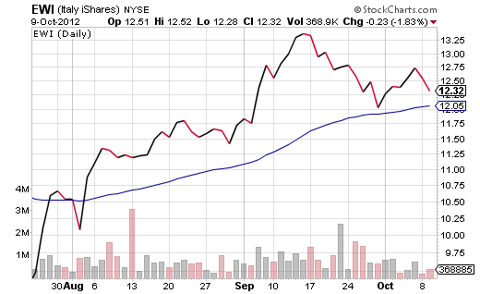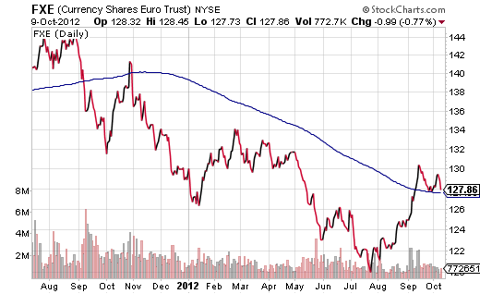 During the Mario Draghi risk rally (7/26/12-9/6/12), iShares MSCI Spain (NYSEARCA:EWP), iShares MSCI Italy (NYSEARCA:EWI), and the Currency Shares Euro Trust (NYSEARCA:FXE) rocketed without a need to refuel. Since early September, however, EWP and EWI have drifted back down toward respective 50-day trendlines. Equally troublesome, FXE is barely holding above its longer-term 200-day moving average.
Could the European debt crisis haunt ETF investors this October? Is it possible that — while earnings concerns, election uncertainty and fiscal cliff fears may cause some trepidation — the real bugaboo will come in the form of anti-austerity protests on another continent? Is the ECB's conditional willingness to purchase everything from everyone enough to maintain good vibrations for market participants, or will the overly indebted sovereigns balk at German-engineered conditionality?
For now, it doesn't appear that the overly indebted will even need to meet the conditions of previous bailout agreements. The most recent forecasts suggest that Greece will miss its 5-year debt reduction target. Meanwhile, thousands of Greeks line the streets, waiving anti-German banners and signs.
Indeed, if the ECB did come up with a lasting answer to assure financial markets, we should expect the Currency Shares Euro Trust (FXE) to find support at its 200-day in the chart above. If not, then exceptionally risky ETFs like iShares MSCI Spain (EWP) and iShares MSCI Italy (EWI) will falter, and they will plummet below their respective 50-day averages.
As a risk manager and president of a Registered Investment Adviser with the SEC, I do not believe European ETFs provide reasonable risk-reward. In contrast, I believe China has wiggle room for fiscal and monetary easing, which will benefit Asia Pacific ETFs (excluding Japan).
Disclosure: Gary Gordon, MS, CFP is the president of Pacific Park Financial, Inc., a Registered Investment Adviser with the SEC. Gary Gordon, Pacific Park Financial, Inc, and/or its clients may hold positions in the ETFs, mutual funds, and/or any investment asset mentioned above. The commentary does not constitute individualized investment advice. The opinions offered herein are not personalized recommendations to buy, sell or hold securities. At times, issuers of exchange-traded products compensate Pacific Park Financial, Inc. or its subsidiaries for advertising at the ETF Expert web site. ETF Expert content is created independently of any advertising relationships.