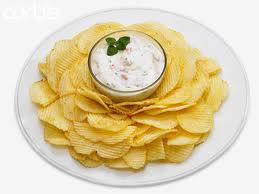 Chips and Dips: Intel Looks Tasty!
Thanks to the geniuses at Frito Lay (NYSE:PEP), the snack food universe has evolved into a bout a gazillion different varieties, many of which I haven't eaten and plan to never eat. However, few people could argue that two of their original core, old school products, original Lay's potato chips and Ruffles, are just as good today as they were have a century ago. Sometimes I feel like a broken record when it comes to some of my stock ideas, but like those potato chips, they're good, dependable and satisfying. I've lost track on how many times I've written positively about Intel Corp (NASDAQ:INTC), but again, it's one of those perennial names that fits well in an investor's equity portfolio. High tech. Income. Growth. And now, it's on sale.
Shares have been beaten up pretty good lately, tumbling almost 25% from their 52 week high of $29.27 to around $22. The reason for the pummeling? Last month the company warned that third quarter revenue is expected to be below their previous forecast due to softness in the personal computer supply chain. Translated, the company sees revenue coming in at $13.2 billion (with a "B") versus estimates of $13.8 billion. Sure, that feels like a pretty big miss. However, while the lemmings do their typical, nearsighted dance off of the cliff, smart investors will use this as an opportunity to buy a great company cheap.
Crunchy numbers…
INTC's trip to the woodshed has brought the baseline metrics to the exact point where picking up the shares makes sense. The forward P/E sits at 10.5 as opposed to the ever expanding 14 for the S&P 500. INTC's dividend yield is also over 4%. That's nearly twice the yield of the S&P 500 index, and a 224 basis point pickup in yield over the 10 year treasury. So are things slowing down for Intel? Maybe in the near term. But the future's bright.
This year, telecom industry analysts project that 1.8 billion smart phones will ship globally. By 2016, they expect that number to grow to 2.3 billion. This is probably a conservative estimate. Recently, I attended a presentation given by David Shing, AOL's "Digital Prophet." He referred to the smart phone as "the first screen." The interpretation is that your iPhone or your Android device has replaced the television and the PC as the first place you go for media content. Intel's market share of the global smartphone, applications processor space is a mere 0.2%. A $112 billion market cap company with low debt and $14 billion in cash with Intel's expertise is poised to capture market share. Throw in increasing demand for complex microprocessors required by cars, refrigerators and anything else and the picture looks even better. It's not a question of if but when.
For now, the best thing an investor can do is to wait patiently. A bargain priced valuation and a 4% dividend is excellent compensation.
Disclosure: I have no positions in any stocks mentioned, and no plans to initiate any positions within the next 72 hours. I wrote this article myself, and it expresses my own opinions. I am not receiving compensation for it (other than from Seeking Alpha). I have no business relationship with any company whose stock is mentioned in this article.