SVU Merger Rumors: In our September 6th report, we covered the reports from Bloomberg that SUPERVALU's (NYSE:SVU) advisers asked potential buyers to tender bids for the entire company even though suitors have inquired about individual parts of the grocery company. We reiterate that SVU should certainly not rule out bids for individual grocery store chains because we believe that SVU would be more likely to realize greater value by selling off the individual chains rather than trying to sell off the whole enterprise. Bloomberg reported that Cerberus Capital Management LP is examining a possible deal involving SVU's New Albertsons Inc operations and that there was speculation that Koninklijke Ahold NV (AHONY.PK) was interested in acquiring SVU's Washington DC area chain Shoppers Food and Pharmacy and merging it under the Giant Food banner.
On October 2nd, Bloomberg reported that Ron Burkle, KKR & Company and TPG Capital are examining parts of SVU's operations. SVU has extended its offer deadline past October 15th. SVU's shares enjoyed a 9.2% jump in after-hours trading before giving up the gains. Also showing interest in some of SVU's Midwestern stores was Spartan Stores (NASDAQ:SPTN), a Michigan area grocery chain that shares similarities to SVU in that it was also founded in the early 20th century as a grocery wholesaler and began its push into the retail grocery space in the late 20th century. We were disappointed that Kroger (NYSE:KR) or Safeway (NYSE:SWY) has not stepped in with an offer to take SVU out because even though those companies are performing better than SVU, we believe that there are synergies that could be realized if those companies took SVU out.
Kroger's YTD 2013 Earnings: Kroger has had 35 straight quarters of identical-store sales growth, including 4% YTD in 2013. Despite the fact that the company has shown better financial performance than SVU in FY 2013, we believe that adding SVU could benefit Kroger. Although Kroger's identical store sales growth of 4% was an inverse of SVU's -3.7% during FY 2013, Kroger's operating income has only grown by 3.8% YTD. We're impressed that the company was able to increase its YTD EPS by 10.26% although it should be noted that this was due to the 9.15% reduction in outstanding shares over the last 12 months. We believe that if Kroger (or Safeway) was to acquire SVU, a potential deal would allow it to generate positive operating leverage which would be positively compounded by its share repurchase program to potentially provide 15-20% EPS growth over a 3-5 year period.
What SVU brings to the table for Kroger and or Safeway: Because of SVU's struggles since it purchased Albertsons Inc in 2006; it is obvious that SVU's debt carries a higher interest cost. SVU's stores have also generated a poor reputation with regards to pricing and while the previous management had taken steps towards ameliorating this, these efforts were for naught as KR and Safeway had been more aggressive with regards to pricing initiatives than SVU. In its Q1 2013 conference call and its Annual Meeting, SVU announced that it was accelerating its price investments in order to keep up with KR and SWY. In our July 31st report on SVU's New Chief Executive Officer Wayne Sales, we listed a number of synergies that Kroger or Safeway would realize if either firm stepped up and acquired SVU in whole or in part.
Deep Discount Grocery Operations: According to Family Dollar's (NYSE:FDO) most recent Conference Call, the company saw its consumable item sales increase by 16% year-over-year in the most recent quarter. In our opinion, we believe that not only are grocery stores facing competition from Wal-Mart (NYSE:WMT) and Target (NYSE:TGT), but also deep discounter stores like the dollar stores. Even Kroger owns and operates Food-4-Less, which was previously owned by Ron Burkle's Yucaipa Companies. SVU's subsidiary Save-A-Lot is the most well-known of the deep-discount food retailers and it could be combined with Food-4-Less in order to compete against Aldi USA and the dollar stores, as well as provide potential synergies and operating practices that could be used in the traditional retail stores. Burkle also has indirect ties to Save-A-Lot as Burkle sold his majority stake in McDonald's supplier Golden State Foods to Wetterau Associates. The Wetterau family was the largest stakeholder in Wetterau Inc before SVU bought it in 1993.
Financing Costs: One reason SVU has higher finance costs than SWY and KR because it has not performed as well as SWY and KR. Another reason why SVU's credit rating below that of its peers is because SVU took $6.8B in asset impairment charges on its ill-fated Albertsons Inc. acquisition and the result of these impairments has left SVU's balance sheet in a weaker position than SWY and KR. SVU should feel lucky that its average annual cost of debt is only 8%, though it is sharply higher than the 4.7% of Safeway and the 5.6% of Kroger. Because these companies are financially stronger than SVU, we believe that KR or SWY would be able to refinance SVU's debt maturities when it comes due at a more reasonable rate than 8% and could even purchase some of SVU's outstanding long-term debt that is currently trading at a steep discount to fair market value.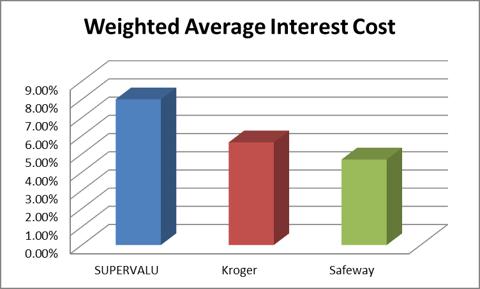 Source: Morningstar Direct
Increased Purchasing Power: SUPERVALU and its subsidiaries make up the third largest pure play grocery store company in the US. Even before the rise of Wal-Mart and Target as well as increased competition from deep-discounters like Aldi USA and the dollar stores, the food retailing business was an insanely competitive business with reed-thin profit margins. One of the reasons why Wal-Mart and Target are strong competitors to the traditional grocery stores in the food retailing business is because of its massive purchasing power. If SWY was to acquire SVU, it would increase its purchasing power by over 83% and if Kroger acquired SVU, it would increase its purchasing power by about 36%. While Target may be more like Wal-Mart than a Kroger or Safeway, Target should consider acquiring SVU because both companies are large Minneapolis area retailing giants and acquiring SVU would enable the company to increase its purchasing power by over 60% in order to better compete with Wal-Mart.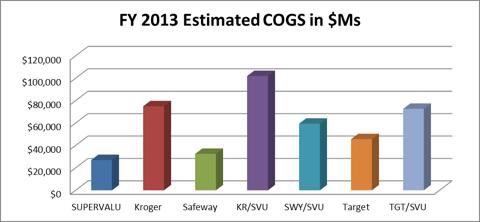 Source: Morningstar Direct and Our Estimates
Conclusion: In conclusion, we are more optimistic about SUPERVALU's future. We were pleased that the company was willing to hire investment banks to assist it in potential strategic alternatives after the company announced its Q1 2013 results. It was SVU's debt funded acquisition of Albertsons that got it into trouble and we believe that the sale of certain store banners will help the company get back on track. At the same time we are interested in seeing what the new CEO Wayne C Sales can do to help the company turn itself around. While Wayne Sale's most notable experience was his tenure as CEO of Canadian Tire (OTCPK:CDNAF), he has been able to observe SVU's results over the last six years while serving on its board. While we think that Wayne Sales should be willing to accept any reasonable offer for SVU's operations (whether it is for the six store Hornbacher's chain or whether it is for the entire company or anything in between), we believe that Sales has the potential to lead at turnaround of SVU based on his track record at Canadian Tire.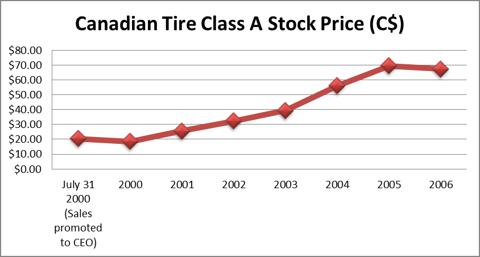 Source: Canadian Tire 2006 Annual Report
Disclosure: I am long SVU. I wrote this article myself, and it expresses my own opinions. I am not receiving compensation for it (other than from Seeking Alpha). I have no business relationship with any company whose stock is mentioned in this article.
Additional disclosure: This article was written by an analyst at Saibus Research. Saibus Research has not received compensation directly or indirectly for expressing the recommendation in this article. We have no business relationship with any company whose stock is mentioned in this article. Under no circumstances must this report be considered an offer to buy, sell, subscribe for or trade securities or other instruments.