"A diamond with a flaw is worth more than a pebble without imperfections." - Chinese Proverb
As portfolio managers we are tasked with making top down asset allocation decisions (how much in stocks, commodities, bonds, cash etc) as well as bottom up investment selection decisions (how much in individual sectors, companies, etc). We therefore have to dissect attribution on both levels to understand how much value we are adding (or detracting) with our tactical asset allocation decisions versus individual investment selection.
When we look at our decisions specific to the equity markets year-to-date we find that we have detracted value in our asset allocation bets by virtue of the fact that we have been underweight our long-term targets in the asset class. In other words we have been too defensive during a period in which stocks have gone up more than we expected. However, from an investment selection perspective our overall equity allocations have outperformed in 2012. There are a variety of reasons for this, but our investments in Chinese equities , which will be the focus of this post, are certainly not among them.
The global slowdown and specific concerns over China's economy have resulted in Chinese equities (FXI, GXC, CAF) being one of the most out of favor markets thus far this year. The chart below reflects the dramatic performance gap that has accrued between the Shanghai Composite and large-cap companies in the US as represented by the S&P 500 Index.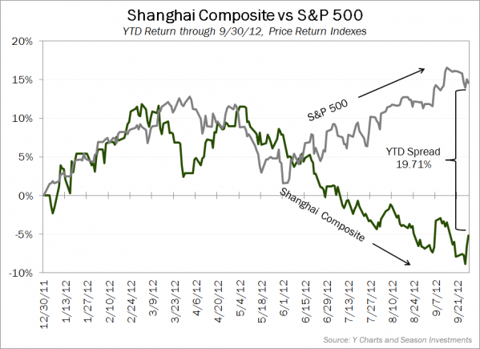 Our original thesis on investing in Chinese equities stemmed from our desire to own companies in parts of the world that were still growing (7.5% GDP growth is still better than 2% in the US or even recession in Europe). Additionally, we like the fact that the Chinese Yuan is pegged to the US Dollar, thereby limiting the amount of additional volatility and tracking error that might come from big moves in emerging market currencies relative to our home currency.
It is widely known that Chinese officials are in the process of engineering a slowdown in their economy. They are particularly concerned with controlling inflation, letting the steam out of what many consider to be a property bubble and orchestrating a transition from being an export-driven economy to one that is more dependent on domestic consumption and a rising middle class. The charts below reflect the steady pace of decline achieved in both inflation and real GPD over the past several years - results that Chinese officials would thus far consider a success.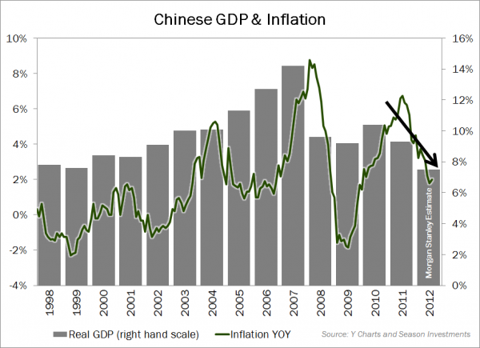 The ongoing debate continues to be whether or not the Chinese will successfully engineer a controlled slowdown (a "soft landing") or if the economy will crash (a "hard landing) due to far greater excesses and imbalances. Our bias has been more towards the soft landing camp despite the obvious headwinds. One argument in favor of this position is the amount of room the Chinese have to initiate additional fiscal and monetary stimulus measures to prop up growth in the face of weakening export markets to Europe and the US. This was most recently evidenced in early September when the Chinese announced plans to build out 1,250 miles of new roads in addition to other ports, waterways, sewage-treatment facilities and warehousing infrastructure projects.
Nonetheless, recent weakness in Chinese equities largely reflects the market's uncertainty surrounding the soft or hard landing debate, and we believe the underperformance has left China's market very attractive from a valuation standpoint. According to Morgan Stanley analysts are currently expecting only 4% earnings growth out of China as compared to 13% for US companies. This implied decoupling between the two markets seems unlikely in our view, and thus we believe there is room for upside surprise in Chinese earnings estimates relative to the US. Additionally, Deutsche Bank reports that China's market is trading at a forward P/E ratio of only 8.3x - 33% below its 10-year average of 12.5x. This type of undervaluation relative to historical norms is something we like to see given the additional safety buffer it provides in addition to the potential upside if valuation multiples revert back to the mean.
In summary, our positions in China have clearly been a drag on relative performance within our equity allocations in recent months. However, we believe the large performance differential between the Chinese market and the US reflects an undue level of pessimism regarding China's future economic prospects, leaving Chinese equities priced at attractive valuations compared to other global markets. As such, we would expect the relative performance gap to begin closing in coming months as the economic outlook stabilizes and valuation multiples begin reverting back to historical norms. For these reasons we will continue to stick with these positions while keeping a close eye on new developments in China's economy.
Disclosure: I am long CAF, FXI. I wrote this article myself, and it expresses my own opinions. I am not receiving compensation for it. I have no business relationship with any company whose stock is mentioned in this article.
Additional disclosure: Transparency is one of the defining characteristics of our firm. This information is not to be construed as an offer to sell or the solicitation of an offer to buy any securities. It represents only the opinions of Season Investments or its principals. Any views expressed are provided for informational purposes only and should not be construed as an offer, an endorsement, or inducement to invest.