On October 3rd, 2012, we asked you to watch for these media ad spenders. Out of these names, there is one that has been in the news a lot lately, namely, American Express (NYSE:AXP). In this article we will discuss the latest catalyst for American Express fundamentals, and its valuation versus its peer group Mastercard (NYSE:MA), and Visa (NYSE:V).
Lets discuss some big news from American Express, which hit the press early Monday morning - Wal-Mart (NYSE:WMT) announced a prepaid debit card called Bluebird, created through a partnership with American Express, which will be available in more than 4,000 U.S. Wal-Mart stores and online as soon as next week. "Bluebird is designed as a checking and debit alternative," Daniel Eckert, vice president of financial services for Wal-Mart U.S., said in an interview. The product is for "those customers who are waking up to the skyrocketing costs of having a checking account."
Benefits of the American Express and Wal-Mart partnership:
1) This partnership with Wal-Mart helps American Express to diversify its customer base, which has historically only focused on affluent customers
2) The Bluebird card's intention is to focus on those customers that are under banked due to the high costs of maintaining a checking account. The Bluebird is anticipated to be successful in expanding American Express' global network considering that more than 80% of transactions at Wal-Mart are cash transactions, and
3) Although the Bluebird is a pre-paid card versus a credit card, it provides customers with some of the same membership benefits as credit cards such as road-side assistance, purchase protection, and fraud protection.
Now lets look at American Express valuation versus its peer group, which consists of Visa and Mastercard: American Express is trading at $58.60 versus its 52-week range of $44.45-$61.42, and a P/E multiple of 13.3x versus a forward P/E of 13x. Visa trades at a P/E multiple of 22x, and a forward P/E of 20x. Mastercard trades at a P/E multiple of 21.5x, and a forward P/E of 19x. Dividend yields on American Express, Visa, and Mastercard are 1.35%, 0.64%, 0.25%, respectively. Clearly, the valuation based on forward multiples, and the dividend yields are not significant enough to trigger a buy for the stock.
Conclusion: Although the news with Wal-Mart is a positive catalyst for the stock in the long-run, there are still details on the economics, which need to be provided by both parties. Hence, any short-term impact on the valuation or fundamentals is tough to determine.
The chart below compares share performance over the past year. "E"s mark earning reports.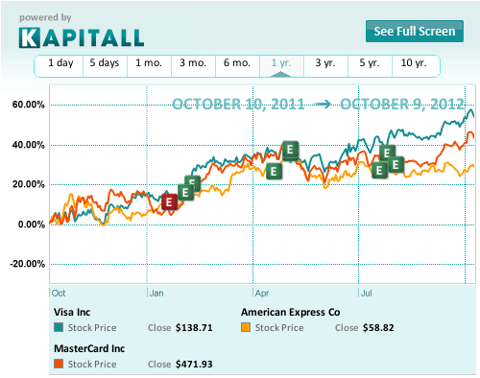 Written by Kapitall's Sabina Bhatia. Tool provided by Kapitall.
Disclosure: I have no positions in any stocks mentioned, and no plans to initiate any positions within the next 72 hours. I wrote this article myself, and it expresses my own opinions. I am not receiving compensation for it (other than from Seeking Alpha). I have no business relationship with any company whose stock is mentioned in this article.