How bad is the economy and what does that mean for consumer-facing financial firms looking for growth? On the surface, the news isn't good. 46% of consumers say that their financial situation has deteriorated in the past 12 months. While we would expect wealthier consumers to be faring better than others, the data suggest the relationship is not linear. Consumers with under $25K in total investable assets ("Mass Market") are indeed the most likely to say their financial condition has worsened. However, the core group of mass affluent consumers – those with $100K-$499K in investable assets – are the least likely to report an improvement in their financial condition.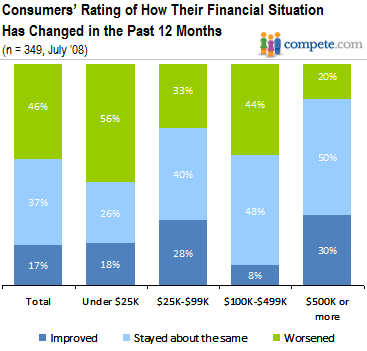 Who are the mass affluent and what does this finding mean? The anxiety of the mass affluent is driven by their life stage and lifestyle:
62% of the mass affluent are between 45 and 65 years old. 23% of them say they are retired.
The mass affluent are savers and investors. 38% of them save $500 or more each month, 56% of them have a brokerage account, and 79% have an IRA or other retirement account.
The mass affluent are getting hit harder by declining home values. 36% of them report that the value of their home has declined sharply compared to only 23% among all consumers.
The mass affluent are retiring regardless of economic conditions. While 12% of the younger pre-affluent group (with between $25K-$99K in investable assets) say they are delaying retirement because of their financial situation, only 2% of the mass affluent plan to delay retirement.
The mass affluent aren't cutting back their spending. Only 20% of the mass affluent say their spending has decreased in the past 12 months, compared to 28% of all consumers.
Are these factors important for driving uptake on financial products? Absolutely! The Mass Affluent remain the most likely to be in market for a variety of products. 54% of them have shopped for a financial product in the past 12 months. 31% shopped for a credit card in the past 12 months v. 19% for all consumers.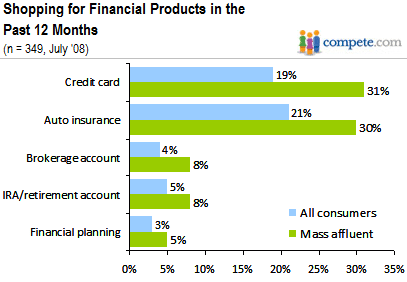 Moreover, the needs of the mass affluent are becoming more urgent for a few financial products. They are equally or more likely to open several types of accounts than they were 12 months ago, particularly home equity and brokerage/investment accounts.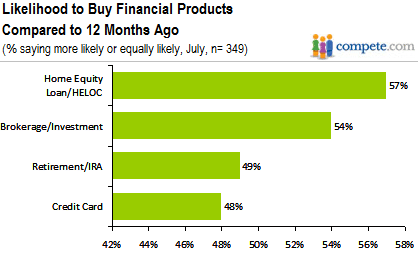 What this means for financial firms is that despite consumers' negative feelings about their financial condition, many consumers are still planning for the future, managing their debt and spending and continuing to save and invest.