Cameco Corporation (NYSE:CCJ) is one of the world's largest uranium producers. It is also the world's largest publicly traded uranium company. Cameco operates several mines across North America and one in Kazakhstan.

images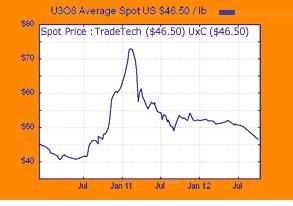 Uranium continues to trade sideways to lower but long term prospects are starting to look very rosy
The future of nuclear energy in Japan is very uncertain. The Japanese government last month agreed to end reliance on nuclear power by 2040 only to renege on that statement days later.
Only two of Japan's 54 reactors are currently operational which is a worrying statistic for a uranium bug. However with the approval of safety officers, idle plants can be reopened at a moment's notice so the future of nuclear power in the country is far from dead.
To fill the gap left by the nuclear shutdown, Japan is importing increasing amounts of fossil fuels. With almost zero natural energy resources Japan must import all their energy needs. They are the world's biggest importers of coal and LNG and the second biggest importer of oil. This means their Co2 emissions are extremely high, compounded by the huge distance fossil fuels have to be shipped to reach the islands.
Japans reliance of fossil fuels is unsustainable and potentially politically unpopular. The cheapest, most simple solution is a return to nuclear energy. When will this occur, nobody knows, but their nuclear future is unlikely to be secured prior to the general election in a few months' time. Memories will fade in time and although very serious, the consequences of Fukushima were limited. Managed well, Nuclear energy is safe and clean.
In a similar vein as Japan, Germany has chosen to totally phase out reliance on nuclear energy by 2022. Bulls - don't panic just yet! There are some very positive emerging signs for Uranium.
Despite the (temporary?) decommissions in Japan and Germany, (Germany appears to be having second thoughts) we believe the broader long term picture for Uranium and associated stocks is very bright.
South Korea, India, China and Russia combined have 60 reactors under construction. So demand is there from other sources.
On the supply side, it's only a matter of time before we see a serious crunch. Russia's program of conversion of weapons grade uranium into fuel is set to end in 2013. This currently supplies around 16% of uranium demand each year. That is a big gap to fill and will ultimately result in a shortage - driving prices up. Something's got to give, and uranium stocks may be close to making their bottoms.
Cameco has had a tough time of it following the 2011 Fukushima disaster, shedding over 50% of its value from its high earlier that year.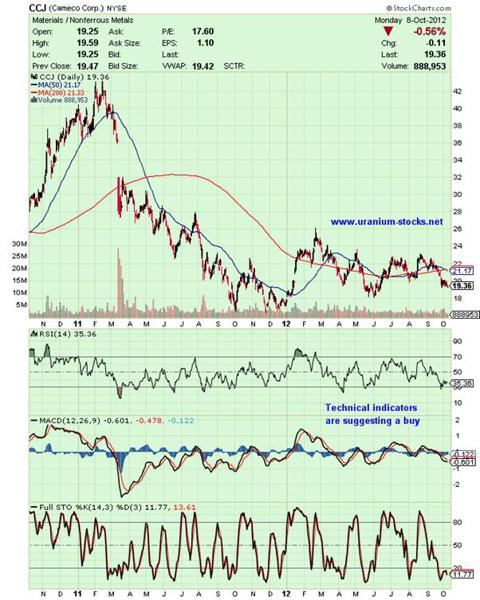 Notably, the last time we suggested Cameco was worth a short term buy the stock prices increased around 15% in the following month.
An indicator that has worked well over the past 12 months to signal a buy is the MACD.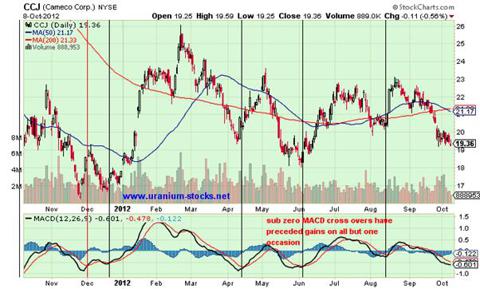 The vertical lines on the chart above indicate a sub-zero MACD cross over (buy signal). This indicator has correctly picked the short term bottom with stunning regularity. The red vertical line is the only sub-zero cross over to send a false signal. With another crossover imminent, now looks to be a very good short term buying opportunity. There is strong support at $18 which we are not far from approaching, so we believe the downside is limited.
Cameco has a market capitalization of $7.7 billion, a 52 week low of $16.59 and a high of $26.45. Average volume of shares traded is 1.9 million, and being the world's largest uranium company, liquidity is of no concern. It also pays a small dividend and has a reasonable P/E of 16.9
Cameco's revenue has remained relatively stable over the past couple years as it sells its products on long term contracts. Cameco's high quality assets, continued expansion of production, and vast resources make it a very attractive buy at these levels.
Also note that Cameco will hold its third quarter conference call with the company's senior executives on Thursday, November 1, 2012 at 1:00pm Eastern.
Disclosure: I have no positions in any stocks mentioned, and no plans to initiate any positions within the next 72 hours. I wrote this article myself, and it expresses my own opinions. I am not receiving compensation for it. I have no business relationship with any company whose stock is mentioned in this article.
Disclaimer: Gold-prices.net or SKOptionsTrading.com makes no guarantee or warranty on the accuracy or completeness of the data provided. Nothing contained herein is intended or shall be deemed to be investment advice, implied or otherwise. This letter represents our views and replicates trades that we are making but nothing more than that. Always consult your registered adviser to assist you with your investments. We accept no liability for any loss arising from the use of the data contained on this letter. Options contain a high level or risk that may result in the loss of part or all invested capital and therefore are suitable for experienced and professional investors and traders only. Past performance is not a guide nor guarantee of future success.