Two fascinating charts from the folks at Zillow today. Both highlight current trends in negative equity -- homeowners who owe more on their home than it is worth -- albeit in different ways.
First, here is a look at number of homes with negative equity split out by year purchased and by region. Those foolsbuyers who picked up homes in 2006 stand out in a fairly striking way.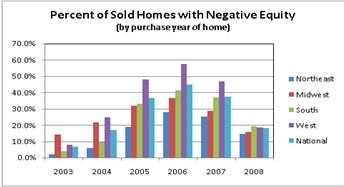 Next up, here is percentage of all U.S. homes by region currently sporting negative equity: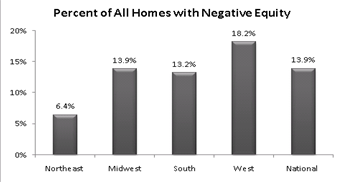 Despite the recency of the bubble, and despite the giant stock of U.S. houses, you get a sense for the immensity of the issue. To have 13.9% percent of homes nationally, and 18.2% of homes in the West, owing more than their worth is quite a feat in a five-year bubble. Congrats everyone.