In the US, approximately 20 million patients suffer from neurologic disorders, including Parkison's disease, Alzheimer's, Epilepsy, and other unfortunate illnesses. These patients are prescribed medications such as Bristol Myer Squibb's (NYSE:BMY) Sinemet, Novartis' (NYSE:NVS) Tegretol and Forest Lab's (NYSE:FRX) Namenda, treating diseases like Parkinson, Epilepsy and Alzheimer, respectively. However, a stranded group of at least 2.2 million Americans (4.5 million patients worldwide) form resistance to these therapies, and as a result require further intervention, usually via focal ablation, direct drug deliver or deep brain stimulation, DBS, procedures. The diagram (below) shows a breakdown of treatment-resistant patients by neurologic disorder.
images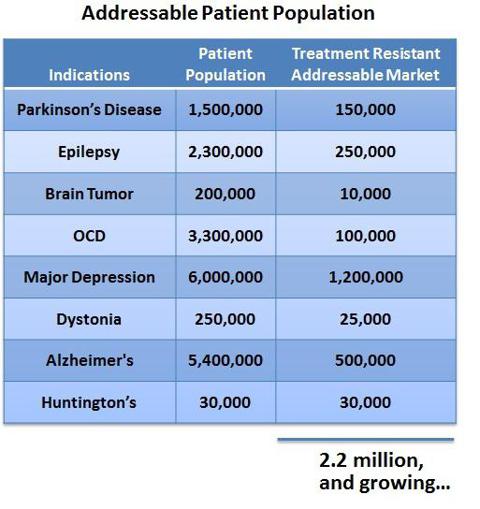 Interventions in use today (mentioned above) involve what's called 'minimally invasive' surgery. This is a procedure where neurosurgeons operate on a patient and impose 'small' incisions (hence 'minimally' invasive) as opposed to quite literally opening up a patient. When a patient undergoes a minimally invasive surgery to treat a neurologic disorder, a neurosurgeon will ask the patient to respond to 'stimuli' - or 'what you feel' - as a needle is inserted into your brain. As you might imagine, you're fully conscious as you undergo this surgery (which, I'll admit sounds much more pleasant when called a 'procedure'). Unfortunately, these procedures are done blind, as the surgeons sees as much of your brain during the procedure as I'm seeing of yours at this very moment. As a result, this complicates such procedures, limiting administration to a very narrow group of highly-experienced neurosurgeons, adds to the cost, and above all is particularly unpleasant to patients who undergo such procedure.
MRI Interventions (OTCQB:MRIC), a company with a disruptive technology, could revolutionize the way neurosurgical procedures are done and resolve the fundamental problem of blind trajectory into the brain. The Company's ClearPoint system, gaining FDA approval in 2010, enables neurosurgeons to see inside the brain in real-time using direct MRI guidance with specific coordinates, while performing minimally invasive surgical procedures for an optimal trajectory path. This is completely different and superior to the conventional procedure currently performed blindly by neurosurgeons that use technology and tools which have been around for more than 60 years.
For the first half of 2012, MRI Interventions recognized revenues of $2.1million, with more than half of being related to license agreements with Boston Scientific (NYSE:BSX). More impressive, however, is that the revenues from disposable products ($430,000) grew three times over the same period in 2011. The increase in disposable product sales reflects an increasing number of ClearPoint procedures being performed as adoption of the ClearPoint system increases. This is an important aspect of the razor/razor blade business model adopted by MRIC as the disposable products create a recurring revenue stream of $7300 every time a ClearPoint procedure is performed. Margins on sales of the disposable components are approximately 75%, which suggests that a ramp in the number of ClearPoint procedures will quickly translate to substantial value for shareholders. The other driver of growth - adoption of the ClearPoint system (the non-disposable 'hardware') - will rely on centers in the European Union and the United States realizing the value of real-time visualization for minimally invasive neurosurgery.
MRIC possessed cash and cash equivalents of $1.2 million at the end of the second quarter. Additional funds of approximately $6 million were received in July 2012 through a private financing, resulting in a total cash balance of $7.2 million. Cash resources, together with funds generated from sales of products, will be sufficient to meet operating expenditures through to 1H 2013, at the very least. It remains a possibility that sometime in 2013, MRIC will look to raise additional capital, though not necessarily via the sale of equity. Notwithstanding, depending on adoption of the ClearPoint system and sales of its disposable components (in other words the number of procedures per center) investors may be incentivized to finance the company at favorable terms. The other alternative is debt financing, which, depending on the company's financial performance, could also be appropriate. We'll return to this in a moment.
Onyx Pharmaceuticals (NASDAQ:ONXX) is a successful example of operating a biopharmaceutical from an idea full of potential to a leading market provider of cancer treatment. Founded in 1992, the company listed on the NASDAQ in 1996 and focused all efforts and R&D finances towards the development of its first FDA approved drug. Almost a decade after its IPO, Onyx received FDA approval in late 2005 for its liver/kidney cancer treatment, Nexavar. After being granted authorization, ONXX turned focus on the growth of its only product through an increased sales force, expansion outside the US market and development of existing product pipeline.
Today, almost seven years after attaining approval, Nexavar is a leading treatment for liver/kidney cancer in over 100 countries as it is sold with partner Bayer AG. The drug has had strong global sales, exceeding $1 billion in 2011 (between the two partners) and contributing almost $300 million of revenue to Onyx in 2011. In the summer of 2012, ONXX expanded its product pipeline by receiving accelerated FDA approval for Kyprolis, a treatment for blood cancer. As before, the company has staffed up for the launch of its second marketable product by hiring an additional 100 people to its sales force. Analysts predict potential sales of Kyprolis upwards of $1.5 billion worldwide, initiating a new revenue canal for the company. Onyx has successfully executed on an efficient drug development cycle by focusing on clinical development, then aiming to achieve traction through the growth of their sales force and global expansion. Reflecting this success, the stock price of ONXX has tripled since its first FDA approval in 2005.
MRI Interventions seems to be following the same schedule as Onyx in the implementation of its revolutionary technology. In a recent interview, CEO Kimble Jenkins states that 'MRIC has sold, supported and trained all 16 sites with only 2 sales people to-date'. This quarter, the company plans to expand its sales force while also "scaling up" the production process of ClearPoint disposable components, discussed above.
The expansion of MRIC's sales force could lead to growth through business traction as the company will see increased marketing capabilities to extend exposure of the technology. ClearPoint is a compatible system that can be integrated into all 4500 existing MRI suites in hospitals around the US. To add, there are 3500 certified neurosurgeons in the United States, however, only around 400 of these professionals are skilled in performing the conventional minimally invasive procedures (whereas this participation rate is 100% given the visualization that ClearPoint provides). Under an expanded sales team, MRIC will be able to promote their product to a relatively small community of neurosurgeons who will build cases around the advantages of using the ClearPoint system. As more cases are documented and discussed in the professional community, MRIC should see increased traction of their product and a ramp in disposable component revenues as more procedures are performed using ClearPoint. Similar to the Onyx method of expansion (as described, above), MRI Interventions has stretched its business to Europe through collaborations with two strategic sites, after obtaining CE marketing approval in early 2011. In Europe, BrainLab AG, is an exclusive marketing partner that works hand-in-hand with MRIC to build awareness around this revolutionary platform technology and recruit new sites.
A positive bottom line is not out of MRI Intervention's range, as they seek to achieve further traction through enlarged product sales from the result of an increasing sales force. To give you an idea of what the potential holds, 124,000 minimally invasive brain surgeries are performed every year in the U.S. 5% penetration equates to 6,200 procedures. At a per procedure cost of $7300, MRIC realizes roughly $45 million in recurring revenue at a 75% gross margin. At 15% penetration, that number bloats to $136 million. And that is in the United States alone. Clearly, there exist a large business opportunity for the company in addition to the paradigm shift the technology is likely to cause.
In addition, the 'heavy lifting' as it relates to expenditures is behind MRIC as costs shift from R&D to marketing and expanding the 'two-man' sales team. It's important to understand that in contrast to Onyx, the target group, neurosurgeons in the US and EU, are a relatively concentrated and connected group of physicians. ClearPoint is marketed not to the end user (i.e. the patient) but the neurosurgeons that perform the surgery. This means it's far cheaper to market and sell this system than a therapeutic, like Onyx's drug(s). As neurosurgeons gain familiarity with the product, word-of-mouth will play an important role in increase the number of procedures performed in centers where ClearPoint has been integrated. As disposable product revenues over the past six months show, there has been a steady rise in the number of cases per center. Though this is drawn from a small sample, and early on, this trend demonstrates that neurosurgeons are beginning to understand the advantages of a real-time visualization platform that not only guides the procedure but allows for observation as a regimen is injected into a targeted area (as depicted in the image, below).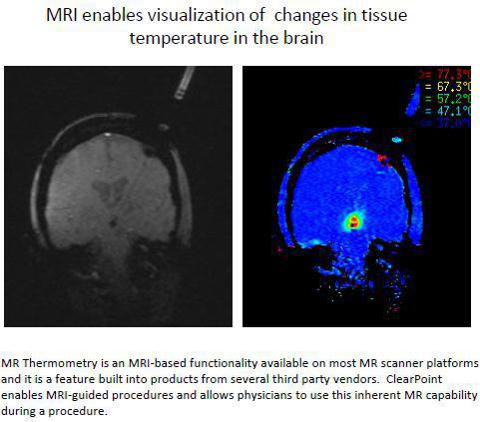 The punch line here is that if MRIC has been able to do what they've done to-date with two full-time sales people, it will be interesting to see what they're able to do with an expanded sales force in the coming year. As with most treatment standard regimens, change is slow. But MRIC's technology has played a tremendous role in re-shaping the minimally invasive neurosurgery space because of the benefits of saving on costs, greater participation among professionals, and improved patient regimen (I forgot to mention: unlike traditional neurosurgery, you can now be put under general anesthesia as the surgery is performed). Likely beneficial to their cause, being featured on the cover of Operative Neurosurgery earlier this year seems to suggest we'll be hearing about MRI Intervention again, sooner rather than later.
Disclosure: I am long OTCQB:MRIC. I wrote this article myself, and it expresses my own opinions. I am not receiving compensation for it (other than from Seeking Alpha). I have no business relationship with any company whose stock is mentioned in this article.