Renewable oil producer Solazyme (SZYM) remains at a critical junction in its public life as it begins to pursue unique strategic partnerships in order to lay the foundation of its rapidly developing business model. Utilizing its unique heterotrophic algae technology to create a sustainable source of modifiable oils capable of replacing petroleum and seed oils, the company has begun to enter into joint venture [JV] relationships with partners who are capable of developing the business logistics as the company focuses on developing the technology.
The company's two current JV partners are found in agricultural titan Bunge (BG) and private French starch giant Roquette Freres. Both companies have managed to commit significant capital to their respective endeavors in order to bring online the first commercial facilities for Solazyme's disruptive industrial biotechnology. The JV with Roquette remains promising with a potential 55,000 metric tons of capacity dedicated to the company's food and nutritionals business segment.
Likewise, the JV with Bunge currently remains the flagship arrangement with a 100,000 metric ton facility now under construction at Bunge's Moema facility in Brazil. On paper, the plant remains assigned to the production of fuels and chemicals. Yet with a contingent offtake agreement with Dow Chemical (DOW) for a minimum 29,000 metric tons of that capacity, the odds of the plant to be heavily dedicated to chemicals remains likely. This leaves room for an impact partner that can address the company's promising fuel segment.
Renewable Energy Group Inc. (REGI) is a leading North American biodiesel producer with a nationwide distribution and logistics system. According to the company's latest quarterly report, REG is the largest producer of biodiesel in the United States with aggregate nameplate production capacity of 212 million gallons per year. The case for a potential relationship with Solazyme stems from the following thoughts:
Glycerol Byproduct. As the largest biodiesel producer in the nation, REG stands as one of the greatest producers of glycerol - an inherent byproduct of biodiesel manufacturing. According to a journal article found here, approximately 1.05 pounds of glycerol are made from every gallon of biodiesel produced. This amounts to about 10% of the product weight. Why does this matter? Because for the last few years, Solazyme has been filing numerous patent applications that include glycerol as a carbohydrate feedstock. One such important patent application can be found here.
REG-Bunge Relationship. REG and Bunge maintain an existing relationship. As a minority investor in REG, Bunge already maintains a vested interest through its North American operating arm Bunge North America Inc. Bunge already serves as a raw material supplier and logistics advisor to the company. Having amicable relationships across partnerships may expedite and improve efficiencies across the board.
Solazyme has worked with REG in the past. As Solazyme was gaining approval of its Integrated Biorefinery from the U.S. Department of Energy, one of the listed participants in the project was none other than Renewable Energy Group Inc. Evidence of this can be found in the project description found here.
Solazyme Will Likely Pursue A Biodiesel Partner. In order to progress into the fuel space, Solazyme has indicated on many levels that the company's primary advantage will be in the use of its oils as an additive. In a cited example graphic seen below, the company illustrates how it can increase its margins by improving the quality of current biodiesel production. By increasing market size of traditional biodiesel by improving product quality, Solazyme can in effect be more attractive as a synergistic partner for an established biodiesel producer.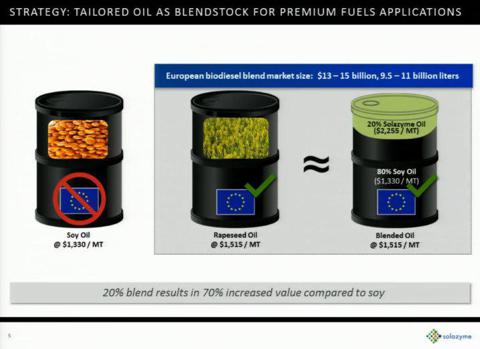 Altogether, the case for Renewable Energy Group as a potential partner remains a speculative but logical choice for Solazyme's evolving partnership track. Both companies can mutually benefit from the relationship thanks to Solazyme's technology. Solazyme's oil can be created from REG's biodiesel production's primary byproduct found in glycerol. Solazyme's oil can enhance REG's biodiesel sales by opening markets and improving quality through its blends and additives. REG and Solazyme would be entering into an amicable relationship without conflicting interest with an important established partner found in Bunge. Last of all, REG offers the best of breed company in the biodiesel industry capable of established relationships and a nationwide infrastructure.
With these considerations in mind, investors may wish to view both Solazyme and Renewable Energy Group in a more favorable light due to the potential growth found in a potential partnership. In particular though, investors may wish to take a more detailed glance at REG. The company currently trades with a price-to-book ratio of 0.49 and a trailing P/E ratio of 1.64. Despite having $227 million in property, plant, and equipment, total assets of $552 million in total assets, and total liabilities of a mere $142 million as of June 2012, REG currently trades with a market capitalization of only $149 million.
REG recently announced that it will swing to a small loss with the falling value of renewable identification numbers (RINs) and an increase in commodity feedstock prices which prompted a rapid sell-off of the company stock. Nevertheless, the company's outlook remains bright. Indeed, the latest news may even serve as a catalyst towards the company's need to further develop the byproduct revenue stream found in glycerol. Considering the possible partnership it might even have in store with Solazyme, one can imagine that there really are advantages for being a dominant player when it comes to having established manufacturing capacity. Investors in either REG or Solazyme should consider the potential synergy that could come about from possible relationship between the two companies.
Disclosure: I am long SZYM, REGI, BG. I wrote this article myself, and it expresses my own opinions. I am not receiving compensation for it (other than from Seeking Alpha). I have no business relationship with any company whose stock is mentioned in this article.