It might sound crazy to get excited about a stock trade that will potentially cap your gains and leave you with plenty of downside losses. After all the reason most people get into investing is to get rich and grow their money. However, seasoned investors will tell you that patience is a virtue. After all, Wall Street wasn't built in a day (that goes for Main Street too). So, sometimes it pays to be patient and take the profits that are put in front of you, instead of just hoping for that big once in a lifetime gain.
Investors in Green Mountain Coffee Roasters Inc. (NASDAQ:GMCR), Tesla Motors, Inc. (NASDAQ:TSLA) and Arch Coal Inc. (ACI) can find that there are some amped up covered call trades your portfolio needs. Each company brings us energy in their very own unique ways, but more importantly, the volatility on the common stocks of these companies creates opportunities to sell calls and profit from the time value decay of the options.
Green Mountain Coffee Roasters brings us our caffeine fix every day with branded coffee products. Investors in this stock could consider an out-of-the-money covered call sale. The November 2012 $23 strike price call option sells for a time value premium of $2.63. It has no intrinsic value and will only provide the buyer of the option with a payoff if the shares rise significantly above the strike price at expiration. For the seller of the call option, it can provide a limited and profitable upside. If the investor is lucky enough to see their shares rise above the $23 strike price, then they will automatically be assigned at expiration, bringing the investor a 15.3% profit over that 39 day period. If shares trade unchanged, the investor pockets the call premium and continues to hold their shares, keeping a nice portfolio yield of 13.0%. The break-even for the trade is $19.94 per share.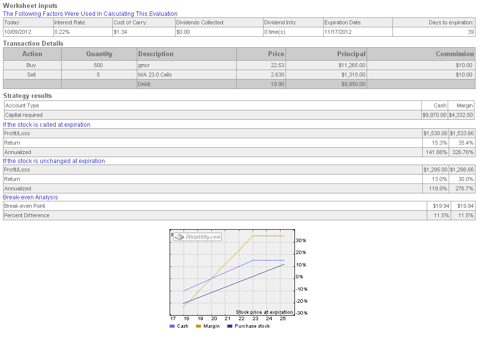 Tesla Motors is a start-up that is focusing on the electric vehicle market and having limited success with their upscale models like the Tesla Roadster. The holders of Tesla stock could consider selling an out-of-the-money call option to take advantage of the rich options premium on the November 2012 $29 strike price call option, which has a bid price of $1.55. If shares rise above the $29 strike price at or before expiration, then the shares could be called sending a 6.5% profit to traders holding for about 39 days. If shares trade unchanged, the call option premium represents a 5.5% portfolio yield to the investor, which is about a 51.2% annualized return. The break-even price for the trade is $27.22.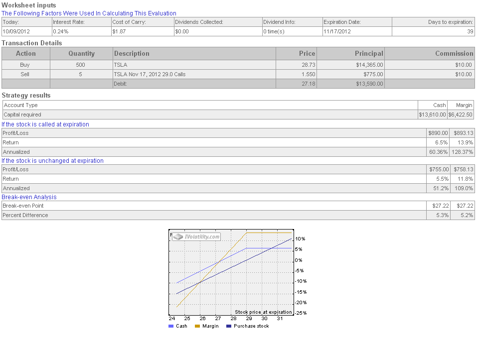 Arch Coal does exactly what it sounds like it does. Investors holding the common stock shares could consider selling the $7 strike price November 2012 call option for $0.61. This out-of-the-money call could generate a return of 13.1% over 39 days if shares rise above $7 and stay there at expiration. Otherwise, if shares trade flat the premium received from selling the calls will generate a yield of 9.2%, or an annualized return of 85%. The break-even price on the trade is about $6.19.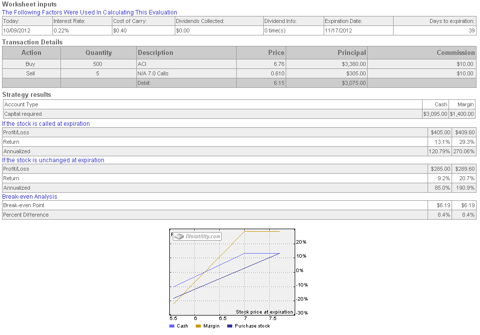 The trades above were calculated using the Options Industry Council's covered call calculator. Do your own due diligence before investing in any of these stocks.
Disclosure: I have no positions in any stocks mentioned, and no plans to initiate any positions within the next 72 hours. I wrote this article myself, and it expresses my own opinions. I am not receiving compensation for it (other than from Seeking Alpha). I have no business relationship with any company whose stock is mentioned in this article.