Grant E. Sims, CEO of oil and gas MLP Genesis Energy (NYSE:GEL), created some buzz yesterday by purchasing 216,334 shares of the company at $30 per share for a total of approximately $6.5 million. His stake now stands at 2,883,942 shares total. A spate of insider buys occurred at GEL yesterday, with father-son duo James E. Davison and Davison Junior picking up 733,019 and 540,547 shares, respectively, at the same purchase price to a total stake of 3,970,901 and 3,550,803. The Davison purchase is part of a recent slate of purchases as discussed here and in this Bloomberg report. Talking about insider family holdings, I saw one item in the SEC Form 4 filing of Mr. Sim, stating that "1,000 of these Common Units - Class A are held by the reporting person's father. The reporting person disclaims beneficial ownership of these units."
Wall Street analysts are very positive about this stock. Consensus recommendation is a strong BUY with a 12-month price target of $34. Here's an interesting graph below comparing earnings estimates with reported earnings. As you can see, although GEL only beat estimates once in the September quarter of last year, even in the just previous quarter, the two figures have been close.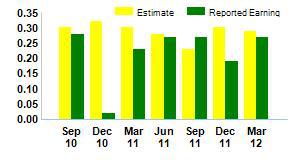 Source: NASDAQ
The company has 2 outperform ratings from Raymond James and Credit Suisse, and two Buy ratings from Global Hunters and UBS (dated). Zacks recently wrote a report right here on SA and reiterated a strong buy signal. All in all, Wall Street seems very enthusiastic about the stock. The further fact that many insiders are bolstering their stake in the stock to the tune of millions of dollars worth of shares, and multiple families of insiders are investing into it, tells me there is a lot of confidence going on around GEL.
The company also has a solid dividend yield of 5.44% with an annualized dividend of $1.84. There are 123 Institutional Holders with 29,903,528 total shares held, which is 43% of the float.
So, in this volatile oil sector scenario, why is a master limited partnership focused on oil and gas seeing this level of confidence? Zacks answer in the aforementioned report: "Because it generates steady fee-based income, its results do not fluctuate heavily with volatile oil and gas prices."
The fee-based income is sourced from three areas, Pipeline Transportation, Refinery Services, and Supply and Logistics. In the pipeline section, it operates by transporting both crude oil and CO2 for other customers for a fee. It operates the 235-mile Mississippi system, the 100-mile long Jay system, the 380-mile Cameron Highway Oil Pipeline and the 90-mile Texas system for crude oil transportation, and the 86-mile Free State Pipeline and 183-mile NEJD Pipeline System for crude oil transportation. It has a CO2 transportation agreement with a lifespan till 2028.
More details about the Pipeline system below (this is sourced mainly from the company website):
Mississippi Pipeline System consists of approximately 230 miles of pipelines gathering crude oil from production fields and delivering into the Capline Pipeline system for delivery to Midwest refineries. This system also has market flexibility with 247,500 barrels of above-ground storage.

Jay Pipeline System consists of approximately 100 miles of pipeline delivering both trucked and field produced crude oil into Shell's Mobile, Alabama refinery as well as other terminals. This system has approximately 230,000 barrels of above ground storage.

Texas Pipeline System consists of approximately ninety miles of pipe transporting oil and condensate produced in Central Texas and the Gulf Coast to refineries in Houston and Texas City. This system has the benefit of 220,000 barrels of above-ground storage capacity.

Pt. Hudson, Louisiana Pipeline System, purchased from BP Pipeline in 2007, consists of approximately 3.25 miles of pipeline delivering both trucked and field produced crude oil to a barge dock on the Mississippi River near Baton Rouge. This system has approximately 216,000 barrels of above ground storage.

The Cameron Highway Oil Pipeline Company is a 50/50 partnership between Enterprise Product Partners (NYSE:EPD) and Genesis Energy . Enterprise serves as the operator of the system. Genesis Energy acquired its interest in November 2010.can deliver up to 500,000 barrels a day from the deep water on the outer continental shelf to Port Arthur and Texas City.

GEL crude oil pipeline systems include access to a total of approximately 0.7 million barrels of crude oil storage.

The CO2 Pipeline System consists of two integrated systems.

The approximately 86 mile Free State Pipeline delivers CO2 produced at Jackson Dome to crude oil fields in east Mississippi for use in tertiary recovery.

The approximately 183 mile Northeast Jackson Dome (NEJD) Pipeline delivers CO2 to crude oil fields in west Mississippi.
Genesis offers refinery services to approximately 8 refinery operations in southern United States, with long-term contracts with average remaining lifetime of 4 years. GEL "performs many services from engineering, design and construction to treating and processing sour gas. Genesis Energy Refinery Services markets and supplies logistic management for caustic soda (NaOH), treats flare gas and sour gas and produces and markets sodium hydrosulfide (NaHS)." It also claims to be developing a new NaHS-based technology that could "provide a breakthrough in emissions reductions for the energy industry." However, since its latest income statement shows that it has zero R&D expenses, I need further research to figure out the developmental expenses of this technology.
The company also offers trucking and other services.
As the company's investor presentation from August 2012 says, the company operates a variety of fixed margin businesses with limited commodity price exposure. It offers the following data to resolve investor concern about exposure to oil (and other relevant commodities) prices.
Business Segment
General Commodity Exposure
Mitigant
Pipeline Transportation
No Direct Exposure
• Tariff-based, fee income (except for PLA
volumes)
• Fixed lease payments from DNR for
NEJD CO2 system through 2028
Refinery Services
NaHS (LONG)
NaOH (Short)
• ~85% of our operating expense is cost of
NaOH
• ~60% of NaHS sales contracts indexed to
NaOH prices
• Remaining 40% have short-term
mechanism to change pricing in response
to changes in operating costs
Supply & Logistics
Crude Oil
Refined Products
• Typically back-to-back monthly purchase
and sales contracts for crude oil
• On average, carry low level (<200 Mbbl)
• Refined products held for blending are
hedged to remove volatility in underlying
value but subject to marked-to-market
accounting
• No "paper" trading
• Tight controls under board approved risk
‐6‐
• Tight controls under board approved risk
management policy (VAR ≤ $2.5 mm)
Therefore, Zacks' statement quoted above becomes clearer in light of the above data. Although the mainstream oil sector is extremely volatile right now due to both national, international and macroeconomic factors, GEL is marginally exposed to this price volatility because of its long-term contracts, among other reasons cited above.
The company is also well-diversified in its various operational segments. In the last quarterly report, I could see that its margin breakdown between Pipeline, Refinery and Supply/Logistics was roughly 25 million USD, 17 million USD and 21 million USD, respectively, which presents a balanced distribution of margin. Its customers include large concerns like BHP Billiton (NYSE:BHP), Freeport-McMoRan (NYSE:FCX) and Rio Tinto (NYSE:RIO) in the mining sector, Georgia Pacific LLC, MeadWestvaco (MWV) and International Paper (NYSE:IP) in the pulp and paper segment, and various pharmaceutical, tanning, environmental, personal care and chemical companies. Some of its refinery customers include Phillips 66 (NYSE:PSX) (20 Years), Holly Refinery (2 Years), Citgo (10 Years), Delek (30 Years), Chemtura (10 Years), Albemarle (30 Years) and Ergon Refinery (30 Years). The years in bracket show span of business relationship.
The company has various ongoing and recently completed developments and acquisitions in almost all of its operating sectors. These include the Marathon (NYSE:MRO) acquisition (Jan 2012, Mexico pipeline, $209 million), the SEKCO JV (Jan 2012, pipeline to Lucius discovery containing 300 million barrels of oil equivalent), the HollyFrontier Tulsa Project, Texas City Projects (3 year contract with Marathon), Walnut Hill Facility, Wyoming Project, and others.
In light of all the data presented above, and coupled with the spate of insider buy going on for GEL, I would recommend long-term, steady income, low risk, marginal upside but zero downside minded investors take a good look at Genesis Energy.
Disclosure: I have no positions in any stocks mentioned, and no plans to initiate any positions within the next 72 hours. I wrote this article myself, and it expresses my own opinions. I am not receiving compensation for it (other than from Seeking Alpha). I have no business relationship with any company whose stock is mentioned in this article.