By Tom Vulcan
And now for today's general knowledge quiz:
Question: After water, what is the most consumed substance on earth?
 (See end of article for answer.)
A Brief History Of Cement
Ever since man started building with masonry many thousands of years ago, he has needed something with which to stick his building blocks together. Whether it has been mud, mud with straw, mud with lime or mud with cow dung, each worked - for better or worse. And, indeed, mud and cow dung are still used for this purpose today.
Reel forward through those thousands of years to the 18th century and the Industrial Revolution in Europe. As building projects got bigger, and construction time became increasingly important, the need became quite pressing for both a quicker-drying and stronger bonding agent than the cements available at the time. In addition, such an agent had to remain unaffected both by exposure to water and the rainy climes.
It is, therefore, hardly surprising that the father of modern cement, Joseph Aspdin, was from Wakefield in Yorkshire, England, a notoriously rainy country. On December 15, 1824, Aspdin was granted a patent (No. 5022) for a product he named - after the eponymous stone quarried on the Isle of Portland on the Dorset coast - "Portland Cement." He described his patent as: "An improvement in the modes of producing an artificial stone." It worked.
With a bit of initial tweaking by his son William (and myriad improvements since those early days), Aspdin's father's "Portland Cement" has now become the generic portland cement, the world's most commonly used (but not only) type of cement.
Cement And Concrete
Cement is not concrete! But cement is an ingredient of concrete. It is the glue that holds everything together.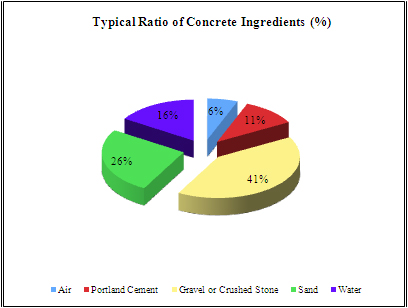 Notes:
Gravel or Crushed Stone aka 'Coarse Aggregate'
Sand aka 'Fine Aggregate'
For those with a technical bent, portland cement, as defined by the United States Geological Survey (USGS), is: "A proportioned and finely interground mixture of portland cement clinker and a small amount of calcium sulfate (generally as gypsum)." Portland cement clinker itself is mainly made up of four minerals: calcium trisilicate (C3S) - alite; calcium disilicate (C2S) - belite; tricalcium aluminate (C3A) - aluminate; and tetracalcium aluminoferrite (C4AF) - ferrite.
Portland cement is made using either the "dry" or the "wet" process.
First, rock is quarried and crushed into fragments of around 3 inches in diameter, or smaller.
Then, the raw materials, properly proportioned, are, together, ground further and fed, either dry or wet (having been mixed with water to form a "slurry"), into great, long kilns. These kilns - slowly rotating, huge steel cylinders, slightly inclined to the horizontal - can be up to 12 feet wide and as long as a 40-story building is high.
A Couple of Kilns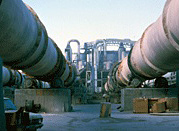 Courtesy: Portland Cement Association 
As the raw mix passes through the kilns, it is heated. As it passes down the kiln, it gets hotter and hotter, finally reaching a temperature of around 2,700 ºF (1,480 ºC). In the process, gases are released and new compounds begin to form: The calcium and silicon compounds start to fuse to form calcium silicates, and the aluminum and iron melts. The end result is small marble-sized pieces of hard material - clinker.
Having been cooled, the clinker is then ground into particles so fine - between 4 and 45 microtorrs - that they can pass through a sieve capable of carrying water.
Expressed diagrammatically, the process looks something like this: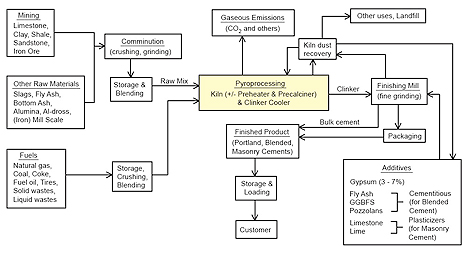 Source: USGS
Cement Production
From the first 19th-century factories in England, followed by ones in Belgium and Germany, there is now hardly a country in the world that has not got its own cement works. Over the past 70 years, the growth in cement production has been phenomenal.
World Cement Production by Region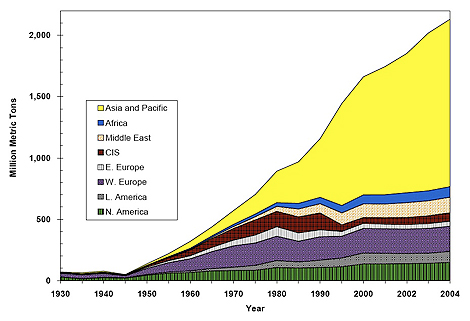 Source: USGS
 While always a larger cement producer, China has, in the last couple of years, come to dominate the industry.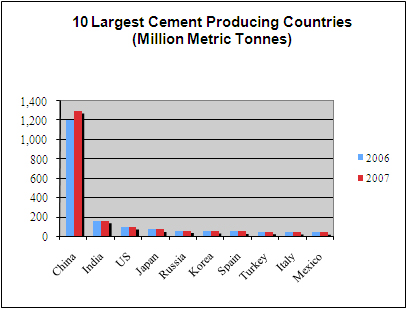 Source: USGS
And, from a production level of around 1.46 million metric tonnes in 1900, last year the U.S. manufactured more than 95 million metric tonnes of cement.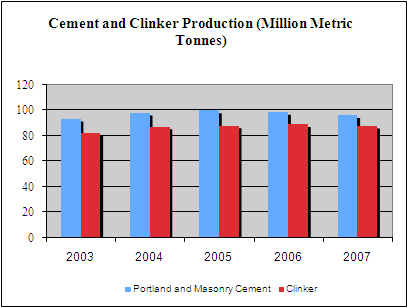 Source: USGS
The Cement Industry
The world's cement industry has, historically, been highly fragmented, with local providers meeting local needs. Since the '70s, however, there has been significant global consolidation: first in Europe in the '70s, then in the U.S. in the '80s and, more recently, (excluding China) in Asia.
Only in December last year, Lafarge (the world's largest cement company) bought Orascom Cement of Egypt, a leading cement company in the Middle East, for $12.9 billion. And further consolidation in the industry looks quite likely.
While some 30% of the worldwide demand for cement comes from North America and Western Europe, fully 70% comes from emerging markets; in particular, China, India, Brazil, and Central and Eastern Europe.
Aside from state-owned enterprises, the world's cement industry now is dominated by a handful of huge, publicly traded, international cement giants. Behind these, in each cement-producing country, there are either larger or smaller numbers of indigenous cement companies - both publicly and privately owned. More often than not, these businesses serve local, as opposed to national and transnational, needs.
The world's three largest international cement companies are: Lafarge (OTCPK:LFRGY) (France); Holcim (HCMLF:PK) (Switzerland); and Cemex (NYSE:CX) (Mexico).
Other substantial international companies include: HeidelbergCement (Germany);  Italcementi (Italy); Taiheiyo (Japan); Buzzi (Italy); and Votorantim (Brazil).
In the U.S., the larger publicly traded cement producers include: Eagle Materials (NYSE:EXP); Texas Industries (NYSE:TXI); and The Monarch Cement Company (OTCQB:MCEM).
Cement In The U.S.
The cement industry in the U.S. started to contract in 2006 and the Portland Cement Association (NYSEARCA:PCA) expects 2008 to be the third year in a four-year industry contraction.
Figures from the PCA show that, in 2006, fully 33% of apparent portland cement consumption was attributable to use in residential buildings. With current weak economic conditions, high inventories, both slow sales and the tight credit condition, the association doesn't see housing starts rebounding at least until 2010; not particularly encouraging for this segment of the industry.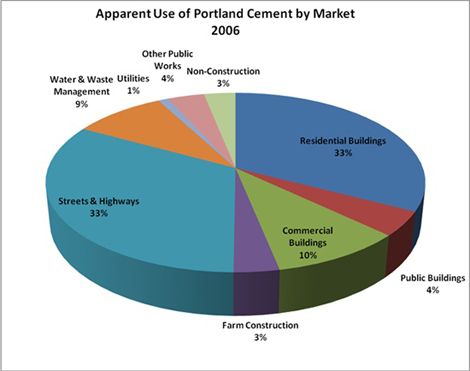 Source: PCA
Even public construction, accounting for about half of all cement consumption in the U.S., is expected to slow down both in 2009 and 2010. And that despite the SAFETEA-21 bill that authorizes well over $200 billion to be spent by 2010 on improving the country's roads.
In addition to all this, significant new clinker capacity is set to come on-line in the next several years.
In the short term, only in the second half of 2010 does the PCA envisage any upturn in the market.
In the long term, however, the PCA has forecast that cement consumption in the U.S. will have increased some 43% by 2030. Essentially, with the country's population expected to grow some 63 million by then, all this extra cement will be needed to house and school and provide roads and hospitals for them all!
Opportunities In Cement
So, are there any opportunities in cement? There are certainly avenues to be explored.
In the short term, the outlook for the U.S. cement industry is, perhaps, not all that bright. Long term, though, demand for cement will always be there, and, if the U.S. population grows as predicted, it certainly looks to increase.
Internationally, the three biggest cement companies all have diversified global businesses, businesses that should be more resilient overall to particular regional downturns and trends. However, even if they are, over the next couple of years, international supply, too, is set to grow substantially, and this can only put pressure on the companies' pricing of their product.
But, if industrialization continues in the emerging markets and spending on infrastructure continues in the developed markets, there may be some hope that these companies can weather successfully the current, somewhat challenging, market conditions.
Even though half the recent orders for new capacity were placed in India and the Middle East, a number of the Indian cement companies are publicly traded and could merit attention; for example, Ambuja Cements [BOM:500425]; Grasim Industries (OTC:GRSXY); or ACC [BOM:500410], the country's largest cement maker. Whilst both Ambuja and ACC have recently recorded drops in second-quarter profits of around the 30% mark, Grasim actually recorded a slight increase.
However, for all cement makers everywhere, there is one factor that will continue to be of concern - the price of energy. Not only is making cement in kilns extremely energy-intensive, but also, passing on increased energy costs is very difficult. (As is, too, escaping the grasping hands of the likes of Hugo Chávez who, in early April, set his sights on all three of the big three's operations in Venezuela!)
Other Possibilities
So, where does that leave us? Looking at other ways in which the cement industry could be interesting.
Not only is portland cement very energy-hungry in its manufacture, it is also very polluting! The process of making the cement gives off significant quantities of CO2 (in fact, 60% of such emissions) as, of course, does burning the fuel to heat the kilns.
But portland cement is not the only type of cement. It may be the most commonly used, but there are a number of different cements out there, some of which require considerably less energy than portland cement to produce. Once such is slag cement, or ground-granulated blast-furnace slag.
While slag cement use is miniscule in contrast with portland cement use, it has been around for a while. In fact, it was used in the building of both the Paris underground system and the Empire State Building. According to the Slag Cement Association, slag cement can replace up to 50% of portland cement in most common concrete mixtures, and up to 80% "in massive concrete elements and other specialized structures." Not only does its use cut down CO2 emissions, it also helps save energy. The EPA in the U.S. has already recognized this and slag cement is now used in a number of federally funded projects.
In the energy and pollution-conscious world in which we now live, it would be well worth keeping an eye out for any opportunities to get into slag cement. As it would also be to remain aware of the new technologies that are being developed to capture and dispose of carbon dioxide produced in industrial processes, and alternative fuels to replace the likes of coke and coal - both used to fire kilns. Making cement is going to continue to produce CO2, and use a deal of energy.
Finally, watch out for credible substitutes for portland cement. You can bet your bottom dollar that if, as The Economist recently reported, Bruno Lafont, head of Lafarge, spends "a week in the laboratory every year, urging Lafarge's boffins on" to find a substitute, there must be something in it!
And in case you have forgotten:

Resources
U.S. Geological Survey (USGS)
Portland Cement Association (PCA)
Slag Cement Association (NYSEMKT:SGA)
‡My particular thanks to Hendrik G. van Oss of the USGS for his invaluable insights into cement