What if you let me borrow $100 five years ago?
You would probably ask for more than $100 back, as compensation for the following:
1) not having access to your money for five years,
2) the opportunity cost of not having money to put to use in other productive assets, and
3) the risk that I won't repay you.
That's the basic premise of investing - people lend and invest by evaluating the opportunity using things like downside risk, the potential to own something of greater value in the future, and so on.
But did you notice the glaring omission from the list above? Inflation.
While savvy investors recognize the impact inflation has on a dollar, unfortunately, most investors think in nominal terms. That means that most investors are focused on the absolute dollar amount they receive back from an investment, rather than the real value of that dollar amount.
Consequently, as the S&P 500 (NYSEARCA:SPY) approaches its highs reached in 2007, many average investors are breathing a collective sigh of relief. By getting to even, many investors feel that the losses of the 2008/2009 crash are behind them, their wealth is intact and their retirement remains a possibility.
The critical error these investors make is they fail to account for the real value of their portfolios. Using adjustments for the Consumer Price Index (NYSEARCA:CPI), M2 growth (money supply) or gold price (NYSEARCA:GLD) appreciation (an asset partly priced based on money supply) the chart below demonstrates that the real value of the S&P 500 remains up to 60% below its starting point five years ago.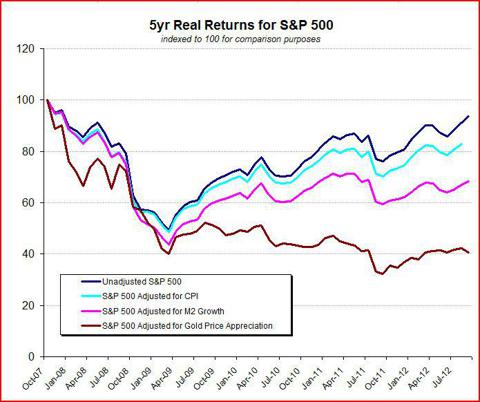 Chart and data source: planBeconomics.com, St. Louis Fed
In nominal terms, the S&P 500 is nearly back to even. However, when one accounts for the loss of purchasing power due to excessive monetary expansion it is clear that real wealth has been destroyed.
The challenge with this type of analysis is that 'inflation' can mean different things to different people. Real wealth is somewhat subjective and isn't reflected in portfolio statements and bank books. In the practical world, a $100 bill is always a $100 bill and nobody can argue that. It is very difficult to pit the tangibility of a $100 bill against the vagaries of inflation-adjustments.
Regardless of the challenge with measuring near-term inflation, most people have grandmothers who remember when bread cost a nickel. Deep down we know inflation leaves us poorer, but because there's no generally agreed-upon way to adjust for inflation we fall back on nominal measures.
It may not be in our face (and we may even be able to pretend it doesn't exist in the short term) but inflation is silently eating away at our wealth. So although not everyone will agree with using CPI, M2 or gold as an adjustment factor, we should all agree that the S&P 500 breaking even over the past five years is hardly cause for celebration.
My recommendation to all investors: determine what inflation-adjustment makes sense for you and track your portfolio in both nominal and real terms. You may be surprised.
Implications for the Investing Future
History is history. What really matters to investors today is future real wealth creation.
With government debt levels at insane levels and growing, I believe central banks will continue to run policy rates below the rate of inflation to help erode the real value of debt. At the same time, the financial system and economy will continue to be propped up by various forms of monetary expansion and asset purchases. Unfortunately for investors, these policies mean that real returns may continue to lag nominal returns.
This means that investors may benefit from investing in asset classes that often rise with such central bank policies. Gold and silver (NYSEARCA:SLV) may be two such asset classes. As seen in the chart below, both have significantly outperformed the S&P 500 over the past five years. While historical returns are not an indication of future returns, I believe these assets may continue to outperform if economic circumstances remain the same.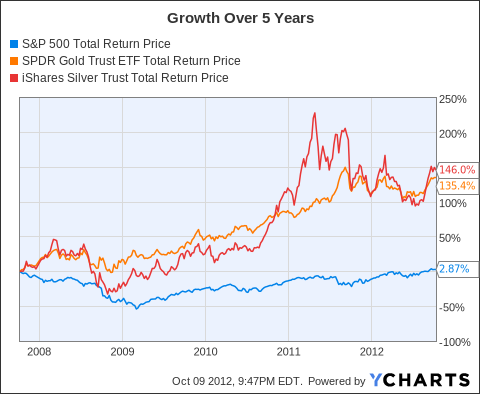 Disclosure: I have no positions in any stocks mentioned, and no plans to initiate any positions within the next 72 hours. I wrote this article myself, and it expresses my own opinions. I am not receiving compensation for it (other than from Seeking Alpha). I have no business relationship with any company whose stock is mentioned in this article.
Additional disclosure: This is not advice. While the author makes every effort to provide high quality information, the information is not guaranteed to be accurate and should not be relied on. Investing involves risk and you could lose all your money. Consult a professional advisor before making any investing decisions.