In a bear market, history tells us that we might wish to seek dividend payers. Others believe one should be picking up value-oriented bargains. Still others become advocates of the mega-cap, super-sized corporations over economically sensitive small fries.
Lately, though, the U.S. stock market has been defying many of the traditional ideas on savvy investing. Specifically, momentum and growth have been gaining fans with each passing week.
Consider the obvious: When one thinks "risky," he/she might reflexively respond, "NASDAQ, "Tech," or "Small Stocks." And yet, these are the bear market leaders through the close on Friday the 15th.
In particular, Fidelity's Nasdaq Composite Index Fund (NASDAQ:ONEQ) and Barclay's iShares Russell 2000 Index Fund (NYSEARCA:IWM) are exhibiting technical uptrends. Moreover, IWM is down -1% in 2008, while ONEQ has lost -7.2%. That's not too shabby.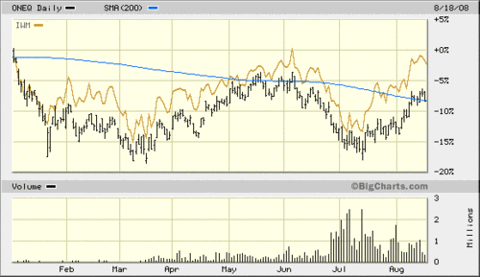 Consider the alternative indexes. We have the S&P 500 losing more 12% on the year and the S&P 500 SPDR Trust (NYSEARCA:SPY) is still more than 5% below its 200-day moving average. We have nearly an identical picture for the Dow and its proxy, the Diamond Trust (NYSEARCA:DIA).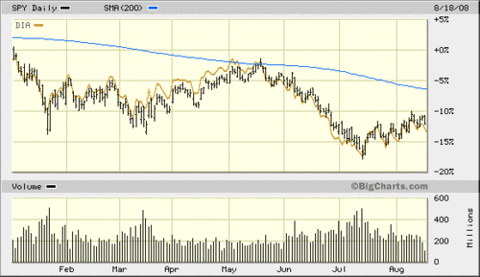 Historical market observers believe that we may be seeing an early rotation into expected leaders of an economic recovery; that is, small companies and tech (vis-a-vis the Nasdaq) tend to bolt out of the early business cycle gate.
On the other hand, is it really possible for any area to perform without greater certainty from the real estate world? Or for that matter... won't we require concrete signs from the banking system that the impact of the credit crisis on stock prices is waning? And even with oil prices falling into a more manageable range, how can anyone feel confident that the global grab for natural resources won't continue to cause at least as much market harm as good?
Naturally, the questions are all hypothetical. And I won't pretend to have the definitive answers.
What I can say is this: Nobody knows anything. And when you're humble enough to know that you can't know, you come back to what you can control.
Specifically, as an investor, you can lessen the impact of costs, taxes and adverse investing outcomes. Costs and taxes can be mitigated through the use of exchange-traded funds.
Perhaps most importantly, you can make certain that you never suffer a big loss on any purchase. For instance, you may have felt that crude was on its way to $200 per barrel like the good folks at Goldman Sachs. (With good reason even!!!) And perhaps you purchased United States Oil (NYSEARCA:USO) "in-and-around" a price point of $115 per share. If your tolerance for individual loss is -15%, then you'd have sold at approx $98.
If you let United States Oil go to $91 where it has been trading here on Monday, August 18, you made the most egregious oversight an investor can make; you fell in love with your theme.
Simply stated, you can't afford to fall in love with a stock, a company or an investing theme. Why not? Because they are beyond your control. Conversely, you can guarantee that when things don't go your way, you can lessen your risk by selling for a small loss. (This is beneficial to minimizing taxes in a taxable account; again, you are attending to things that remain within your sphere of influence.)
I forget who said it first, but I always try to keep this quote in the memory bank. "You can be wrong hundreds of times. Just make sure that when you're wrong... you're only a little wrong. And when you're right? Well... the sky is the limit."
(Learn more about the "Wisdom of Avoiding the Big Loss.")
Disclosure Statement: ETF Expert is a web log ("blog") that makes the world of ETFs easier to understand. Pacific Park Financial, Inc., a Registered Investment Advisor with the SEC, may hold positions in the ETFs, mutual funds and/or index funds mentioned above. Investors who are interested in money management services may visit the Pacific Park Financial, Inc. web site.