Despite suffering considerable losses from its exposure to the subprime mortgage meltdown, Citigroup (NYSE:C) represents an attractive investment. Considering depressed equity markets now might be a great entry point.
Here are several compelling reasons to be bullish on Citigroup.
Well Capitalized
In spite of severe losses during the financial crisis, Citigroup has a strong balance sheet with a market capitalization close to $100 Billion. A Tier 1 ratio of 12.7% makes it one of the best-capitalized banks in the world. An estimated Basel III Tier 1 ratio of 7.9% is higher than the minimum federal requirement of 7%. Citigroup is considered a 'Globally Systemically Important Financial Institution' by the Basel committee, indicating a high likelihood of support from the US government in case of crisis.
Geographic Diversification
In 2009, Citigroup split into two segments - Citicorp ($1.3 Trillion, representing 70% of Total Assets), and Citi Holdings ($260 Billion, representing 14.3% of Total Assets). Citi Holdings is responsible for managing and disposing of non-core assets. Citigroup's strength lies in is its global geographic diversification which provides diversity to its commercial and retail operations, conservative liquidity management and improving capital strength. However, large capital market operations add volatility to the income statement. A weakening economic environment can make it difficult to divest assets in Citi Holding. Considerable revenue from emerging markets exposes Citi to currency risk.
Asset Quality
Citi has a well diversified loan portfolio, considerably improving Citi's credit risk profile. The ratio of Non-Performing Loans to Total Loans is 2.7%, and the ratio of Loan-Loss Reserves to Non-Performing Loans is 150%. Citi's PIIGS exposure is 13.1% of the Tier 1 Common Ratio. Citi has completed a number of divestitures over the last few years, and Citi Holdings assets have declined significantly as seen in table below. Citi has an ROA of 0.56% and an ROE of 5.77%, both in line with the industry average.
Date
Assets
(in Billions)
% Total
Citi's Assets
30-Jun-12
191
10%
31-Dec-11
225
12%
31-Dec-10
359
19%
Management
Citigroup is a well diversified bank with leadership positions in various lines of businesses. The new management team has a more focused strategy than their predecessors, who intended to build a 'financial supermarket'. Cost-reduction is high on the management's agenda.
Ownership
Over the last few months, there has been a considerable percentage increase in ownership by institutions and insiders:
| | |
| --- | --- |
| Ownership | % Total Shares |
| Institutions | 62.5% |
| Insiders | 2.1% |
Analyst Recommendations
The consensus analyst recommendation is Outperform as of September 2012. This is an upward trend from the previous rating of Hold as of March 2010,
| | |
| --- | --- |
| Analyst Recommendation | No. of Analysts |
| Buy | 7 |
| Outperform | 13 |
| Hold | 6 |
| Underperform | 2 |
| Sell | 2 |
Citi trades at a PE of 9.5x, significant lower than its 5Yr average of 14x. Price to tangible book vale of 0.64x is on the lower end of the industry average spectrum.
Agency Ratings
External agencies base their ratings on Citi's strong business position due to its global diversification with particular strength in emerging markets which offer attractive loan growth. However, the earning volatility and large concentration of credit card loans in its retail loan book offset the strengths:
| | |
| --- | --- |
| Agency | Rating |
| Moody's | A3 |
| S&P | A- |
US Fed Stress Test
In March 2012, Federal Reserve conducted the Comprehensive Capital Analysis and Review (CCAR) stress tests which evaluated the capital planning processes and adequacy of the largest US banks. Citigroup failed to meet the test's minimum capital requirements of 5% after incorporating their respective management teams' plans to return capital to shareholders. Excluding capital distribution plans, Citigroup would have exceed capital requirements.
Technical Analysis: Good time to enter a long position
Technical indicators for Citi are bullish, indicating a good time to enter a long position in the stock:
RSI indicator at 66.12 lies within the 30-70 oversold-overbought range.
The TSI indicator (a more responsive variant of the RSI) is in an upswing and above the moving average, indicating a bullish trend.
The MACD had a bullish centerline crossover in August and has been trending high since then. Recently, there was a bullish signal-line crossover on

October

6. A positive MACD of 0.933 indicates the 12-Day EMA is above the 26-Day EMA, signaling an upward momentum.
A Bollinger Band Percent of 76% indicates that the price is heading towards the upper band level, and the Bollinger Band Width is seen trending down and currently is 9.193. This indicates a high possibility of an upward trend in the near future.
The 50-Day SMA crossed the 100-Day and the 200-Day SMA,

indicating

the possibility of an uptrend.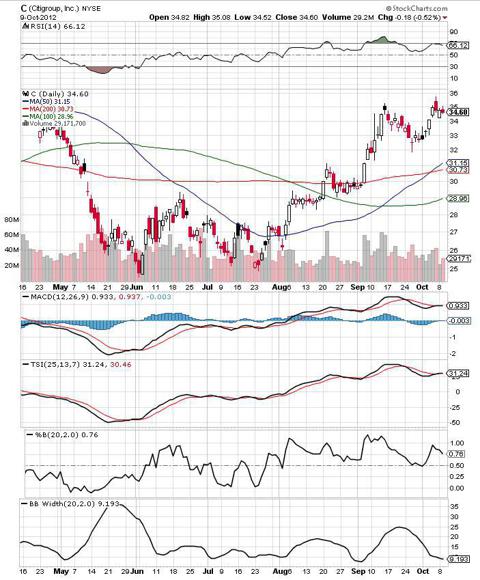 Disclosure: I have no positions in any stocks mentioned, and no plans to initiate any positions within the next 72 hours. I wrote this article myself, and it expresses my own opinions. I am not receiving compensation for it (other than from Seeking Alpha). I have no business relationship with any company whose stock is mentioned in this article.