As money continues to flow out of the resource and energy sectors (it's a correction folks - not the end of the Supercycle) investors are turning to tech stocks to rebuild their damaged portfolios. Last week I wrote about some tech companies that are thriving during the economic downturn by helping corporations cut costs (Tech Sector Provides Safe Haven).
Those tech companies have watched their shares outperform the markets in recent months. It's been a great place to be while the rest of the market is falling apart. Of course, cost-cutters are not the only tech sub-sector doing well right now.
There is another one: internet fraud prevention.
To see why this industry is doing well during an overall downturn, just look at the numbers.
The U.S. Federal Trade Commission reported 221,000 internet-related fraud complaints in 2007. That's 16,000 more than in 2006. It is projected that there will be 260,000 complaints in 2008.
The global economic impact of security fraud is estimated to be between $7 billion and $10 billion annually. As you can imagine, companies that combat fraud and scams are doing very well.
"Phishing" is the fastest growing and most profitable type of internet fraud.
"Phishers" use social-networking schemes to lead consumers to counterfeit websites. They fool the recipients into divulging financial data.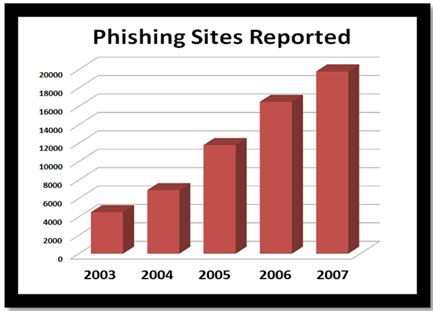 Basically the "Phishers" masquerade as a brand like Paypal, eBay (NASDAQ:EBAY) or Bank of America (NYSE:BAC). They send an email that looks very official and ask the reader to verify some personal information. Sometimes, they even threaten to suspend their account if they don't provide the info. It seems very urgent. A typical phishing victim loses $2,700.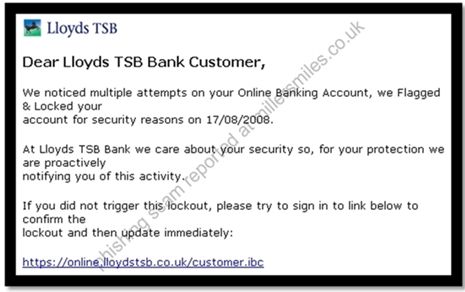 Last week federal authorities cracked an identity theft ring that stole 40 million credit card numbers from major retailers. Customers who swiped their cards recently at TJ Maxx (NYSE:TJX), Marshalls, Office Max (NYSE:OMX), DSW (NYSE:DSW), Barnes and Noble (NYSE:BKS), Sports Authority (TSA) and BJ's Wholesale Club (NYSE:BJ) all had their information confiscated.
The brazen multi-national team of thieves hacked into vulnerable wireless networks where they planted "packet sniffers" to scoop up the credit card numbers as they were shunted out of encryption to the accounting department. The intrusion cost to TJ Maxx alone was $130 million in legal fees and settlements.
But the real cost of internet fraud to corporations is much bigger than just the price tag of the settlements and legal fees.
Forty-five percent of credit card holders abstain from doing any business online for fear of having their information stolen. If a corporation could provide a convincing assurance that their credit card system was uncrackable, they would have tens of millions of new customers.
All this scam artistry has benefited a few data protection companies. The $2 billion "data protection market" is dominated by a couple of big players that, despite the current economic downturn, are doing very well.
For instance, McAfee (MFE) is a security technology company that offers protection against spyware, viruses, worms, spam, and intrusions. Last quarter, corporate sales climbed 32%, while revenue from consumer products rose 18%. On August 14, 2008 McAfee acquired Reconnex, a security and risk management company for $46 million in cash. This increases McAfee's ability to automate its existing customer base.
Most encouragingly, McAfee's Operation income is increasing faster than its revenues. Which means the company is becoming more efficient as it gets bigger. In 2007 it had record sales of $1.3 billion.
McAfee's main competitor, Symantec Corporation (NASDAQ:SYMC), provides software and services that protect, manage, and control information risks related to security, data protection, storage, compliance, and systems management. The company operates in four segments: Consumer Products, Security and Compliance, Storage and Server Management, and Services.
Over the last year, Symantec revenues rose 11% and its operating income rose 15%. International sales growth was about 19% during the quarter. It is estimated that the company filters about 40% of all global emails.
Technically, it's the FBI's job to police the Internet. But financial fraud is not its top priority. The FBI is a political animal. It scores big points for busting child pornography sites. About 60% of internet fraud indictments relate to child porn. So corporations are forced to spend their own bucks to protect themselves and their customers from Internet criminals.
This provides opportunity for investors. It's a massive business and it's only getting bigger. McAfee is gaining market share on Symantec and the two are set to battle it out for years to come.
I should warn you: there are some gray clouds forming which are worth paying attention to. Although McAfee and Symantec are both exceeding Wall Street's growth expectations, competition between them is going to erode some of the profitability of both companies.
Symantec and McAfee have both developed "rip-and-replace" software at discounted prices. And, the big profits are attracting some serious competition from smaller and possibly nimbler competitors. Recently, General Electric (NYSE:GE) defected from Symantec to UK-based Internet security provider Sophos. Sophos is private company. But there are rumors that it is going to do a US-based IPO that could put some big bucks in the small upstart's war chest.
McAfee and Symantec provide a cheap insurance policy against financially crippling theft of data. For now, the surging instances of identity theft, internet fraud and "phishing" prove that there are always pockets of exciting investment opportunities, regardless of how gloomy the bigger picture may be.
At Q1 Publishing we believe that by sticking to cheap stocks, in growing industries, with a high degree of economic immunity, you'll be well on your way to becoming a more prosperous investor.
Disclosure: No position.