Home-improvement retailer Lowe's Cos. Inc. (NYSE:LOW) reported second quarter 2008 earnings Monday morning that were off 7.9% from the prior year quarter, but still beat Wall Street's muted expectations. As with other retailers, Lowe's reported a difficult operating environment with the dreadful housing market taking a toll on earnings. The company also guided higher for the present fiscal year, saying that it now expects to earn $1.48 - $1.56 per share for 2008. This range is higher than the previous guidance from May which envisioned $1.45 - $1.55 per share. For the current quarter, Lowe's expects to earn 27 – 31 cents per share on a one to two percent rise in revenue and a same-store sales decline of five to seven percent. Analysts had been expecting earnings of 33 cents per share for the third quarter and earnings of $1.50 per share for the full year.
As with other retailers, Lowe's continues to see the effects of a tough economy—lead by a particularly difficult housing market. Plunging home values have caused many homeowners to delay, dramatically scale back or eliminate big improvement projects that once fed the earnings growth of companies like Lowe's and Home Depot (NYSE:HD). Now, both former-Wall-Street darlings are reducing staff, closing under-performing stores (in the case of HD) and slowing the once-frenetic-pace of new store openings. Lowe's has reduced its number of planned new stores this year to 120 from 140. The company has also been lowering its expenditures by reducing staffing levels and scrimping on supplies and other costs.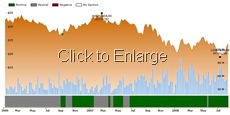 Inflation is also impacting the bottom line at Lowe's. LOW is seeing price increases from its suppliers in goods such as lumber, copper and other products, without having the ability to pass these added costs onto the end user. The company also continues to spend aggressively on marketing and promotions in order to drive customer traffic. In doing so, Lowe's is locked in a battle for market share with industry leader Home Depot.
The combined impact of inflation and sluggish sales is pressuring the retailer's margins, which slid to 34.3% from 34.5% during the second quarter. For the second quarter the company earned $938 million (64 cents per share), down from $1.02 billion (67 cents per share) last year. Revenue was up 2.4% to $14.51 billion. Stores open a year or more (same store), saw their sales decline 5.3%—which was an improvement from the first quarter's 8.4% plunge. The company saw some positive trends during the quarter including evidence that customers were spending more on lawns and landscaping, perhaps feeling some impact from the government's stimulus checks. However, looking forward, tax rebates have largely worked their way through the system and only a firmer housing market and better economy offers hope for upside earnings momentum.
With LOW currently trading around $24.50 a share, Ockham finds this depressed valuation to be very compelling for patient investors. Looking at the stock's Price-to Cash Earnings number, it currently trades at 8.36x, well below its historic range of 10.92 – 17.08x. Also, based on the Price-to-Sales metric, LOW is trading at .74x, with a historic range of .89 – 1.37x.
Clearly, it will take both a return to normalcy in the housing market and an expanding economy to drive solid earnings and share price growth for home-improvement retailers like Lowe's and Home Depot. Many economists do not think that such fundamentals will be in place until at least 2010. (There are certain housing markets which have bigger excess inventory issues and will take longer than that.) However, Lowe's management has done a good job managing through this tough environment. Compared to HD, Lowe's is the smaller company, thus enabling it to more nimbly manage through this shakeout without having to resort to store closings and massive headcount reductions. In five years time, assuming a better housing market and non-recessionary economy, LOW at $24.50 per share will most likely look pretty cheap.