By: Brendan Gilmartin
Goldman Sachs (GS) is scheduled to report 3Q 2012 earnings before the opening bell on Tuesday, October 16. The firm indicated it would provide a press release at 7:30 a.m. EST and follow with a conference call at 9:30 a.m. Please note that, in past reporting periods, Goldman Sachs reported earnings approximately 15 minutes ahead of the scheduled release time. Goldman's results also have the potential to impact the financial sector as well as the broader market gauges, particularly the index futures, given the investment bank's influence.

Earnings Per Share: Goldman Sachs typically provides a "clean" number that is comparable to consensus. The current Street estimate is $2.13 (Range: $1.49 to $2.70) (Source:

Yahoo

Finance).
Revenues are seen coming in at $7.17 bln, up nearly 100% y/y.
Goldman Sachs shares are fetching just 9.5x forward profits, versus the S&P multiple of 14.2 and a 0.79x book.
At a recent $119.63, Goldman Sachs is now trading at a slight discount to tangible book value ($126.12) and a single-digit forward p/e multiple. Goldman also boasts an impressive balance sheet and trades at a mere 0.97x cash.

Recent News
10/01: According to Barron's, Goldman Sachs shares could rally 25% over the next year, based on improving capital markets. CLSA Analyst Mike Mayo recently upgraded the shares to a Buy rating and reportedly believes the stock could reach $142. The article also points out that Goldman Sachs is much better capitalized than its peers, is buying back shares below tangible book value, and implementing efforts to reduce costs, while emerging as the largest pure-play in investment banking.
09/20: UBS downgraded Goldman Sachs from Buy to Neutral, according to StreetInsider.com, based on a less compelling risk/reward scenario. The firm cited the recent run-up in the shares.
09/17: Citigroup reiterated its Buy rating and increased the price target on Goldman Sachs from $120 to $140, due in part to expectations for string 3Q core sales and trading revenues, according to a post on Benzinga.com.
09/11: S&P Capital IQ cut Goldman Sachs to Hold, following the 23% run-up from the August low, as well as decreased trading and capital markets revenues, according to a post on Barron's.

Technical Review
Goldman Sachs shares have been climbing in recent months, up 30% since late July, and within earshot of the 52-week high of $128.72 established on March 27. Last month's peak near $122.50 would be the first area of resistance, followed by the aforementioned high of $128.72 in the event that earnings come in well above consensus estimates. Conversely, there is soft support near $117.50, with downside risk to $115, followed by the 50-Day SMA near $110. Sentiment is also tracking quite high, following a string of upbeat media reports and positive analyst notes, leaving Goldman shares vulnerable in the event of a downside surprise. (Chart courtesy of StockCharts.com)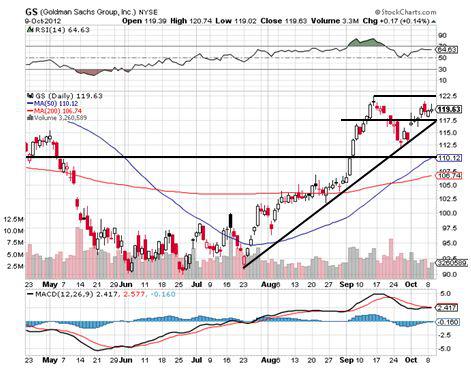 Summary
Goldman Sachs shares have been tracking higher over the past three months, benefiting from improving markets, valuation, a strong capital position, cost-cutting, a pickup in sales and trading revenues, and its dominant position in pure-play investment banking. Against this positive backdrop, Goldman Sachs shares are vulnerable to any missteps and results that fail to meet the high end of Street guidance may well be seen as a disappointment.
DISCLAIMER: By using this report, you acknowledge that Selerity, Inc. is in no way liable for losses or gains arising out of commentary, analysis, and or data in this report. Your investment decisions and recommendations are made entirely at your discretion. Selerity does not own securities in companies that they write about, is not an investment adviser, and the content contained herein is not an endorsement to buy or sell any securities. No content published as part of this report constitutes a recommendation that any particular investment, security, portfolio of securities, transaction or investment strategy is suitable for any specific person.
Disclosure: I have no positions in any stocks mentioned, and no plans to initiate any positions within the next 72 hours. I wrote this article myself, and it expresses my own opinions. I am not receiving compensation for it (other than from Seeking Alpha). I have no business relationship with any company whose stock is mentioned in this article.