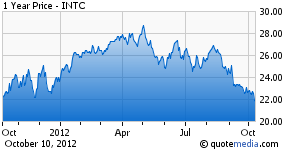 Intel (NASDAQ:INTC) reports their calendar Q3 '12 earnings after the market closes on Tuesday, October 16th, with analyst consensus now expecting $0.50 per share in earnings, on $13.2 bl in revenues, for expected year-over-year declines of 23% and 7% respectively.
In our last Intel article written for SeekingAlpha, in mid September, 2012, we wrote that the stock would likely bottom near the uptrend line off the March, 2009 market low for Intel, and we are hovering around that key support level currently, as sentiment is extremely negative and some of the metrics on INTC are way oversold.
Fundamentally, INTC's earnings estimates continue to get revised lower, which is not a surprise given the sentiment around PC's and the semiconductor giant. Since our last Intel article, when the 2012and 2013 EPS estimates were $2.18 and $2.27, those same estimates have fallen to $2.12 and $2.18.
Since the June quarter was reported in mid July, the Q3 '12 EPS estimate has fallen from $0.62 to $0.50 per share and the Q3 '12 revenue estimate has fallen to $13.2 from $14.2 billion or roughly a billion cut, so we are not being Pollyana-ish about what is happening with INTC. However we just think sentiment and the valuation is approaching extremes.
What keEPS us holding on to INTC is the cash-flow: whole 4-quarter trailing EPS on INTC (as of June 30) is $2.36, the 4-quarter trailing operating cash-flow per share is $3.5, leaving INTC trading at 6(x) OCF p/s.
The 4% dividend yield is another plus here, but unlike the late 1990's where INTC was diluting shareholders, INTC has repo'ed 7% of their market cap since the March '09 market lows, cutting share count from 5.6 to 5.2 billion.
Ultimately, our internal spreadsheet valuation model has INTC valued in the high $30's, to low $40's but assuming that is somewhat optimistic, even the Street thinks $30 is a reasonable value for INTC. While $3 per share in earnings might seem unreasonable given the PC environment, I do not think the PCs (or laptops or servers) are going away entirely as a business productivity tool anytime soon. We do think $2.50 per share is reasonable for INTC in the next two years, and with just modest p/e expansion, you get to $30.
The point is that INTC at $21 - $22 is selling at a 30% discount to low-end Street valuations, and assumes only low-single-digit earnings growth.
We added more to INTC this week, continuing to pick away it for client accounts.
Sentiment is ugly, valuations look very cheap, and technicals (so far) are holding. We see value here in INTC.
We would re-think the long position of the stock takes out $21 on volume.
Disclosure: I am long INTC. I wrote this article myself, and it expresses my own opinions. I am not receiving compensation for it (other than from Seeking Alpha). I have no business relationship with any company whose stock is mentioned in this article.