Brazil is rich in natural resources. With an abundance of land and water, the country's thriving farming and agricultural industry could help grow the many ETFs tracking Brazil.
Brazil is now the world's largest exporter of five major crops and the largest producer of beef, James Dale Davidson wrote for The Christian Science Monitor.
"What no one knew 35 years ago is that Brazil had the capacity to become the breadbasket of the world," Davidson said in the article.
The Empresa Brasileira de Pesquisa Agropecuaria, or Empresa -- a technical firm associated with the Brazilian Ministry of Agriculture -- engineered tropical versions of temperate crops, such as soybeans and corn, that would mature faster and be more resistant to pests. Consequently, Brazilian farmers can produce two crops per year, whereas most U.S. farmers would only be able to produce one in a full crop year.
The firm also devised a new breed of grass that increased pasture yields, which helped expand the country's cattle herds in just a few decades.
Additionally, with the implementation of "no-till" farming, overall average yields for soybeans in Brazil surpassed the average yields in the U.S. by 2002, and costs for producing soybeans dropped to $6.23 per 60 kilos, compared to the cost of $11.72 in the U.S.
The country produces a quarter of the world's soybean exports on just 6% of its arable land. Brazil has about 865 million acres of unused arable land, or twice the 382 million acres the U.S. has in crop production, according to the USDA.
"Brazilian farmers are practicing one of the most advanced and sustainable agricultural systems in the world," the U.N.'s Food and Agricultural Organization previously stated.
The iShares MSCI Brazil (NYSEARCA:EWZ) is up 11.1% over the past three months.
Other Brazil ETFs include:
(click image to enlarge)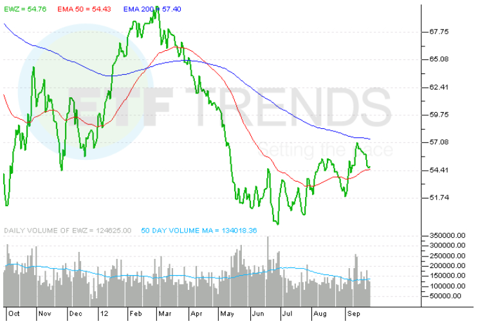 Max Chen contributed to this article.
Disclosure: I have no positions in any stocks mentioned, and no plans to initiate any positions within the next 72 hours. I wrote this article myself, and it expresses my own opinions. I am not receiving compensation for it. I have no business relationship with any company whose stock is mentioned in this article.