Are you considering GameStop Corp.'s (NYSE:GME) role in your portfolio? Given the excitement around Wii U and new PlayStation, and the strong pipeline of new game releases, GameStop looks like a natural way to play the hype. Here we focus on the fundamentals, the valuation, and the ultimate investment decision around this stock.
On valuation, GameStop stock is trading at $24 versus its 52-week range of $15.32-$26.66, and a P/E multiple of 7.6x, a forward P/E of 7x, and a dividend yield of 4.17%. More importantly, this is versus the peer group median of 9x. Although companies like Best Buy (NYSE:BBY) and Amazon (NASDAQ:AMZN) also compete with GameStop, given their diversified product base, we don't think it will be a fair comparison for valuation purposes.
GameStop valuation provides an interesting entry point in the stock. There are 3 other possible positive significant catalysts for the stock, namely,
1) Introduction of the Wii U during the holiday season and the introduction of the new Xbox and PS4 in 2013.
2) Continued share repurchases by the company.
3) Continued support of a solid balance sheet, which currently consists of $139 million in cash and no public debt.
Also, remember that last quarter the company bought back $136 million worth of shares, and increased its dividend from $0.15 to $0.25. History doesn't necessarily repeat itself but this is surely a good track record for the company. Additionally, the strong cash flow provides downside support for the stock.
Continued risk in investing in GameStop remains the increase in competition, and limited innovation of new products. But Goldman Sachs seems optimistic given that they upgraded the stock to a "buy" citing that the new pipeline of releases presents a tactical opportunity for the retailer.
The chart below compares share performance over the past year. "E"s mark earning reports.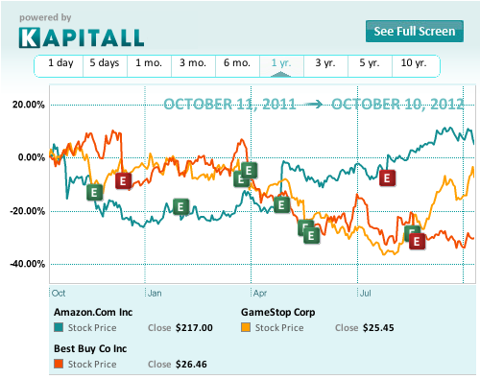 Conclusion: Given the attractive valuation, proximity of the holiday season, and the possible introduction of new products in 2013, this is a great time to re-consider an investment decision in GameStop stock.
Written by Kapitall's Sabina Bhatia. Tool provided by Kapitall.
Disclosure: I have no positions in any stocks mentioned, and no plans to initiate any positions within the next 72 hours. I wrote this article myself, and it expresses my own opinions. I am not receiving compensation for it. I have no business relationship with any company whose stock is mentioned in this article.