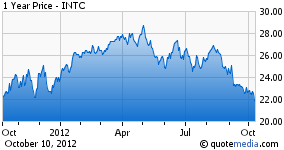 With its price at its lowest point in more than a year, Intel (NASDAQ:INTC) is offering investors an incredible opportunity. Unless, of course, it is a falling knife that could slice and dice buyers' hearts and portfolios. Which is true?
Intel has been the dominant player in the field of microprocessor chips for decades. Its brand is ubiquitous; few who live in developed nations are unaware that most computers have "Intel Inside." The company is making money, with $8.5 billion in second-quarter profits, and has little debt. Its P/E ratio is under 10. It has a ton of cash on hand to be deployed for research and development, acquisitions and dividends.
About those dividends: Remember when CEOs of technology companies were the ultimate Scrooges when it came to making quarterly payments to shareholders? Well, Intel now yields a robust 4.1 percent.
That's higher than Procter & Gamble (NYSE:PG), Johnson & Johnson (NYSE:JNJ), Coca-Cola (NYSE:KO), ExxonMobil (NYSE:XOM), McDonald's (NYSE:MCD) and numerous other blue-chip companies favored by Dividend Growth investors. It's also 2 1/2 times higher than the yield of a 10-year Treasury bond.
Intel got serious about growing its dividend nine years ago, and has done so at a double-digit clip ever since. Its 36 percent payout ratio would seem to promise additional hikes for years to come.
It has taken more than management's commitment to make Intel a 4 percent yielder, however. It has taken a five-month stumble down Price Plummet Lane.
Since reaching its 52-week high of $29.27 on May 1, Intel has dipped some 25 percent. Tuesday, it closed under $22 for the first time since Oct. 5, 2011. It was still falling as I wrote this article.
A year ago, its price declined as part of a sharp pullback of the overall market. But this recent Intel swoon has come even as the market has advanced. The fall began well before the company revised its third-quarter revenue forecast downward last month and well before analysts started issuing downgrades.
Despite Intel's recent woes -- or rather, because of them -- the folks at F.A.S.T. Graphs all but called Intel a screaming buy in saying:
"Apparently the market must feel that PCs are dead, and therefore, so is Intel. However, we believe most of the weakness in PCs can be attributed to buyers holding back as they await the release of Windows8. Consequently, we believe that Intel represents an extremely attractive opportunity to buy this technology bellwether at a bargain valuation while simultaneously earning a generous and growing dividend yield."
Is that the case ... or are today's PCs destined to become tomorrow's Polaroid cameras? As more and more people meet their computing needs on smartphones and tablets, are PCs doomed? Can Intel's dominance in providing chips for servers make up for declines in PC sales?
Unfortunately for Intel shareholders -- a number that includes yours truly -- the company was caught napping while ARM Holdings (NASDAQ:ARMH) sunk its teeth into the smartphone chip market, as described in this article by Dana Blankenthorn.
Intel has been trying to play catch-up in the smartphone-chip business for years, and its long-term survival might depend upon its ability to do so. Fortunately, it has the money and the famously effective R&D team to do it.
So what is an investor to do about Intel?
As detailed in my June 1 article, I paid $28.42 in April for my first stake in INTC. A month later, the price having dipped to a more attractive $26.56, I bought another stake. To date, I have lost about 20 percent on the investment; the dividends I received might as well have been a pimple on a whale.
While all investing should involve exhaustive research, it also involves a bit of faith. I still have faith in Intel's management, R&D division, designers and other employees. I still believe the company will be a major player in smartphones, tablets and technologies to come in the decades ahead. I still believe individuals and businesses will be buying Intel-fueled PCs for the foreseeable future. I still believe that 20 years from now, investors holding INTC will say: "Boy, I'm glad I didn't bail back in 2012."
In other words, I'm not selling. Am I buying more? Not quite yet. I have a limit order in place at $20, which if filled would bring my average price to $25. That also would be the stock's 4.5 percent yield point.
I'm not married to that, though. If the swoon continues and I believe more pain is in the offing, I might pull my order or revise it downward. If the price heads back up and fundamentals suggest it has turned the corner, I might be willing to pay more than $20. And if I happen to miss out on a third batch of Intel, that would be OK, too. I have a pretty nice stake in it already.
My only advice to others is the same advice I'm giving myself: Do as much homework as possible and proceed with caution.
While buying a beaten down company just as it's ready to roll again is one of investing's great thrills, getting stabbed where it hurts by a falling knife is a lot less fun.
Disclosure: I am long INTC, MCD, PG, KO. I wrote this article myself, and it expresses my own opinions. I am not receiving compensation for it (other than from Seeking Alpha). I have no business relationship with any company whose stock is mentioned in this article.