On October 9th, 2012, we brought to you "10 Investing Ideas For Companies Near 52-week Highs," and today we focus on one of the stocks on the list, PulteGroup (NYSE:PHM), a name that many of us recognize. Here we will discuss the fundamentals that could impact the stock in the long-run, which encourages you to look at the stock as a possible investment idea. We will also discuss the valuation of Pulte Group in comparison to its competitors Toll Brothers (NYSE:TOL), and Lennar Corporation (NYSE:LEN). Please also note that Pulte Group is expected to report earnings on October 25th, 2012.
So lets talk valuation: Pulte stock is trading at $15.77, a P/E multiple of 31x, and a forward P/E of 18x. It's competitor Toll Brothers is trading at a P/E multiple of 53x, and a forward P/E of 31x, and lastly, Lennar is trading at a P/E multiple of 15x, and a forward P/E of 23x. More importantly, Pulte group's current Price/Book is 3x, which is above its 1995-2003 average of 1.7x. That being said, we will now focus on the list of fundamental factors that still need to be priced in the stock. It is also quite possible that sell-side analysts will adjust its estimates upwards as the company reports earnings end of the month. We have already seen second quarter encouraging sales, which grew 32% when the company reported earnings.
Encouraging trends for the stock are:
1) Continued effort to control costs in a weak housing environment,
2) Pulte is a long run beneficiary of improving sales trends in the housing market as the company overcomes its biggest concern, a large portfolio of land purchased several years ago,
3) Pulte Group should benefit from an improvement in the housing market, and the low mortgage rate environment, and
4) Encouraging signs from the Case Shiller Index .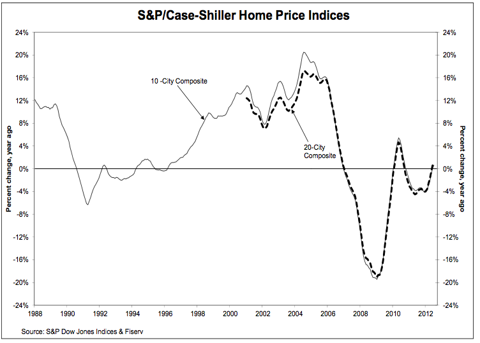 The chart below compares share performance over the past year. "E"s mark earnings reports: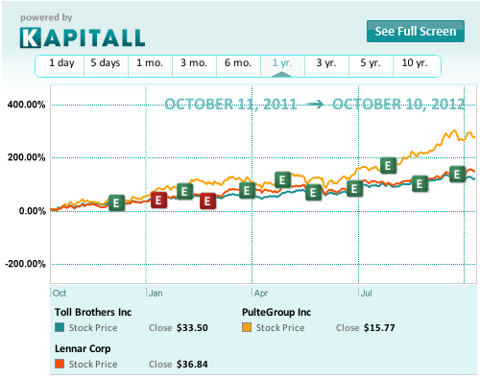 Conclusion: Given that there are several encouraging fundamental catalysts for the stock going forward, we would like to look beyond valuation, and re-assess Pulte Group as an opportunity to be involved in the housing sector.
Written by Kapitall's Sabina Bhatia. Tool provided by Kapitall.
Disclosure: I have no positions in any stocks mentioned, and no plans to initiate any positions within the next 72 hours. I wrote this article myself, and it expresses my own opinions. I am not receiving compensation for it. I have no business relationship with any company whose stock is mentioned in this article.