Indications that inflationary pressures are building in the industrial sector emerge in the OECD's latest quarterly unit labor cost data.
An increase in unit labor costs indicates that growth in average employee compensation exceeds growth in labor productivity, creating pressure on producer prices.
While overall unit labor cost growth was modest in OECD countries, costs continued to rise in the industrial sector. Of note is the fact that both Japan and the United States both recorded positive growth for the first quarter of 2008 (0.6 and 0.3 percent) after periods of negative growth (6 years in the case of Japan). In Canada and Italy growth industrial unit labor cost growth has continued to increase; 2.4 and 1.3 percent respectively. However, some major OECD economies are still recording negative growth for the first quarter of 2008: France -0.1 percent and Germany -0.3 percent.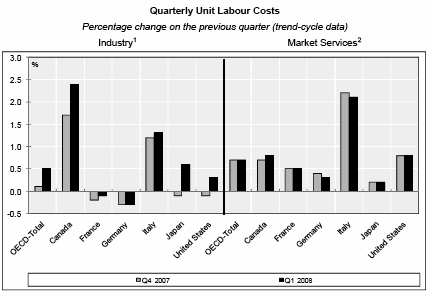 All major OECD economies recorded moderate growth in unit labor costs for market services for the first quarter of 2008 (note: no estimate available for the United Kingdom). The picture at the national level remains diverse in market services, however, with growth rates varying between 0.2 percent for Japan and 2.1 percent for Italy.