Euro Area – The Issue of Compliance
A topic we have frequently discussed has now made it into the mainstream press: namely the question in what way the new "fiscal compact" is actually different from the Maastricht treaty when it comes to enforcing compliance. It turns out, there really isn't any difference, and it is for the very same reasons that stood in the way of countries respecting the Maastrich treaty's limits.
Der Spiegel reports:
The EU plans to enforce its rules by imposing tough penalties in the future. But experience suggests it won't be able to gets its way against major EU countries. Even the much-vaunted fiscal pact pushed through by Chancellor Angela Merkel to underpin the euro is at risk of being watered down. When it comes to publicly urging greater integration, most European leaders aren't to be outdone.


"We need more Europe, not less," says German Chancellor Angela Merkel.

"We don't need less Europe, but rather more intelligent integration," contends Luxembourg Prime Minister Jean-Claude Juncker.

And French President François Hollande says: "We realize that the euro zone must have a common economic policy."

Herman Van Rompuy appears to take these affirmations literally. At next week's European Union summit, the EU Council President intends to present a bold concept to fundamentally restructure the monetary union. According to this proposal, the European Commission, the EU's executive, would gain the right not only to recommend amendments to national draft budgets, but also to enforce them. If a government resists, the Brussels-based institution would have the power to impose fines.

In many European capitals, though, Van Rompuy's reform plans are controversial. Indeed, many politicians have been put off by the numerous rules and regulations that Brussels has already used to intervene in the economic policies of crisis-stricken countries. Until now, the threat of EU sanctions has mainly been confined to smaller member states.

For instance, early this year the Commission threatened to suspend subsidies for Hungary. Shortly thereafter, the nationalist Hungarian prime minister, Viktor Orbán, gave in to Brussels' demands. After all, 97 percent of all public investment in his country is financed to a significant degree by the EU.

By contrast, large countries such as Spain, Italy and France have so far had little to fear. Olli Rehn, the European commissioner for economic and monetary affairs in Brussels, knows better than to antagonize certain countries by imposing sanctions.

(emphasis added)
And that is precisely the reason why the Maastricht treaty failed so spectacularly as well. The first euro area member countries that failed to adhere to the treaty's limits were Germany and France, when the early 2000s contraction diminished tax revenues and invited a round of Keynesian "stimulus" spending. In theory, they would have been eligible for penalties under the treaty. In practice, no penalties were imposed. They thereby lost the right to complain about treaty violations by others, and accordingly remained silent when they began to appear. This only changed when the sovereign debt problem morphed into an outright crisis. However, even now, neither Germany nor France have any moral standing on the issue: their debt-to-GDP ratios are approximately 50% above the limit. They are, of course, not among the nations requiring bailouts, as their debt has received the "safe haven" treatment by desperate market participants. The fact remains, though, that they are so far away from the limits imposed by Maastricht and the new "fiscal compact" that it is downright comical that they preach austerity for everyone else.
The new "compact" won't materially alter this situation, no matter what Herman von Rumpoy thinks.
As the Der Spiegel article concludes:
The latest toy for euro fans is the fiscal pact, which still has not been ratified by all member states. In the future, this would only allow structural deficits of 0.5 percent of GDP. This regulation, which was primarily pushed through by the German chancellor, sounds hard and binding. But European politicians are already working to water it down.

Speaking before the National Assembly in Paris last week, French Prime Minister Jean-Marc Ayrault lobbied for support of the fiscal pact by saying that it would not limit the sovereignty of the French parliament. He then turned the pact's intention on its head: "The treaty imposes no constraints on public spending," he said.

(emphasis added)
Well, not that we have cleared this up …if there are "no constraints on public spending", then why negotiate another "fiscal pact" at all? As Philip Bagus has shown, the euro area is a good example for the "tragedy of the commons." Evidently, that is not going to change until the monetary union simply falls apart.
Greece – "Partners and Friends"
In related news, on occasion of her visit to Greece, Mrs. Merkel insisted that Greece and Germany are "partners and friends," offering plenty of verbal support, but no money. Understandably, Many of Greece's citizens have a slightly different view of the partnership these days.
Meanwhile, Greece's creditors continue to be unable to come to an agreement as to what to do. Everybody knows that Greece cannot pay, but no-one wants to take a write-off on the debt. From The Wall Street Journal:
"There is still no consensus among the creditors," one person said. "While it's becoming increasingly apparent that Greece's debt is widely off track, nobody wants to accept a write-down."

Representatives of the so-called troika of creditors — the European Commission, the IMF and the European Central Bank — are in Athens negotiating a new series of austerity measures in return for a €31 billion loan payment to keep Athens above water. But for the money to be dispersed, the IMF must be convinced the country's debt is sustainable over the medium term.

For Greece, the measure of debt sustainability has been set by the IMF at 120% of gross domestic product by 2020. But the IMF's Fiscal Monitor said Tuesday the country's debt is expected to climb to 170.7% of GDP for this year, and to a whopping 181.8% of GDP in 2013, suggesting the 120% target is out of reach.

"The concern within the IMF is that by 2020 the debt-to-GDP ratio will be close to 150%," a second person said. "That's 30 percentage points above the existing debt sustainability analysis, and without a haircut or another bailout package or both, the Greek program leads to nowhere."

(emphasis added)
It took them that long to find out? Readers may recall what we wrote shortly after the "PSI" deal was consummated and the second bailout was approved: "Greece is as bankrupt today as it was yesterday." That has not changed, in fact, the situation has deteriorated further. The bailout, meanwhile, was never designed to help Greece, as such. Its main aim (and that goes for all the other euro area bailout agreements as well) was to rescue lenders to Greece. Simply put, unsound credit is being propped up to mask the losses that have been incurred by irresponsible bankers – and now those of equally misguided public sector lenders.
Spain's Mortgage Debt Crisis: Upwardly Mobile
In another troubling sign of the deepening economic malaise in Spain, the mortgage debt crisis is now threatening to overwhelm the well-to-do as well. Due to mortgage debt being full recourse in Spain, people caught in the downward spiral with large debt they can no longer afford to pay are threatened with "losing all purpose in life," as their future income will simply be garnished by the banks.
Home foreclosures in Spain, which disproportionately affected lower-income immigrants after the real estate bubble burst, are spreading to formerly well-to-do families and businessmen as they run out of ways to pay mortgages in a deepening recession.

Spanish business people, upper middle class families and their loan guarantors, typically parents of first-time buyers, now account for 60 percent of foreclosures in Madrid, according to AFES, an association that advises homeowners facing repossession. Three years ago, 80 percent of foreclosures were on the homes of immigrants, usually the first to lose jobs and fall behind on loan payments in a souring economy. They now comprise 40 percent of the total, according to AFES.

[…]

"The economic crisis is wiping out businesses and the finances of families that were comfortably off" and "foreclosures are now massively threatening businessmen and families in high income areas," Banos said. "Unemployment is the root of all of this and the worst affected areas are Madrid, Barcelona, Valencia and Andalucia."

Banos said 22,000 small businesses have disappeared in Madrid alone since 2007. Demand for the group's help from clients such as lawyers, dentists and tavern owners has surged more than sevenfold in the past three years.

[…]

Under Spanish law, a bank can pursue a borrower for the difference if a foreclosed property is sold for less than the outstanding mortgage. Lenders can also garner present and future assets and earnings of borrowers and their guarantors, including pay checks and pensions.

"These people completely lose their purpose in life," Banos said. "Everything they had or will ever have in the future will go to the bank."

(emphasis added)
And yet, central bankers are telling us that they must implement the very policies that have led to this tragedy all over again to "save the economy."
Selected Charts
Below is a selection of our customary update of credit market charts: CDS on various sovereign debtors and banks, bond yields, euro basis swaps and a few other charts. Charts and price scales are color coded (readers should keep the different price scales in mind when assessing 4-in-1 charts). Where necessary, we have provided a legend for the color coding below the charts. Prices are as of Tuesday's close.
Not much has changed – for now, the markets continue to take a very benign view of the most recent efforts and promises to paper over the crisis, which will continue until it doesn't anymore. We think that the current pause in the crisis is qualitatively not different from previous pauses. The markets give the benefit of the doubt (to some extent anyway) to the latest efforts, until they are once again revealed as insufficient. One must also keep in mind that the ECB is providing plenty of liquidity, which has to go somewhere. Many banks have thrown their lot in with their governments, as evidenced by the massive buying binge of government debt undertaken by Spanish and Italian banks this year. Given low-cost funding from the ECB, they figure that they have everything to gain and nothing to lose by acting in this manner.
(click images to enlarge)
5 year CDS on Portugal, Italy, Greece and Spain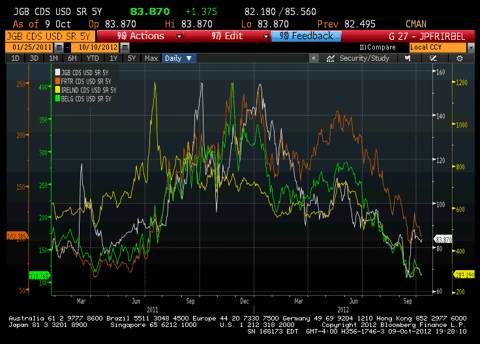 5 year CDS on France, Belgium, Ireland and Japan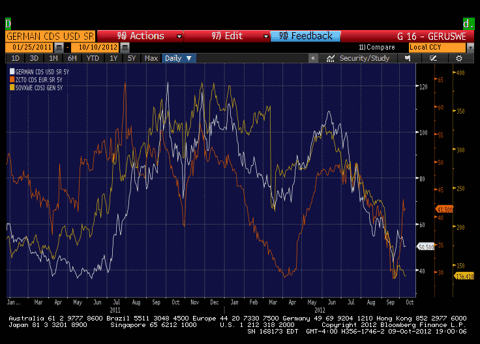 5 year CDS on Germany (white line) , the U.S. (orange line) and the Markit SovX Index of CDS on 19 Western European sovereigns (yellow line)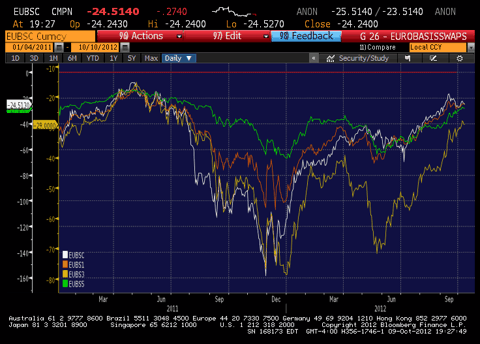 Three month, one year, three year and five year euro basis swaps

Our proprietary unweighted index of 5 year CDS on the senior debt of eight major European banks -- the white line (BBVA, Banca Monte dei Paschi di Siena, Societe Generale, BNP Paribas, Deutsche Bank, UBS, Intesa Sanpaolo and Unicredito), compared to 5 year CDS on the senior debt of Goldman Sachs (orange), Morgan Stanley (red), Citigroup (green) and Credit Suisse (yellow)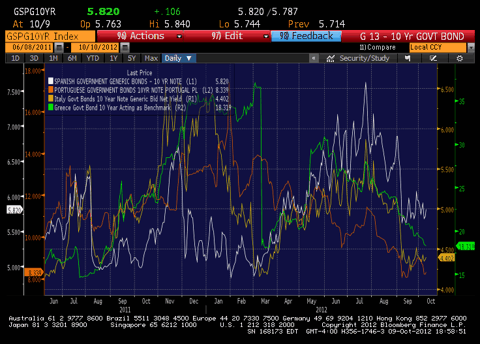 10 year government bond yields of Italy (bid price, generic gross yield is currently at 5.164 %), Greece, Portugal and Spain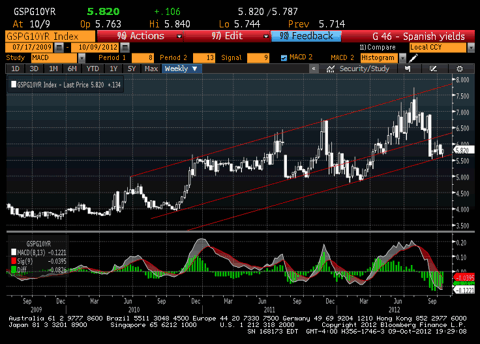 10 year government bond yield of Spain, weekly candlestick chart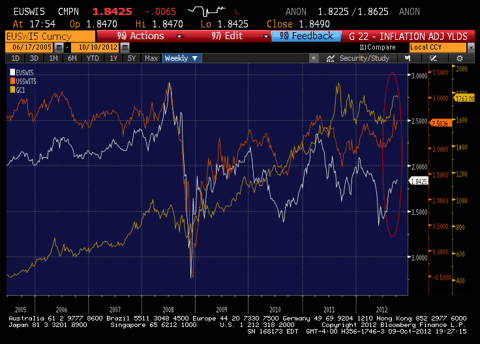 Inflation expectations in the U.S. (orange line), Euro Area (white line) and the gold price (yellow line)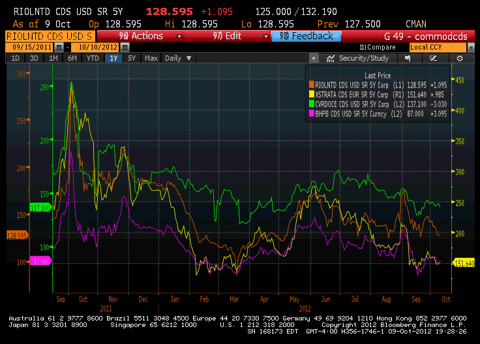 5 year CDS on the senior debt of major commodity producers (Vale, Rio Tinto, BHP Billiton and Xstrata)
Charts by: Bloomberg