In an article on Codorus Valley Bancorp CVLY in July I offered 7 reasons to buy this issue. The stock has not risen since that article was published. It is still possible to purchase this stock at less than $15.00 per share. CVLY is a bargain at its current price and this article offers several additional reasons to purchase this stock.
Ford Equity Research placed a strong buy on CVLY on 10/03/12. It projects that CVLY will strongly outperform the market over the next 6 to 12 months. The prediction is based upon the growing EPS that the bank has shown over the past 5 quarters. The graph taken from Ford Equity Research below shows an upward trajectory.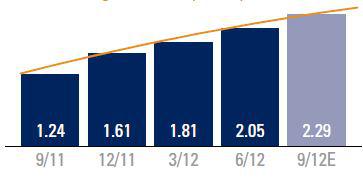 Notice that the final number is based upon expected earnings this quarter. The graph displays annual earnings based upon the previous 4 quarters. CVLY will be releasing this quarter's earnings on 10/15/12.
The Street Ratings also placed a buy on CVLY as of 10/04/12. This buy rating is based upon the bank's low P/E ratio compared to other banks of similar size and market area. While the average P/E for the industry is 11.94, CVLY's current P/E is 8.5 and represents a significant discount to the industry. A P/E this low in the banking industry normally indicates negative growth and profits yet this is not the case for CVLY. Furthermore the company sells at .62 of book while peers are selling at 1.4 times book.
Finally Jaywalk Consensus rates CVLY a buy as of 10/06/12. Jaywalk takes the average of independent research providers' ratings to come up with its rating. (Graph taken from Jaywalk Consensus)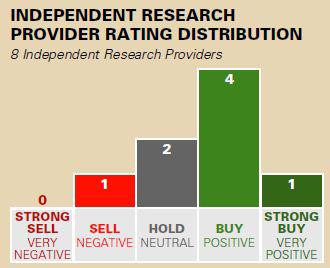 One final positive reading on this issue comes from insider buying. Several insiders have purchased over 3000 shares at prices above $15.00 in the past 2 months. At the current asking price you can purchase the stock at a price lower than these insiders. Furthermore one receives a 3% dividend while waiting for the price of the stock to increase. There is also a good chance for dividend increases since the present dividend represents less than 25% of earnings.
There you have it. Several more reasons to buy this bargain-priced issue. All the stars appear to be aligned for great returns from this issue over the next several months for investors at the issue's current price.
Disclosure: I am long CVLY. I wrote this article myself, and it expresses my own opinions. I am not receiving compensation for it (other than from Seeking Alpha). I have no business relationship with any company whose stock is mentioned in this article.