By Eric Wesoff
Today, about one year after the process was initiated, the Department of Commerce issued its final determinations on the extent of the countervailing duties and anti-dumping duties against imports of billions of dollars of solar cells from China.
The Department of Commerce just ruled:
Final tariff levels - AD tariffs are flat for Suntech (NYSE:STP), down for Trina (NYSE:TSL). All others are the same. But the CVD tariffs are up significantly for all.
Commerce called for anti-dumping duties of 31.73 percent on imports of PV cells and panels from Suntech, 18.32 percent from Trina Solar, 25.96 percent from firms that requested but had not received individual duty determinations and 249.96 percent from all other Chinese producers.
Commerce recommended anti-subsidy duty percentages of 14.78 percent for imports made by Suntech, 15.97 percent Trina Solar and 15.24 percent for all other Chinese manufacturers.
There will be no change of scope (The DoC did not agree to SolarWorld's petition to include China module assembly)
Critical circumstances -- no change
The final ruling differed a bit from the preliminary ruling issued in May which hit major Chinese solar manufacturers with anti-dumping duties of about 31 percent. Countervailing duties were in the range of three to four percent. Now Suntech, already struggling, gets hit the hardest while Trina stays about the same.
The petitioner for these investigations is SolarWorld Industries America, part of a German firm with operations in Oregon.
Greentech Media has covered this case from the anti-dumping spin of the petitoner, SolarWorld and CASM, its small consortium of American solar panel manufacturers as well as the protestations of CASE, the consortium of installers and polysilicon vendors such as MEMC (WFR). CASE believes that tariffs on Chinese solar panels will stunt solar's growth in the U.S. and that PV panel price drops stem from economies of scale and demand-side forces, not from dumping.
The U.S. solar industry is forecast at 3.2 gigawatts in 2012 as per GTM Research -- up from 1.8 gigawatts in 2011. Barclays issued a research note today with solar module spot prices at $0.69 per watt.
After all the press conferences, grandstanding, and column inches, the bottom line according to an analysis by GTM Research, is that the tariffs will have minimal imact on the price of solar in the U.S. It is also unlikely that SolarWorld's tenuous competitive position wil be improved by the tariffs imposed on Chinese companies. SolarWorld's most recent earnings call indicated high costs, low margins, and difficult losses and debt. Another outcome is a trade war in the other direction with China putting a tariff on polysilicon from the U.S. along with the EU imposing tariffs on Chinese solar panels.
GTM Research used Trina Solar as a case study and asked -- what are the cost and price impacts going forward?
Trina expects its global blended ASP to decline by around 15 percent in Q2 2012, which would imply a figure of around $0.78 per watt. For U.S. shipments, we expect that 100 percent of Trina's U.S.-bound cells will be obtained via tolling from Taiwan and will not be subject to the tariff. We estimate the wafer-to-cell conversion cost in Taiwan to be $0.22 per watt (compared to $0.16 per watt in China), and based on a 5 percent tolling margin, we estimate an additional $0.03 per watt cost increase for third-party sourcing. This equates to the overall tolling cost difference of around $0.08 per watt and a cost impact of 11 percent. In the worst-case scenario for customers, let us assume that the entire $0.08 per watt amount is passed onto the customer. This implies a U.S. ASP of $0.86 per watt, which is still 6 percent below the Q1 ASP.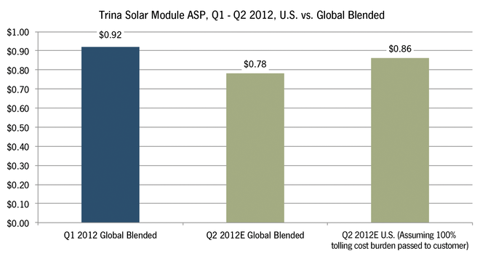 Source: GTM Research
Though tolling cells through Taiwan does impose a slight cost increase on manufacturers, it does not prohibit them from pricing modules well below their domestic competitors. Coupled with further conversion cost reductions (Trina, Hanwha (HSOL), Yingli (NYSE:YGE), and Jinko (NYSE:JKS) are all calling for poly-to-module costs of $0.50 per watt by year end) and the continuing decline in ASPs, we expect pricing to continue falling over the course of the year, both globally and in the U.S.
Mehta says,"Based on this analysis, the AD/CVD tariff will not materially affect pricing in the U.S. market."
Next month the ITC will announce its final decision on whether to lock the tariffs into place.
Jigar Shah of CASE commented that the ITC could reverse the retroactive tariffs and that CASE would look to "contain the damage."