On August 12 after-hours, Bob Evans Farms, Inc. (NASDAQ:BOBE) reported Q1 earnings of $0.45 per share on $13.8 million in net income and $440.3 million in revenue. Analysts' expected earnings of $0.44 per share, beating earnings estimates. Net income grew 3.6% primarily on sausage sales. Revenue increased by 4% to $440.3 million which slightly missed analysts' expectations of $443.2 million. This is primarily due to the Mimi's Café chain, whose same-store sales fell 6.5%. Including both chains, total same-store sales dropped 0.2%. The result: Shares dropped nearly 14% intra-day and closed around 10% on Wednesday on 1.07 million shares traded, double the average daily volume of 565,711 shares. 
BOBE runs 571 Bob Evans restaurants in 18 states and also owns 135 Mimi's Cafés in 22 states. Bob Evans stores are primarily located in the mid-Atlantic, Midwest, and Southeast, while Mimi's Cafés are primarily located in the West. Issues such as the national slowdown, sub-prime mortgage crisis, declining property values, and a decrease in disposable income are leaving struggling consumers no choice but to dine out conservatively. It is no surprise that Mimi's Café sales fell 6.5% given the fact that 56 out of 135 (or 41%) of their restaurants are located in the hard hit sub-prime capital of the US, California.
In addition, increasing development costs in the western states for proposed new Mimi's restaurants and the recently amended federal and state minimum wage laws will also weaken future earnings growth. Now at the 2nd stage of the phase-in, the federal minimum wage will be increased to $7.25 per hour in the 3rd phase-in on July 2009 from the current $6.55 per hour. 
The only way casual and fine dining restaurants are going to improve is if the overall housing market improves. Data from numerous sources suggest that a recovery will not come anytime soon. Discretionary spending will continue to be hit by rising energy and food costs. Chicken and Pork prices should affect next quarter's earnings due to agricultural commodities still sitting close to all-time highs.  
Even though BOBE increased prices by 2.9%, same-store sales for Bob Evans restaurants rose only 2%. As more customers decide to eat in instead of dine out, it will be more and more difficult for restaurant chains to pass along industry average 3-4% price increases without deterring additional customer traffic. Full service restaurants will continue to feel pressure on operating margins going forward into 2009.  
CL King initiated coverage on August 14 with a "Neutral" rating and the average opinion is "Hold" among 7 analysts. KeyBanc Capital Markets, Stephens, Inc. and MKM Partners have all reiterated their "Hold" ratings. As for insiders, there has been only one insider purchase in the past 12 months, and that was for only 665 shares. I would like to see more confidence from management by purchasing a bit more than 665 shares.  
Technically, BOBE is neutral, given that the stock has been trading in a range for several months and is currently consolidating between the 50-day MA and the 200-day MA after a negative earnings report. I suggest no trade, long or short, at this time.
click to enlarge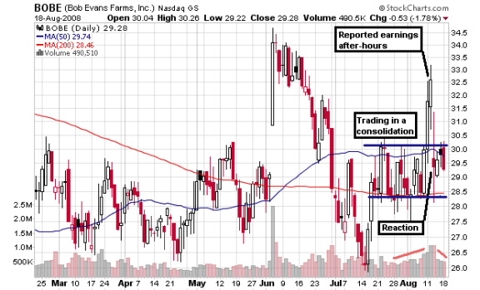 Disclosure: none