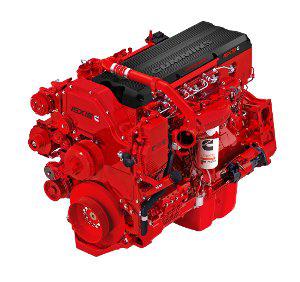 I bought more shares of Caterpillar (NYSE:CAT) today (October 10, 2012). There's nothing very unusual about that, as I've either purchased shares or sold puts on seven occasions since July 2, 2012.
As far as repetitive motions go, the purchase and re-purchase of Caterpillar has been pleasing.
When my new best friend -- my cardiologist -- thought he would preclude my obvious question by telling me that most heart attack victims could resume sexual activity after six to eight weeks, my response was "why so soon?"
What I really wanted to be certain of was that there was no contraindication to the rapid turnover of portfolio shares and the ensuing exhilaration that accompanies a quick profit.
And so I bought more shares of Caterpillar today, precisely three months to the day that Cummins (NYSE:CMI) disturbed the market for shares of all heavy machinery companies. Sometimes shared angst is a great opportunity for joy, even without an inherent propensity for masochism.
In the event that you don't believe in the concept of history repeating itself, Cummins did it again last night after the close of trading. It issued some negative words about its prospects and, of course, if engines aren't selling, then neither are those big boy toys that use those engines. This is simply a case of the "big red engine that couldn't," and then a simple spread of contagion.
Back in July, I also owned Caterpillar shares, as I have done over and over again for much of 2012. Buy shares, sell calls. A pretty mindless formula that's worked really nicely, as Caterpillar has stayed very close to an $85 price level for quite a while.
When Cummins ruined the party in July there was, as so often happens, an over-reaction by the market, as measured by hindsight.
That particular week in July, after the warnings, I sold Cummins puts at $82.50 and $85 levels, as well as Caterpillar $77.50 puts. I had also been holding shares of Ingersoll Rand (NYSE:IR), and I sold $40 puts in an attempt to further soften the paper loss on shares. In further hindsight, I may have had far too many of those heavy playthings at the time, but you can be assured that had any of it turned out badly, I probably wouldn't be trumpeting that fact.
Of course, when both Cummins and Caterpillar announced their quarterly earnings a week or so later, there wasn't much of a reaction and shares resumed their stability. Various puts sold expired and calls sold were assigned. Cummins actually had a more than 20% rise from its nea- term low to its recent highs above $100.
The overall recovery in heavy machinery was quite quick, and also offered opportunity to purchase additional Caterpillar shares. Once things really settled, I added shares of another one of those heavy players, Eaton (NYSE:ETN), as I also tried to capture an upcoming dividend.
Since that all happened, I also had the opportunity to have owned Paccar (NASDAQ:PCAR) and yesterday nearly re-purchased those shares that were assigned from me at $40 just a few weeks ago.
That I didn't do so was just chalked up to serendipity. Had I looked at the calendar, I would have realized that it was more than the 13th anniversary of my oldest son's Bar Mitzvah, but it was also the three month anniversary of the "Cummins Massacre." That would have been enough to give me cause for inaction.
So what lessons are there to be learned from the aftermath of that massacre?
Had I decided to look for lessons first, I might not have bought additional shares of Caterpillar today, but sometimes emotions act more quickly than the rational and analytical side.
Looking back to July 9, 2012 and forward, a few things seem to have been clear.
Shares of Caterpillar, Ingersoll Rand, Eaton and Paccar all took reflexive and immediate dives as Cummins delivered its news. Since I was assigned all of my shares of Caterpillar and Ingersoll Rand by August 17, 2012, I looked at that period of time, and then subsequently at the August 20 to October 10, 2012 period, during which time I owned Caterpillar, Eaton and Paccar and waited for a pullback in Cummins, looking for an opportunity to purchase its shares, as well.
During that first period, not only had Cummins and all others more than recovered from their precipitous drops, but they all also out-performed the overall market, as measured by the SPDR S&P 500 (NYSEARCA:SPY). If you're the kind that likes to add dividend payments into the mix, feel free.
(click images to enlarge)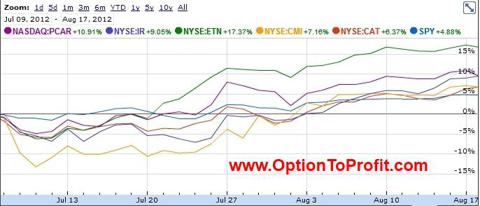 The real hero of that period, however, was Eaton, showing a 17.4% advance despite having fallen as much or as more than the others, with the exception of Cummins, in the immediate days of the bad news.
Looking at the August 20 to October 9, 2012 period, Eaton again outpaced its sector cousins, although all lagged the S&P 500 for that period.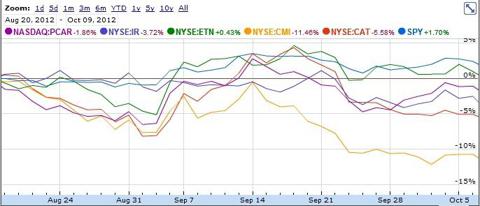 As trading came to a close on the first trading day after the second iteration of the Cummins Massacre, the percentage declines for both days were: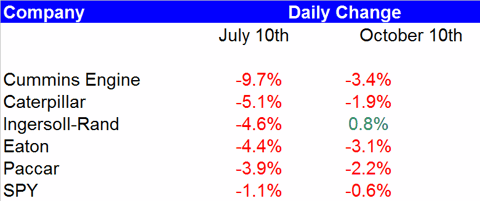 Inexplicably, Eaton was hit quite hard in today's trading. Among the companies listed here, it happens to be the last to report earnings, giving it plenty of time to recover from the irrational selling that hit it today, and to benefit from calmer heads prevailing, as history is poised to repeat.
For me, what would make Eaton more appealing for purchase now would be if it offered a weekly option and had an upcoming dividend payment. While Caterpillar did satisfy both of those criteria for me, Eaton falls short in that regard, and is still above my $43 purchase target. Those factors make it more appealing as a candidate upon which to sell puts, so I will be looking closely at the $43 November 2012 strike as the market opens tomorrow. In expectation of a bit more weakness, I may hold out for $42, as five weeks until expiration gives what seems like infinite opportunities to rewrite the prevailing hypotheses that cause sudden and gyrating price movements in what is otherwise a sector that is too heavy to justify being swept up by the winds of worry.
Disclosure: I am long CAT, and I may initiate a purchase of ETN or sell puts on ETN shares. I wrote this article myself, and it expresses my own opinions. I am not receiving compensation for it (other than from Seeking Alpha). I have no business relationship with any company whose stock is mentioned in this article.